pwhl
Jillian Dempsey's Next Chapter
Jillian Dempsey's Next Chapter: A Boston hockey legend looks ahead into the unknown.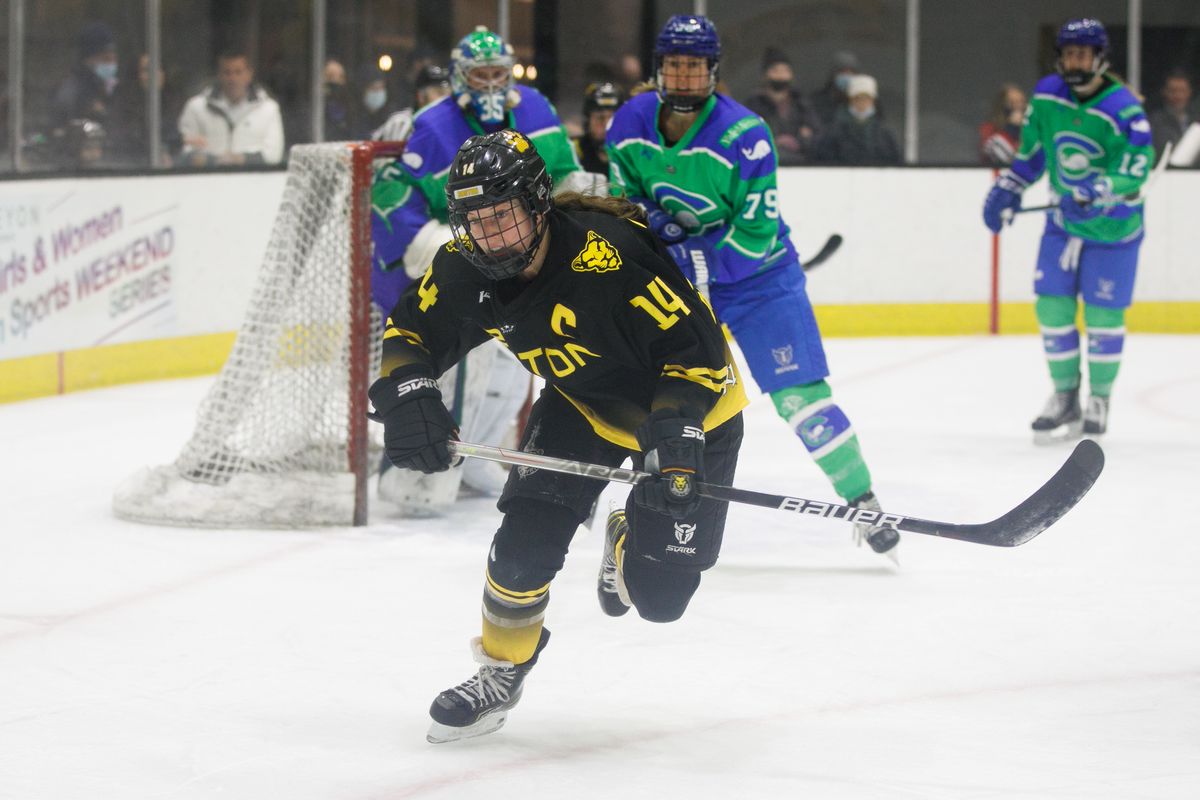 Jillian Dempsey is a New England hockey icon. That's it, enough said, article finished, period, the end.
Except it's not the end. Even after a tumultuous summer that saw the unceremonious demise of the PHF and the birth of the PWHL, Dempsey isn't done.
Born and raised in Massachusetts, Dempsey's had a front-row seat to how the women's game has grown in her home state. She stayed local for college and spent four years with the Harvard Crimson, captaining the team in her final year. She finished her NCAA career with 148 points (76 goals, 72 assists) over 129 games. Following graduation, she turned pro (albeit unpaid) with the CWHL's Boston Blades in 2013.
"That very first year, it was definitely a significant change from college hockey," she told The Ice Garden. "I'm the type that was very grateful that I had a place to play competitively, because I wasn't ready to be done, and I didn't have interest in going to play overseas. So it was fortunate that there was a place here in Boston that I could play despite all of the things that weren't perfect about it."
At the time, the Blades were the only professional women's team on the East Coast and the CWHL's lone American franchise. Dempsey says they had no home rink in her first season and played all across the state as a result, making it difficult for a the team to gain a local foothold.
"Back then I feel like next to nobody even knew that the Blades really existed. We definitely had some loyal fans who came to games regularly and they'd been with it since the beginning, which is awesome, but we definitely did not have big crowds. We didn't really have much of a presence felt," she said.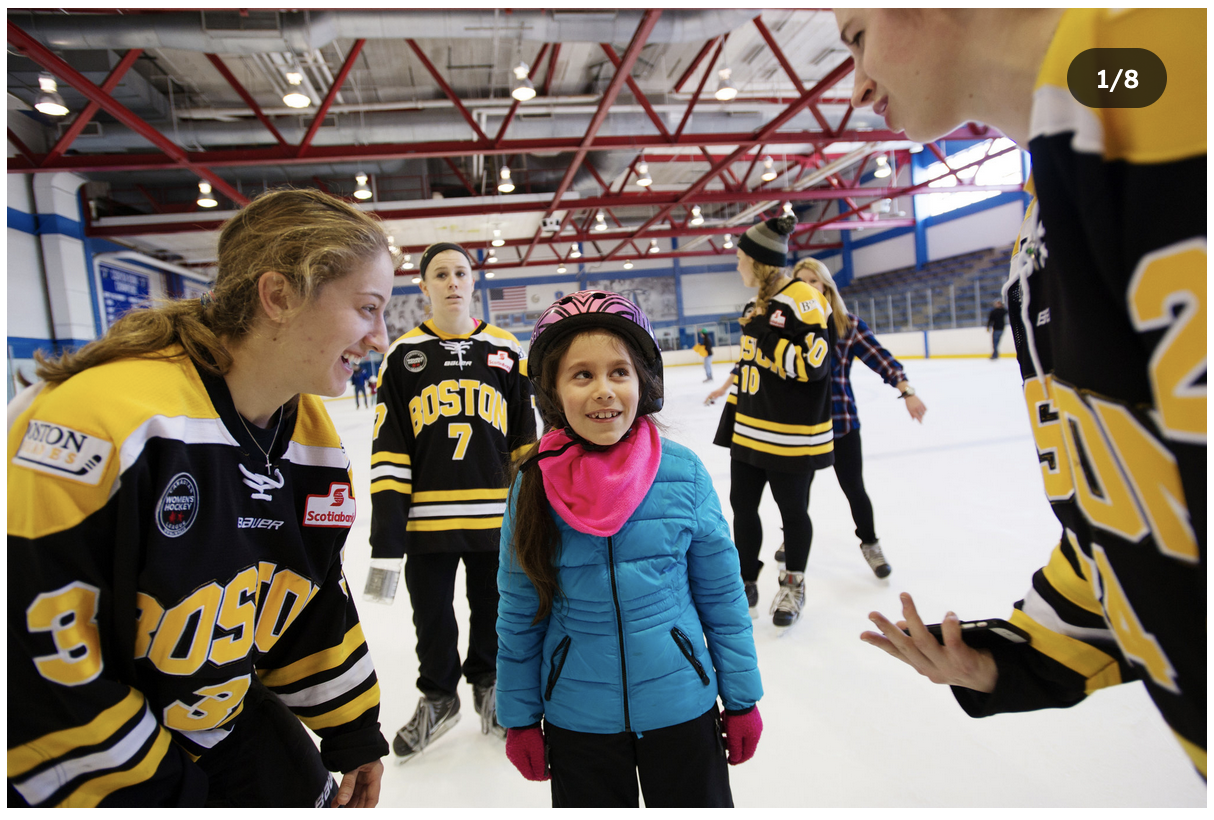 Dempsey continued, "I believe that first year, we didn't even really have a home rink for games. I think we jumped around playing in a bunch of different rinks for different home weekends. So I think that that made it difficult to kind of have a solid fan base as well, because we were always somewhere else in Massachusetts."
In 2015, Dempsey left the Boston Blades and the CWHL to sign with the Boston Pride of the fledgling NWHL. She made history not just as a member of the inaugural Pride team that took the first-ever Isobel Cup title, but also as one of the first female hockey players in North America to get paid as a professional. It was across eight seasons with the Pride - including six as their stalwart Captain - that Dempsey built and secured the reputation that defines her playing career.
A leader. An example. Not just a member of the Boston Pride, but a pride of Boston.
Her story as a pro reflects the all-too-familiar conundrum of female hockey players all over the world: the juggling act of full-time work, professional sports, and still attempting to have a personal life. In Dempsey's case, she took it one step further by choosing one of the most difficult careers a person can have: an elementary school teacher.
While teaching has never been a particularly easy job, recent history has seen the American classroom transformed into a battleground of discordant parenting, politics, overwork, low wages, and nightmarish underfunding, to say nothing of the COVID-19 pandemic. Jillian Dempsey taught through it all, and used the experience to show her students some of her core principles in action.
As she told The Ice Garden, "What I love being an educator, as well being a teacher, is getting to share that passion with [my students]. And then I emphasize working hard and pursuing your goals and your dreams, and for them to then get to see me pursue mine and to live mine, it's always something that I really enjoy getting to share with them. Because when I'm out on the ice, I'm doing what I love. And for them to get to see that is special."
Her leadership style in the classroom mirrors her leadership style on the ice, as well: "The way I think about it, is just trying to lead by example. And I wouldn't expect anything of my teammates or my students that like I wouldn't be willing to do myself.
"You can bet that I'm going to [try] to be the hardest worker out there every single time and maintain a positive attitude and be upbeat about things, because those are the only two things that you really have control over."
Her positive attitude was tested in June 2023 when the PHF was dispatched with all the grace and dignity of a rabid opossum being shot behind a woodshed.
TIG Talk Podcast: The End of the PHF
Dempsey had already re-upped with the Pride and committed to her hockey career in a new way, by taking a leave of absence from teaching in order to fully focus on the sport. The PHF's demise sent her plans into upheaval.
"Needless to say things felt even more chaotic and uncertain at the end of June, because it was already going to be kind of a different year for me," she said. "But then everything just became completely unknown, and it was weird to not have my job, and [to not have] things I never thought about before, like health insurance that I always had through school. So things definitely shifted."
As both a teacher and a professional athlete she's no stranger to speaking carefully: her chosen professions require tact and sensitivity, and she speaks with great care for her words and their potential impact.
When asked about what the PWHL needs to do to bridge the gaps in the women's hockey community after the PHF's end, she spoke at length.
"It's just really sad to see everything with the Boston Pride and the PHF cease to exist. Of course, it's in the way it was done...everything just didn't feel great. Obviously, I know that you fans got hit with a lot of that the way that we did.
"I think that's going to be a challenge for sure, trying to really all move together in the same direction this time. This is the most resources that I think we've ever had behind women's hockey, but I think it's important to recognize that it didn't just come out of nowhere and from nothing. There have been decades of work. And I think [that it's] important to recognize that that's why we're here. Absolutely. Especially because there's so many players who were part of building who now aren't going to get to be part of that. And kind of unexpectedly, so especially if they thought they had a season ahead, and now they don't."
Despite all the uncertainty around her career and the PWHL, Dempsey decided to take the plunge and enter the draft. In the end she was drafted 66th overall in round 11, not to Boston, but to the city's great rivals Montréal. The PWHL announced training camp rosters on October 16th, and Dempsey's agent confirmed to The Ice Garden that she'll be attending.
---
There's a line in Jillian Dempsey's Twitter bio that reads, "It's the magic of risking everything for a dream that nobody sees but you."
As she moves ahead and looks forward, her dream remains alive and well. It may not be in the form it once was or in the city that means so much to her, but for Dempsey it's still worth pursuing. Her career as a hockey player isn't finished, and as the poet laureate Natasha Bedingfield once said, "the rest is still unwritten."