pwhl
PWHL Announces Training Camp Rosters
Who is on the PWHL training camp rosters plus key dates for roster building.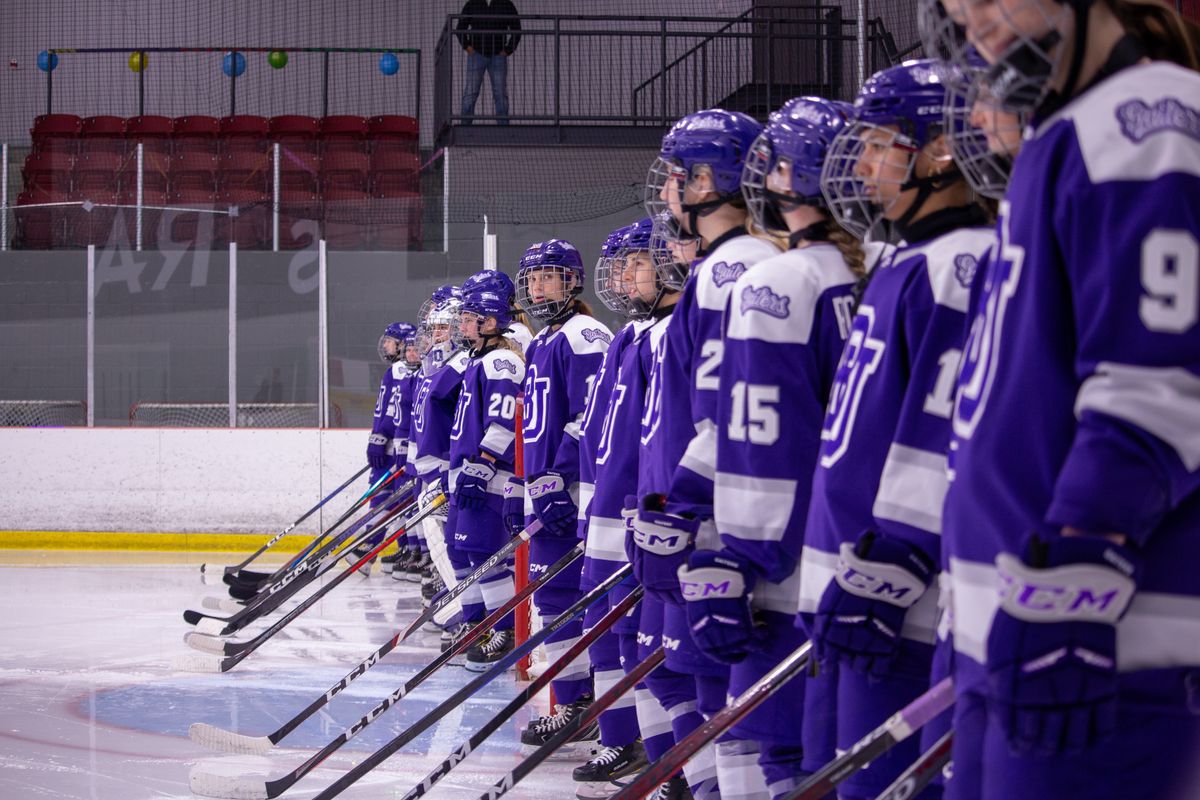 The PWHL released training camps rosters Monday morning, ahead of the league's November camps.
Each team will host a camp ahead of their inaugural season. They will commence training while completing the selection process for their final roster, according to their Oct. 16 press release. The camp rosters consist of teams' three free-agency signings, 15 draft picks, and 10 to 17 camp invites. The invites are unsigned players looking for spots on a team.
The six PWHL teams will reduce their roster size to 29 players following two weeks of training camp. The players released from camp will be eligible to try out with other PWHL teams. A list of released and eligible players will be circulated to teams on Nov. 30, with a second list of released players circulated on Dec. 8. Following the second window of camp invites, the six PWHL teams must finalize their rosters with 23 signed players. Their deadline will be Dec. 11.
Of the 184 players named to PWHL rosters in the press release, 78 were camp invitees. This group will be fighting for about 30 remaining roster spots. According to the press release, the waiver period where released players can try out with other teams gives players "multiple opportunities to secure a contract."
Details about training camps signal the approach of the PWHL season. "Training Camps are the next step towards our inaugural season," said Jayne Hefford in the PWHL press release regarding training camps. "This is an exciting phase."
It has been 204 days since the last professional women's league game in North America, but fans can be excited that players will be hitting PWHL ice for camp in 30 days.
Key Dates Timeline
Nov. 15 – Training camps begin with 28-35 players per team.
Nov. 29 – Teams must reduce their roster size to 29 players.
Nov. 30 – Teams informed of and may contact players released from other teams.
Dec. 8 – Teams informed of and may contact the final group of players released from teams.
Dec. 11: Teams confirm final roster of 23 players.
Training Camp Rosters
BOSTON
Forwards (16)
Hannah Brandt (Drafted 5-27)
McKenna Brand (Camp Invite)
Shiann Darkangelo (Drafted 12-70)
Sammy Davis (Camp Invite)
Loren Gabel (Drafted 4-22)
Taylor Girard (Drafted 9-51)
Samantha Isbell (Camp Invite)
Hilary Knight (Signed FA)
Nicole Kosta (Camp Invite)
Gigi Marvin (Camp Invite)
Alina Müller (Drafted 1-3)
Amanda Pelkey (Camp Invite)
Jamie Lee Rattray (Drafted 3-15)
Theresa Schafzahl (Drafted 7-39)
Sophie Shirley (Drafted 11-63)
Taylor Wenczkowski (Camp Invite)
Defenders (8)
Emily Brown (Drafted 8-46)
Emma Buckles (Drafted 13-75)
Jessica Digirolamo (Drafted 6-34)
Kaleigh Fratkin (Camp Invite)
Jess Healey (Drafted 15-87)
Sophie Jaques (Drafted 2-10)
Megan Keller (Signed FA)
Lauren MacInnis (Camp Invite)
Goaltenders (4)
Lindsay Browning (Camp Invite)
Aerin Frankel (Signed FA)
Cami Kronish (Camp Invite)
Emma Söderberg (Drafted 10-58)
MINNESOTA
Forwards (15)
Abigail Boreen (Camp Invite)
Sydney Brodt (Drafted 15-85)
Claire Butorac (Camp Invite)
Michela Cava (Drafted 12-72)
Kendall Coyne Schofield (Signed FA)
Clair DeGeorge (Drafted 6-36)
Brittyn Fleming (Camp Invite)
Taylor Heise (Drafted 1-1)
Denisa Křížová (Drafted 8-48)
Sophia Kunin (Drafted 10-60)
Kelly Pannek (Signed FA)
Liz Schepers (Drafted 13-73)
Catie Skaja (Camp Invite)
Susanna Tapani (Drafted 5-25)
Grace Zumwinkle (Drafted 3-13)
Brooke Bryant (Camp Invite)
Defenders (9)
Natalie Buchbinder (Drafted 7-37)
Abby Cook (Camp Invite)
Maggie Flaherty (Drafted 4-24)
Emma Greco (Camp Invite)
Dominique Kremer (Camp Invite)
Patti Marshall (Camp Invite)
Sidney Morin (Drafted 9-49)
Nikki Nightengale (Camp Invite)
Lee Stecklein (Signed FA)
Goaltenders (4)
Lauren Bench (Camp Invite)
Nicole Hensley (Drafted 2-12)
Amanda Leveille (Drafted 11-61)
Maddie Rooney (Camp Invite)
MONTREAL

Forwards (19)
Ann-Sophie Bettez (Drafted 14-79)
Sarah Bujold (Camp Invite)
Hanna Bunton (Camp Invite)
Claire Dalton (Drafted 12-67)
Mélodie Daoust (Camp Invite)
Gabrielle David (Drafted 9-54)
Jillian Dempsey (Drafted 11-66)
Catherine Dubois (Camp Invite)
Sarah Lefort (Camp Invite)
Lina Ljungblom (Drafted 15-90)
Leah Lum (Camp Invite)
Kennedy Marchment (Drafted 6-31)
Maureen Murphy (Drafted 3-18)
Kristin O'Neill (Drafted 2-7)
Marie-Philip Poulin (Signed FA)
Alexandra Poznikoff (Camp Invite)
Brooke Stacey (Camp Invite)
Laura Stacey (Signed FA)
Tereza Vanišová (Drafted 7-42)
Defenders (8)
Erin Ambrose (Drafted 1-6)
Madison Bizal (Drafted 8-43)
Catherine Daoust (Camp Invite)
Mariah Keopple (Camp Invite)
Brigitte Laganière (Camp Invite)
Dominika Lásková (Drafted 4-19)
Maude Poulin-Labelle (Drafted 10-55)
Kati Tabin (Drafted 5-30)
Goaltenders (5)
Ann-Renée Desbiens (Signed FA)
Elaine Chuli (Drafted 13-78)
Marlène Boissonnault (Camp Invite)
Marie-Soleil Deschênes (Camp Invite)
Blanka Škodová (Camp Invite)
NEW YORK
Forwards (18)
Chloe Aurard (Drafted 4-21)
Kelly Babstock (Camp Invite)
Alex Carpenter (Signed FA)
Kendall Cornine (Camp Invite)
Jade Downie-Landry (Drafted 9-52)
Jessie Eldridge (Drafted 3-16)
Elizabeth Giguère (Drafted 5-28)
Alexa Gruschow (Camp Invite)
Alexandra Labelle (Drafted 15-88)
Bailey Larson (Camp Invite)
Paetyn Levis (Drafted 10-57)
Hayley Lunny (Camp Invite)
Savannah Norcross (Camp Invite)
Madison Packer (Camp Invite)
Abby Roque (Signed FA)
Jill Saulnier (Drafted 7-40)
Kayla Vespa (Drafted 13-76)
Emma Woods (Drafted 14-81)
Defenders (12)
Taylor Baker (Camp Invite)
Jaime Bourbonnais (Drafted 2-9)
Emily Curlett (Camp Invite)
Christine Deaudelin (Camp Invite)
Megan Eady (Camp Invite)
Johanna Fällman (Camp Invite)
Brooke Hobson (Drafted 8-45)
Carley Olivier (Camp Invite)
Ella Shelton (Drafted 1-4)
Claire Thompson (Camp Invite)
Olivia Zafuto (Drafted 12-69)
Micah Zandee-Hart (Signed FA)
Goaltenders (4)
Abbey Levy (Drafted 11-64)
Lindsey Post (Camp Invite)
Kassidy Sauvé (Camp Invite)
Corinne Schroeder (Drafted 6-33)
OTTAWA
Forwards (18)
Lexie Adzija (Drafted 11-65)
Emily Clark (Signed FA)
Kristin Della Rovere (Drafted 10-56)
Rosalie Demers (Camp Invite)
Fanni Garát-Gasparics (Camp Invite)
Becca Gilmore (Camp Invite)
Mikyla Grant-Mentis (Camp Invite)
Gabrielle Hughes (Drafted 4-20)
Brianne Jenner (Signed FA)
Caitrin Lonergan (Drafted 14-80)
Kateřina Mrázová (Drafted 8-44)
Liliane Perreault (Camp Invite)
Hayley Scamurra (Drafted 5-29)
Malia Schneider (Camp Invite)
Akane Shiga (Camp Invite)
Natalie Snodgrass (Camp Invite)
Audrey-Anne Veillette (Drafted 15-89)
Daryl Watts (Drafted 6-32)
Defenders (11)
Ashton Bell (Drafted 2-8)
Amanda Boulier (Drafted 13-77)
Zoe Boyd (Drafted 9-53)
Taylor Davison (Camp Invite)
Savannah Harmon (Drafted 1-5)
Cassidy Herman (Camp Invite)
Victoria Howran (Camp Invite)
Jincy Roese (Drafted 3-17)
Aneta Tejralová (Drafted 7-41)
Saroya Tinker (Camp Invite)
Kyra Willoughby (Camp Invite)
Goaltenders (4)
Sandra Abstreiter (Drafted 12-68)
Emerance Maschmeyer (Signed FA)
Rachel McQuigge (Camp Invite)
Samantha Ridgewell (Camp Invite)
TORONTO

Forwards (15)
Victoria Bach (Drafted 7-38)
Samantha Cogan (Camp Invite)
Jesse Compher (Drafted 5-26)
Maggie Connors (Drafted 11-62)
Brittany Howard (Drafted 8-47)
Jess Jones (Camp Invite)
Rebecca Leslie (Drafted 12-71)
Emma Maltais (Drafted 2-11)
Hannah Miller (Drafted 13-74)
Sarah Nurse (Signed FA)
Natalie Spooner (Drafted 4-23)
Blayre Turnbull (Signed FA)
Alexa Vasko (Drafted 14-83)
Morgan Wabick (Camp Invite)
Kaitlin Willoughby (Camp Invite)
Defenders (10)
Mellissa Channell (Drafted 10-59)
Renata Fast (Signed FA)
Kali Flanagan (Drafted 6-35)
Emma Keenan (Camp Invite)
Olivia Knowles (Drafted 15-86)
Jessica Kondas (Camp Invite)
Jocelyne Larocque (Drafted 1-2)
Allie Munroe (Drafted 9-50)
Lauriane Rougeau (Camp Invite)
Taylor Wabick (Camp Invite)
Goaltenders (4)
Kristen Campbell (Drafted 3-14)
Erica Howe (Camp Invite)
Carly Jackson (Camp Invite)
Amanda Mäkelä (Camp Invite)