Buffalo Beauts
PHF Season in Review: Buffalo Beauts
A losing year held a few bright spots for Buffalo. What were the highlights, and what does the team need to change for next season?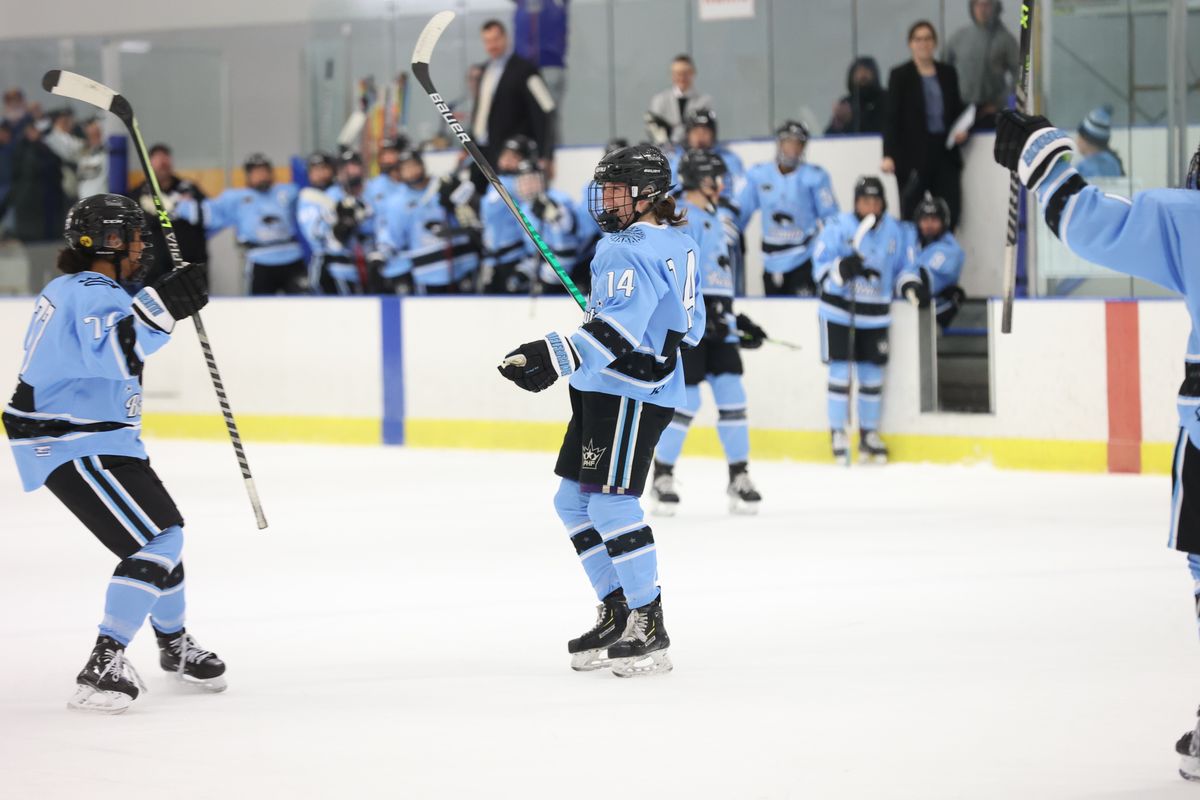 Record: 5-16-3, seventh place – missed playoffs
The long, hopeful road back to Lady Isobel quickly turned into the long, slow road to the end of the season for the Beauts, who unfortunately experienced another losing year. Unlike seasons past, however, 2022-23 was probably one of the toughest years we've seen in terms of team dynamic. Two player releases, multiple late-season signings, and an overall sense of frustration amongst many players culminated in a year where the Beauts severely underperformed.
Witnessing all of this up close, it definitely felt like a much longer season than it was in reality. Still, there's nowhere to go but up, and with some key changes already taking place I think it's going to be an interesting ninth year for this Founding Four team. Let's take a look at the elements.
Offense
Overall: 2.1 GFA; -45 goal differential
Points leader: Mikyla Grant-Mentis, 21 pts (9 G, 12 A)
Goals leader: Claudia Kepler (10 G)
Like in many seasons prior, the offense came in fits and starts over the course of 2022-23. Players like Claudia Kepler started and ended strong, while Mikyla Grant-Mentis and Courtney Maud took a little longer to cook. In fact, for the first few games of the season the bulk of the offense came from the blue line, with Whitney Dove, Antonia Matzka, and Maddie Truax factoring in.
As the regular season concluded, it was Grant-Mentis who took over the top spot in scoring, with 21 points in 24 games (9 goals, 12 assists). With the change in teams, from offense-heavy Toronto to Buffalo, came a change in role for her, which accounts for some of the dropoff in points from 2021-22 where she had 30 points and double digits in both categories.
However, a much bigger reason for her and the offense's general lack of production is simply not having a whole lot of support or consistency. Lines were changed between games and sometimes even on the fly, with players like Autumn MacDougall and Anjelica Diffendal getting benched for little to no reason. Head coach Rhea Coad seemed to chalk it up to a lack of drive in some respects, which raised an eyebrow or two for anyone taking in practices regularly (or anyone with the presence of mind to note MacDougall had had the lone gamewinning goal for the Beauts against Montreal way back during Opening Weekend prior to her departure).
In the end, MacDougall and Michaela Boyle both decided to sever ties with Buffalo before their contracts were up, doing a number on the vibes for anyone on the outside looking in. MacDougall has since signed with Montreal, while Boyle is planning to weigh her options within the rest of the PHF.
Even with all of this, there were still some bright spots. As mentioned, Kepler was able to get a full season under her, scoring a team-high 10 goals and tallying a team-high .196 in shot efficiency and thus cementing her status as a sniper. Maud emerged later in the year as a special teams assassin, with three of her six goals coming on the power play and one coming shorthanded. Summer-Rae Dobson was also a standout, playing a fair amount with Jenna Suokko and Emma Nuutinen before getting moved up to the top line.
With both Dobson and Kepler signed to another year, I would definitely look at re-signing Maud and Grant-Mentis and finding one or two strong centers who can drive faceoffs, thus freeing up Grant-Mentis to thrive on the wing. I also would look at re-signing at least Nuutinen, who was a tremendous force on both sides of the puck and is so good at creating those chances a winger can cash in on.
Lastly, a player I really want to see more of (who continuously seemed to get the shaft under Rhea Coad) is Amy Budde. Budde was signed last year and barely played, then was signed late this season and was subject to the same situation despite being a practice player since October. Not only is she a better and more versatile player than I think a lot of people realize, she's a hard worker, a great locker room presence, and has worked hard to reach out to the Buffalo and Western New York community. Why wouldn't you want someone like that on the ice?
Defense
As mentioned earlier, the defense drove a lot of the goal scoring, especially early on. This is a talented group of blue liners who can skate, move the puck well, and block shots. Matzka was an early standout for her shot and her skating, and Dove earned the Unsung Hero award from her teammates for being an absolute rock on the back end while still providing offense where needed. Truax is an excellent shot blocker, and Jess Healey displayed some great leadership and chemistry with several forwards (including longtime friend Kepler).
Where the blue line failed is in the system. Honestly, there were times I didn't even see a structure on the back end, it was so chaotic. Opposing forwards were given way too much time and space to either disorient the Beauts with passing plays or exhaust them by hemming them in the zone. Moreover, both the goal differentials and the shots against faced by every goaltender who's played in Buffalo this season are enough to indicate that despite a plethora of strong skaters, there was nothing in place to help them really shine. And Dominique Kremer, last year's Defender of the Year, was virtually silent all season.
Healey and Kremer are both back next year as well under those two-year contracts, which means there are going to be a lot of spots to fill in the meantime. Allison Attea is almost a lock for next season, as she's a local girl, and I really like how she's grown into a capable offensive defender — especially as a part of the second PP unit. I'd love to see Matzka and Dove back as well, and if the Beauts can get another defender with some size and perhaps a bit more of a stay-at-home mindset, a la Saroya Tinker, I think that would be huge for them.
Goaltending
Lovisa Berndtsson: 13 GP, 2-8-0-3, 3.61 GAA, .893 sv%
Samantha Ridgewell: 6 GP, 2-3-0, 2.68 GAA, .922 sv%
Tera Hoffman: 5 GP, 1-3-0, 5.47 GAA, .872 sv%
Kassidy Sauvé: 3 GP, 0-2-0, 3.33 GAA, .902 sv%
Well, this is the one area I feel didn't really have any major issues aside from injuries. Kassidy Sauvé would likely have been the starter for Buffalo had she not been in and out (and finally out for good) with a hip injury. Her athleticism and technical ability would likely have put her in good standing amongst the goalies in the PHF otherwise. Still, she's looking ahead to next season, and with surgery going well I have high hopes she'll be able to prove it herself.
Lovisa Berndtsson, Tera Hofmann, and Sam Ridgewell did the best they could under the circumstances in front of them. Berndtsson was the undisputed starter prior to Ridgewell being signed in February, and she showed off the form that got her signed with Buffalo in the first place last season. For her hard work, she finally earned her first win in the PHF (Jan. 21 against the Riveters) and also kept the Beauts in some very tight contests against top teams like Toronto and Boston.
Most Valuable Player
While Grant-Mentis got the vote from her teammates this year, mine is a tie between her and Berndtsson. Each of these players has contributed so much in her own way. Grant-Mentis not only generated offense, she also led the forward corps defensively, putting her body in the way and always being one of the first back when needed. And of course, Berndtsson's consistency in net is hard to overlook, especially considering how inconsistent the team in front of her was all year.
Best Newcomer
This one is tough to call. Dobson earned the team vote after battling her way up the roster, but I think you could make a great case for Maud as well. Each player has added speed and grit to the lineup, and they looked right at home despite them each playing in their very first professional season post-college. With some proper direction coaching-wise, I think each of them could have even more of an impact in 2023-24.
Looking Ahead
Changes are definitely on the horizon, not just in terms of player personnel but also behind the bench. Coad handed in her resignation shortly after the end of the regular PHF season, and recent reports have indicated there is a lot of interest in the position. It's a tough situation – she clearly had passion, but ultimately I don't think she did was what necessary in order to grow into the role. You have to have the experience to be a head coach in this league, and if you don't, you need to surround yourself with people who do. That was the opposite of what she did, and it definitely showed in the way the Beauts were outcoached week in and week out. With the salary cap doubling to $1.5 million this coming season, you need to up your game, especially when you're in the company of former NHLers, Hall of Famers, and successful Olympians.
There is also going to be a lot more talent vying for pieces of the same pie, which means even tougher decisions are coming for general manager Nate Oliver. Last year's free agency had over 80 players interested in playing for this team; this year, who knows?
I know if I were general manager, I would focus on dispersing money as evenly as possible. Naturally, some players will have higher salaries than others simply due to tenure and performance (and what their agents or representation can negotiate for them), but the whole point in upping the cap in the first place was getting players to a point where they can get closer to making, or actually make, hockey their full-time job. As tempting as it might be to throw big money at one player and work with what's left, the fact is this is a team that needs something to distinguish itself from the rest of the pack and make players want to play for Buffalo. The promise of a more equitable distribution of money, and making sure every player is taken care of, would be a great start.