pwhl
A Deep Dive Into PWHL Boston's Training Camp Invitees
Who are Boston's 11 training camp invites? Let's dive into the emerging Boston PWHL roster.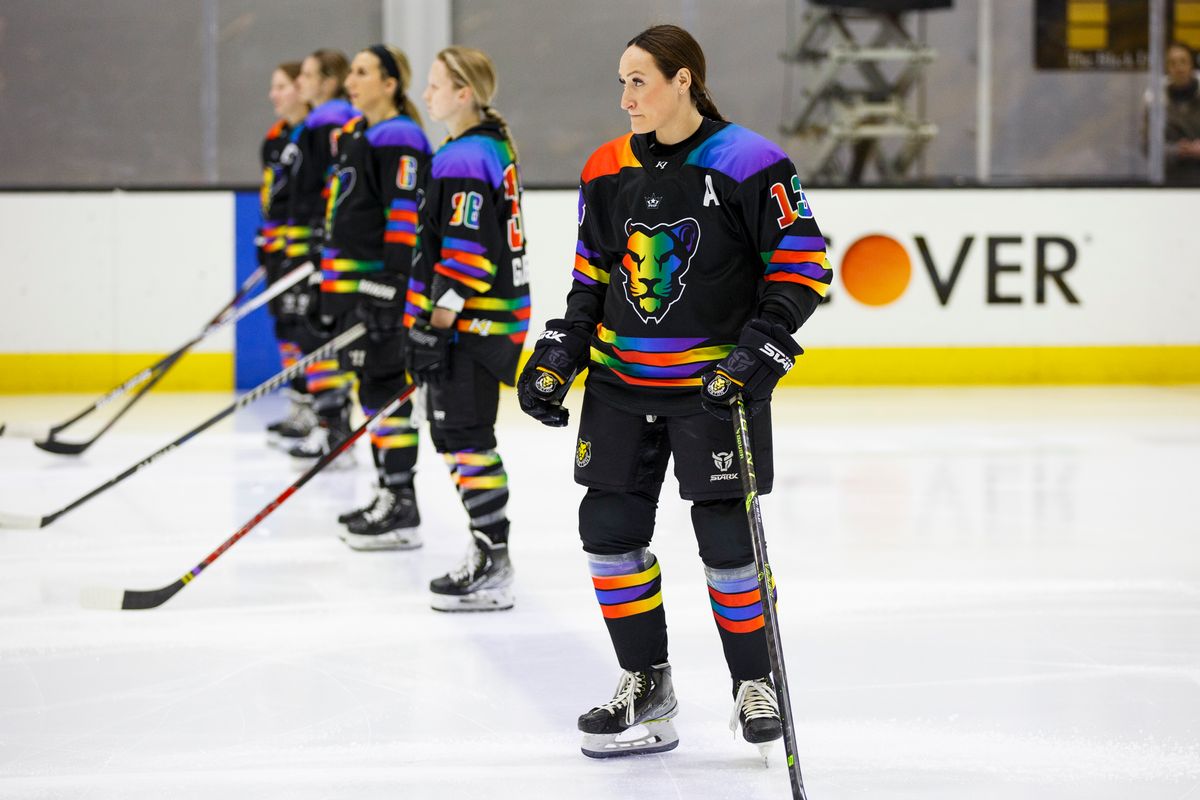 The PWHL announced each team's inaugural training camp rosters on October 16th. Boston's roster includes 28 players, which is the minimum set of the league. It included 11 camp invites. So, without further ado, let's meet all the invitees trying to prove that overlooking them in the draft was a mistake.
All 2022-23 PWHPA statistics are courtesy of the PWHPA's 2023 Dream Gap Tour website. All other statistics are courtesy of Elite Prospects.
---
McKenna Brand, F
Most recently with: Boston Pride (PHF)
Previous Stops: Northeastern University (NCAA)
Like many on this list, McKenna Brand is no stranger to Boston. The 27-year-old may hail from Park Rapids, MN, but she has spent her entire career in Boston. So, when Boston's camp invite list came out, few were surprised to see her name on it. She scored nearly a point-per-game over her PHF career, with 37 goals and 50 assists in 91 games. Like most Pride alumni on this list, she has a championship pedigree, having been a big part of their 2021 and 2022 Isobel Cups. She is a left-shot, which could hurt her since seven of Boston's eight drafted forwards attending camp are left-shots (Tatum Skaggs, a right-shot forward draftee, was not on the training camp roster). That said, she has the most impressive resume of all left-shot forwards on the invite list, so if any of them are going to break in, it is probably her.
Sammy Davis, F
Most recently with: Boston Pride (PHF)
Other stops: Boston University (NCAA)
As the 1st overall pick in the 2020 PHF Draft, Sammy Davis is used to lofty expectations. The 26-year-old scored nearly a point-per-game during her college career with 66 goals and 76 assists in 142 games, and many expected her to keep that up in the pros. While Davis may not have kept up that pace, her 15 goals and 16 assists in 51 career games were still solid, especially considering her reduced usage (compared to her college days) thanks to the Pride's incredible depth. That said, the Pembroke, MA native will enter camp in a position she has rarely found herself in: fighting for a roster spot. It is unlikely to faze her too much, but it is something to keep in mind. If she can show she still has that scoring touch from her college days, she could play herself into a contract. But, as a left-shot forward, Davis is facing an uphill battle to claim a spot on the opening night roster.
Samantha Isbell, F
Most recently with: Montréal Force (PHF)
Previous Stops: PWHPA Montréal, Mercyhurst University (NCAA)
Samantha Isbell joins PWHL Boston camp after spending two seasons in Montréal. After switching from the PWHPA to the PHF last season, the 25-year-old tallied three goals and eight assists in 22 games for the Force. While she is joining camp as a forward, she played defense in college. She is a left-shot, which Boston has plenty of already. But, her versatility could be a big enough boost and at least land her one of the two reserve spots.
Nicole Kosta, F
Most recently with: Team Scotiabank, PWHPA
Previous Stops: PWHPA Toronto, PWHPA GTA East, Markham Thunder (CWHL), Connecticut Whale (PHF), Quinnipiac University (NCAA)
Nicole Kosta has spent most of her career in the Toronto area, including last season as a member of the PWHPA. She tallied four goals and four assists in 20 games during the 2023 Dream Gap tour. While her production has not been eye-popping since her college days, she is a reliable two-way forward who can play tough matchups. Her biggest asset going into camp will be her right-handed shot. Hilary Knight is the only right winger currently on the roster, and center Hannah Brandt is the only right-shot forward draftee attending camp. While some players can play their off-side, it is not ideal to have too many do it. So, all right-shot camp invites will be getting a long look as GM Danielle Marmer looks to balance out her roster, meaning Kosta will have ample opportunity to prove herself.
Gigi Marvin, F
Most recently with: PWHPA Minnesota (2021-22)
Previous stops: PWHPA New England, PWHPA New Hampshire, Team USA, Boston Pride (PHF), Boston Blades (CWHL), Minnesota Whitecaps (WWHL), University of Minnesota (NCAA)
After retiring following the 2021-22 season, Gigi Marvin will be attending PWHL Boston's training camp as a forward. However, the Warroad, Minnesota native has played both forward and defense over her storied career, and that versatility could be a big boost to her odds of getting a contract. She brings a wealth of championship experience as a longtime member of Team USA, with whom she won five gold and two silver IIHF World Championship medals and one gold and one silver Olympic medal. She also won championships with the Whitecaps, Blades, and Pride. She has been close to or above a point-per-game player in every league she has played in that kept complete statistics (the PWHPA has not maintained public records of all their past seasons). To give her an even stronger case, she is a right-shot, and Boston's current forward and defense corps are both heavy with left-shots. Unless she has lost a huge step because she took a season off (which is unlikely), Marvin's versatility and experience should make her a no-brainer signing.
Amanda Pelkey, RW
Most recently with: Metropolitan Riveters (PHF)
Previous stops: PWHPA Calgary, Team USA, Boston Pride (PHF), University of Vermont (NCAA)
Amanda Pelkey rejoined the PHF last season as a member of the Metropolitan Riveters after spending three seasons with the PWHPA. Throughout her 73-game PHF career, the 30-year-old potted 19 goals to go along with 29 assists. The Montpelier, VT native has also played for Team USA, winning two IIHF World Championship and one Olympic gold. While not the flashiest player, Pelkey is a reliable depth forward, and as a right winger, she could fill a position of great need for PWHL Boston. Others are more versatile than her, but sometimes being a specialist in one position is a good thing. While she will have plenty of competition from the other camp invites, do not sleep on Pelkey.
Taylor Wenczkowski, F
Most recently with: Boston Pride (PHF)
Previous stops: University of New Hampshire (NCAA)
After playing college hockey at the University of New Hampshire, Taylor Wenczkowski has spent her entire professional career with the PHF's Pride. So, it was no surprise that she wanted to stick around Boston. The 26-year-old Rochester, NH native tallied 11 goals and 14 assists over 51 games with the Pride, and scored the 2021 Isobel Cup-clinching goal for Boston en route to being named playoff MVP. As a right-shot, she will have ample opportunity to prove herself in camp, but she faces stiff competition for a depth role. Still, Wenczkowski seems to shine brightest in high-pressure situations, so keep an eye on her.
Kaleigh Fratkin, D
Most recently with: Boston Pride (PHF)
Previous stops: Metropolitan (then-New York) Riveters (PHF), Connecticut Whale (PHF), Boston Blades (CWHL), Boston University (NCAA)
Few are more synonymous with professional women's hockey in Boston than Kaleigh Fratkin. The 31-year-old may hail from Burnaby, B.C., but she has made her home in Boston. She has only spent two years of her adult life living elsewhere, and clearly, she wants to stick around a bit longer. Over her eight-season PHF career (the last six of which have been with the Pride), Fratkin racked up 15 goals and 71 assists in 138 games. She was named PHF Defender of the Year once (2021) after tallying the most assists and points by a defender. She is also a three-time all-star and she was an integral part of the 2021 and 2022 Isobel Cup-winning squads. While she has had an excellent career, her biggest asset for PWHL Boston may be her right-handed shot. Four of the five defenders Boston drafted are left-shots, as is free-agent signing Megan Keller. Just like with forwards, while some defenders can play their off-side, it is not ideal. GM Danielle Marmer appears to agree, with both of her defensive camp invites being right-handed shots. Fratkin will have ample opportunity to prove herself, and it would not be a surprise to see her on the opening night squad.
Lauren MacInnis, D
Most recently with: DEC Salzburg Eagles (EWHL), Frölunda HC (Division 1, HockeyAllsvenskan)
Other stops: Northeastern University (NCAA)
Lauren MacInnis was busy in her first professional season last year, which she spent overseas. The 24-year-old spent time with three teams in three leagues and racked up four goals and four assists in 16 games. She was set to spend this season with the PHF's Buffalo Beauts before the league dissolved.
However, the St. Louis, MO native has Boston ties since she spent her college career at Northeastern University. In 111 games, she tallied five goals and 19 assists, but scoring has never been MacInnis' priority. She is an excellent defensive defender and penalty killer, and she is capable of playing big minutes against tough matchups. But, her biggest asset when it comes to landing a contract will be her right shot. She has stiff competition between Fratkin and the team's draftees, but if she sticks to her game, she will at least make Marmer's decision difficult.
Lindsay Browning, G
Most recently with: Team Sonnet (PWHPA)
Previous Stops: Cornell University (NCAA)
Following an outstanding Cornell University career, Lindsay Browning joined the PWHPA's Team Sonnet last season. The 24-year-old Penfield, NY native went 0-4-0 with a 3.23 GAA and 0.884 SV%, but Team Sonnet was 4-12-2 overall, so it is hard to pin it all on her. Looking at her college numbers, it's not hard to understand why she was invited to camp. She was 45-17-5 with a 1.42 GAA and a sterling 0.940 SV%, and she was a Patty Kazmaier Award finalist in 2019-20, which is given annually to the best NCAA Division 1 women's hockey player. She will have stiff competition for a spot from fellow invitee Cami Kronish, but she has more experience, which could be enough to secure her a spot as Boston's third goalie.
Cami Kronish, G
Currently with: AIK (SDHL)
Previous Stops: University of Wisconsin (NCAA)
Cami Kronish is currently playing overseas with AIK of the SDHL. So far, the 23-year-old has appeared in one game (as of October 18th) with a 3.00 GAA and 0.930 SV%. Kronish, a New York City native, is fresh off an outstanding senior season at the University of Wisconsin, during which she went 21-8-2 with a 1.56 GAA and 0.932 SV% en route to winning a national title and being named the tournament's most outstanding performer. Her performance makes it hard to believe that last season was her first as a starter because of Wisconsin's goaltending depth. She didn't see any game action in two of her five years and only played in six games before taking over as the starter. While her relative lack of experience may concern some, she has shown a remarkable ability to stay sharp while only playing sporadic games. That could help her land a contract with PWHL Boston, which already has Olympians Aerin Frankel and Emma Söderberg as their top two goalies.