The PWHL Draft is (long) over. As of this moment, each of the league's six teams has three players signed to three-year deals, 15 drafted players, and a growing list of training camp invites who will compete for spots to bring each club to the required minimum of 23 players for the league's inaugural season.
On paper, the PWHL New York franchise is off to a strong start. Remember, being drafted by a PWHL club does not mean contracts have been agreed to. And it's possible we will see drafted players fail to come to terms. A lot can (and can't) happen between now and puck drop. With that said New York looks like a group with a good blend of skill and tenacity with some elite playmakers in the mix.
With a core of defender Micah Zandee-Hart and centers Alex Carpenter and Abby Roque, general manager Pascal Daoust made his team strong down the middle before the draft. On draft day, he doubled down on defense and depth down the middle by taking Ella Shelton and Jaime Bourbonnais in the first two rounds and stealing Jade Downie-Landry in Round 9. Of all New York's picks, that one stands out as an exclamation point because of the depth it gives them down the middle.
The result of Daoust's draft? A very Canadian-flavored roster with three skaters (all forwards) above five-foot-eight, per EliteProspect's data. Size isn't everything, especially in the women's game, but for a team that wants to be tough to play against it's interesting to see a lack of size on the blue line. Daoust opted instead for players with outstanding motors – hard workers who win puck battles with speed and/or snarl like Olivia Zafuto and Brooke Hobson.
The Draft
Ella Shelton (D, CAN)
Jaime Bourbonnais (D, CAN)
Jessie Eldridge (F, CAN)
Chloé Aurard (F, FRA)
Élizabeth Giguère (F, CAN)
Corinne Schroeder (G, CAN)
Jill Saulnier (F, CAN)
Brooke Hobson (D, CAN)
Jade Downie-Landry (F, CAN)
Paetyn Levis (F, USA)
Abigail Levy (G, USA)
Olivia Zafuto (D, CAN)
Kayla Vespa (F, CAN)
Emma Woods (F, CAN)
Alexandra Labelle (F, CAN)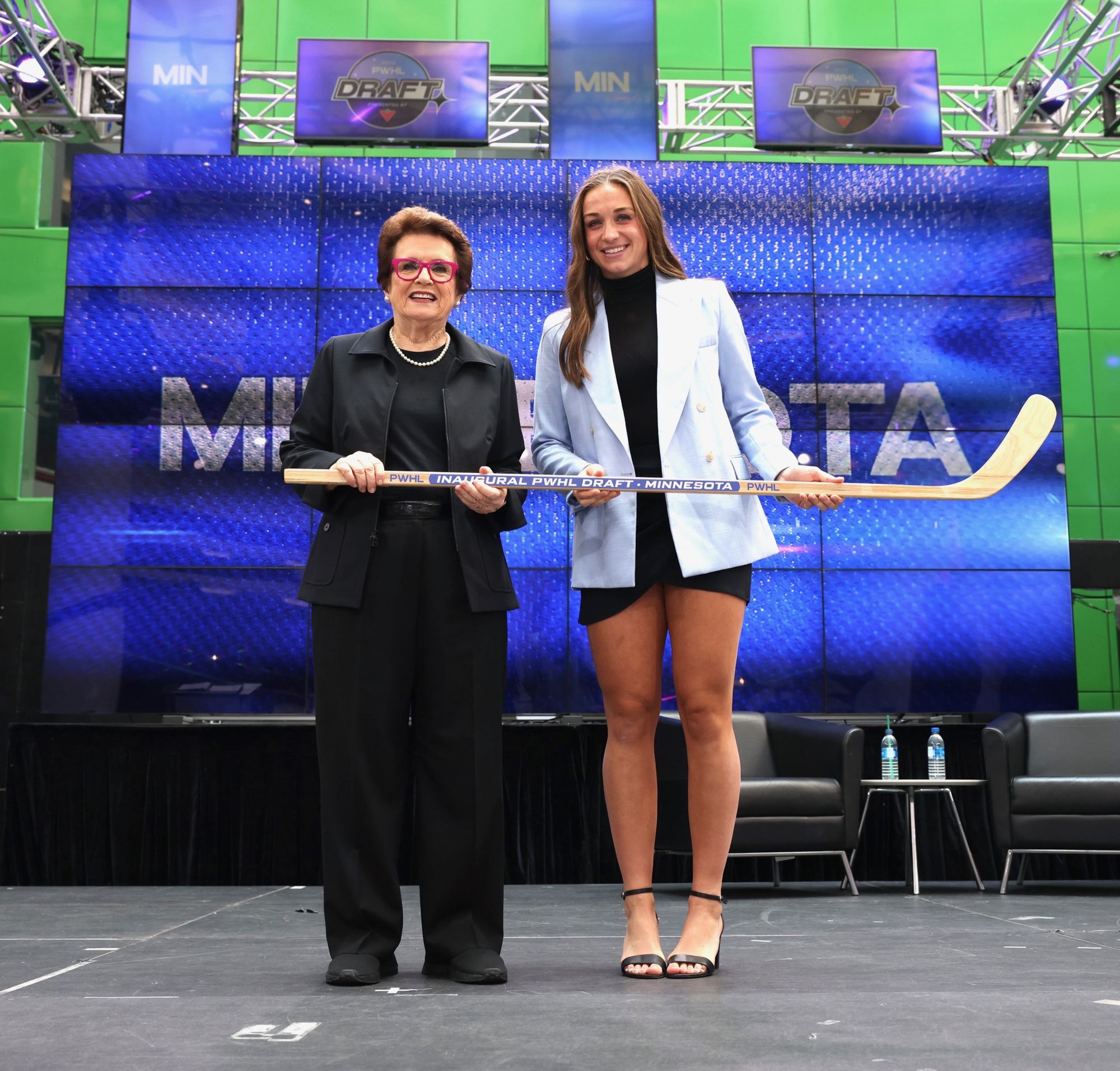 Forwards
I can't wait to see this top-six on the ice. Giguère, Aurard, and Eldridge are top-shelf wingers to play with Carpenter and Roque and Paetyn Levis has so much potential to be a star at the pro level with all of New York's playmakers around her. What I see when I look at this roster is three lines that can score and wear the opposition down. Something tells me the fourth line will end up being an absolute bear to play against.
As outstanding as PWHL New York's depth down the middle is, don't sleep on this group of wingers. Emma Woods and Jillian Saulnier are veterans who can kill penalties and produce in a scoring role. Jessie Eldridge could thrive with the playmakers in this group and emerge as New York's top goal scorer if Carpenter doesn't claim that role for herself. There's no doubt that the offense is going to be there but there's no pure sniper like Loren Gabel here to run away with the goals on the club. New York will likely have a balanced scoresheet with Carpenter at the top of it.
Madison Packer is the training camp invite that makes too much sense not to happen. Packer could be that special ingredient to the bottom six and a second power-play unit that makes New York into the relentless nightmare that Daoust has in mind. At 32, she still has what it takes to be an impact player in the best pro league in the world. Signing her could also bring a lot of Riveters fans into the fold and into the stands and that is definitely something that should be taken into consideration.
The Blue Line
Right now, Bourbonnais is the only right-handed defender on the roster. Per Ian Kennedy's list of training camp invites, that could be remedied by Carley Olivier or Taylor Baker. Christine Deaudelin is also in camp, but she, too, is a leftie. In all likelihood, Hobson or Zafuto will play on the right side on the second pair but one has to imagine that Olivier and Baker have a good chance to earn a contract to balance things out on the blue line a bit more.
The big three of Zandee-Hart, Shelton, and Bourbonnais is truly special. With that trio in place, Daoust was able to wait until Round 8 to grab Hobson and didn't go back to the blue line on draft day until Round 12 to scoop up Zafuto. There's a lot for head coach Howie Draper to work with here. Again, size isn't everything, especially if every defender on New York can move the puck in all three zones.
The battle in camp for the sixth and seventh defender spots will be the one New York fans should watch closely. Will Daoust and his crew go for balance, youth, or experience? We'll soon find out.
Inside the Crease
Schroeder and Levy? That's two top goalies under the age of 25 taken in the draft and that gives PWHL New York a goalie duo that can rival any in the league.
As outstanding as that duo sounds it could soon be bolstered or even challenged by camp invites Kassidy Sauvé and/or Lindsey Post. For those who don't know, Sauvé is a player to root for. She's had a long, difficult return from an injury she sustained while playing with the Buffalo Beauts and thought she had found a chance to prove herself again with the Boston Pride before the collapse of the PHF. Anyone who has seen her when she's healthy knows that Sauvé is a marvel between the pipes.
Post, 29, is a big veteran keeper coming to camp from the SDHL. After two years in the CWHL with the Calgary Inferno, Post has been plying her trade and stopping pucks in Sweden since the 2019-20 season. If she signs as New York's third goalie, the 5-foot-11 Schroeder would be the "smallest" keeper on the roster. One way or another, the Big Apple is going to have a few big goalies.
Unfortunately, the reality is there are more elite goaltenders than goaltending gigs available in the PWHL. It's because of this that each team will have an abundance of talent in the goalie crease, including New York.