IIHF Women's World Championship
Wicked Angles: Once again, I need y'all to learn more names than Hilary Knight's
Hmmm.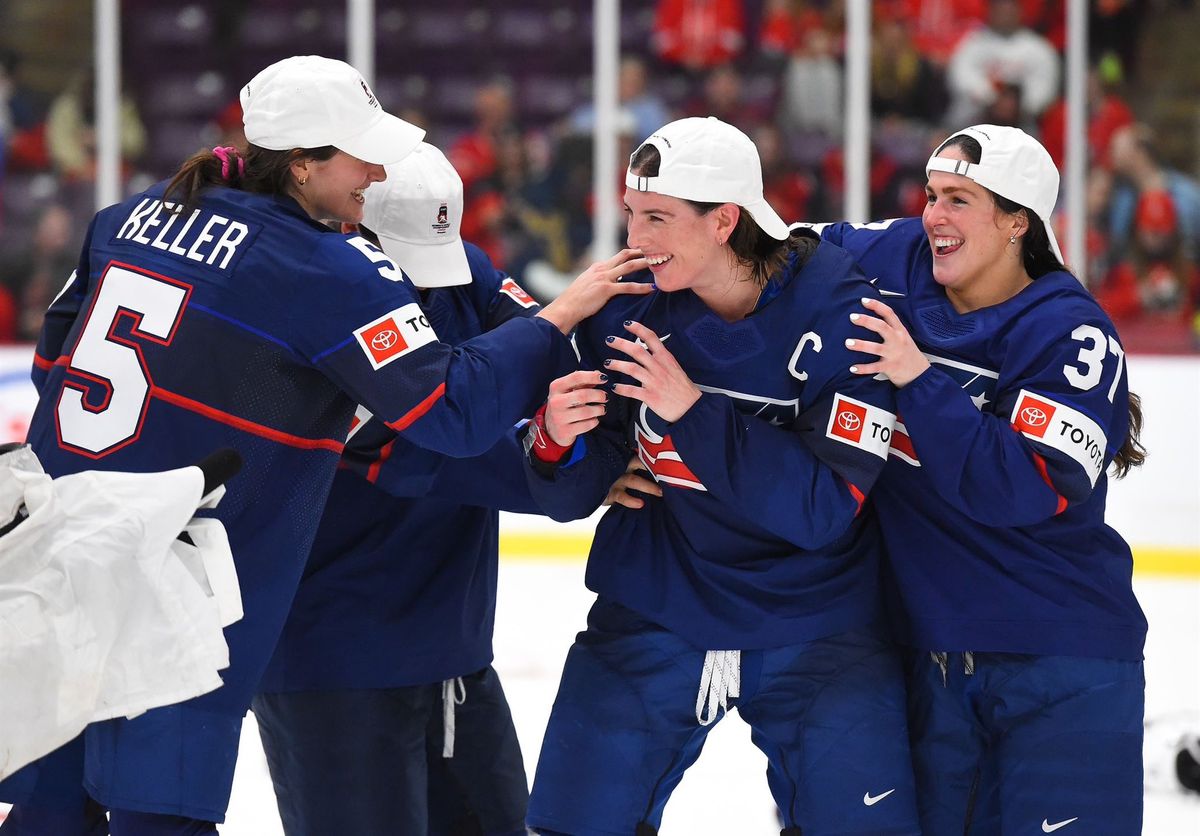 This already sounds salty, and I'd be sorry about that, but the truth is I don't feel sorry about wanting to highlight the growth of women's hockey faster than women's hockey – or, rather, the International Ice Hockey Federation – seems to want it.
#WomensWorlds gold medalist Hilary Knight has been named the IIHF Female Player of the Year.

More: https://t.co/2oiHKFQ7YF@usahockey pic.twitter.com/jVuDxjSAz4

— IIHF (@IIHFHockey) June 1, 2023
When the IIHF announced the winner of its inaugural Female Player of the Year award Thursday afternoon, I wasn't necessarily surprised. More just disappointed – yes, like a parent catching their kid with their hand in the cookie jar after being told to wait till after dinner.
In this situation, the jar in question is the list of names for this award, and for some reason, it feels like the ballot box was stuffed in favor of Team USA captain Hilary Knight, as she took the first-ever honors with a staggering 41% of the vote.
At a glance, it makes sense, right? The 33-year-old is an institution in American women's hockey. She's one of the most recognizable faces in the sport, even as her era of hockey seems to be drawing to an inevitable close. She scored a hat trick in the Worlds gold medal game against Canada, bringing her past the 100-point mark for the World Championships and earning her a record-tying ninth gold medal in that tournament. Knight has set a lot of benchmarks, and if this were a lifetime achievement award, she easily would have been my pick.
But this isn't a lifetime achievement award. It's an honor that six other players were named as in contention for, including a very deserving teammate of Knight's on Team USA, Caroline Harvey. Harvey recorded a tournament-leading 14 points in seven games during Worlds, making this her best international year to date. Her efforts earned her All-Star and Best Defender honors from the IIHF themselves. But that's not all – in the NCAA, Harvey shined on the blue line as a member of the National Championship-winning Wisconsin Badgers, tallying 39 points in 41 games (good for first amongst all WCHA rookies) and scoring the overtime winner that sent her team to the final showdown.
Harvey's percentage of the vote for Female Player of the Year? 18.2%. Barely half of the recognition of her teammate, for what I would call a much more impactful performance overall. Knight came in clutch for the gold, no doubt, but you can argue she benefited greatly from the hard work of the much younger, faster players around her; she simply was in the right place at the right time, which is a skill in and of itself, sure, but not enough for me.
But say you didn't even want to look at just Team USA. Absolutely fine. We have Canadian Sarah Fillier, who had a tremendous 19-goal, 37-point year with Princeton and recorded 11 points of her own during Worlds. Emma Söderberg was a rock in net for Team Sweden, pushing Canada to overtime on a sparkling 51-save performance in the Worlds quarterfinal. As a member of the UMD Bulldogs, she also set a school single-season record for shutouts with 12 and has only allowed four (4!) goals in her five-year postseason career in the NCAA tournament.
And then of course, we have the Slovakian phenom Nela Lopušanová, who absolutely destroyed the U18s in January with her skill and scoring ability – with nine goals and 12 points in five games, she also became the first women's player to score a Michigan goal in an IIHF event, completing the feat against Sweden in the U18 quarters as a 14-year-old.
14-year old Nela Lopušanová pulled off the Michigan at the #U18WomensWorlds yesterday.

She has 31 points in 10 games in Slovakia's men's U16 league this year. 🤯 pic.twitter.com/KtKwA1jTqu

— Hockey Of Tomorrow (@HockeyTomorrow) January 13, 2023
Yeah, you read that age right. Fourteen when that was scored. Fifteen now, and she could potentially be one of the first real generational talents we see in women's hockey. She got 13.6% of the vote for Female Player of the Year.
This is to say nothing of the other established legends we saw nominated alongside all the above-mentioned players: Marie-Philip Poulin, who also reached career milestones for Team Canada in this past Worlds (scoring her 100th and 101st goals and surpassing 200 career points for Team Canada in the prelims); and Jenni Hiirikoski, who suffered a scary throat injury after being cut by a skate during the SDHL final prior to Worlds and returned to compete at a high level for Team Finland.
Knight is a very talented player who has proven herself worthy of accolades; I'm not saying she isn't. Nor am I saying that her earning this honor dubiously is by any means her fault. All she's done is be one of the most high-profile athletes in women's hockey, and who the hell can blame her for that?
No, my beef is fully with voters who don't take the time to really think about who deserves the honor they're voting for – meaning, looking at the full picture and all of its parameters. It's with media and broadcasters who don't take the time to highlight any players not wearing maple leaves or red, white, and blue. It's with people who have the power and access to do more with their vote and instead go for the simplest option instead of really taking the time to look at each name, each performance. If they did that, they might just find someone a bit more deserving.
Focusing on the same names each year undercuts the growth of the sport, because it gives the casual fan the illusion that we haven't moved past the same three or four players we were talking about 10 years ago. I understand the legacy, and I get the temptation to anoint those who might not have a ton of miles left to go in their careers. All I'm saying is, there is a different, much better way to go about that, and it has to do with putting in the effort to learn newer players' names, learn their stories, and be able to talk intelligently about where they fit in the current landscape. None of that would ever take anything away from the legends who are still skating today – in fact, it would just underscore how much those legends have given to the sport, enabling the newest era of talent to carry on that excellence.