PHF
Whitecaps Defender Sidney Morin Successfully Returns Home to Minnesota
"It's fun to be back, and I'm happy to be playing against this type of talent; also proving myself back here in America this season."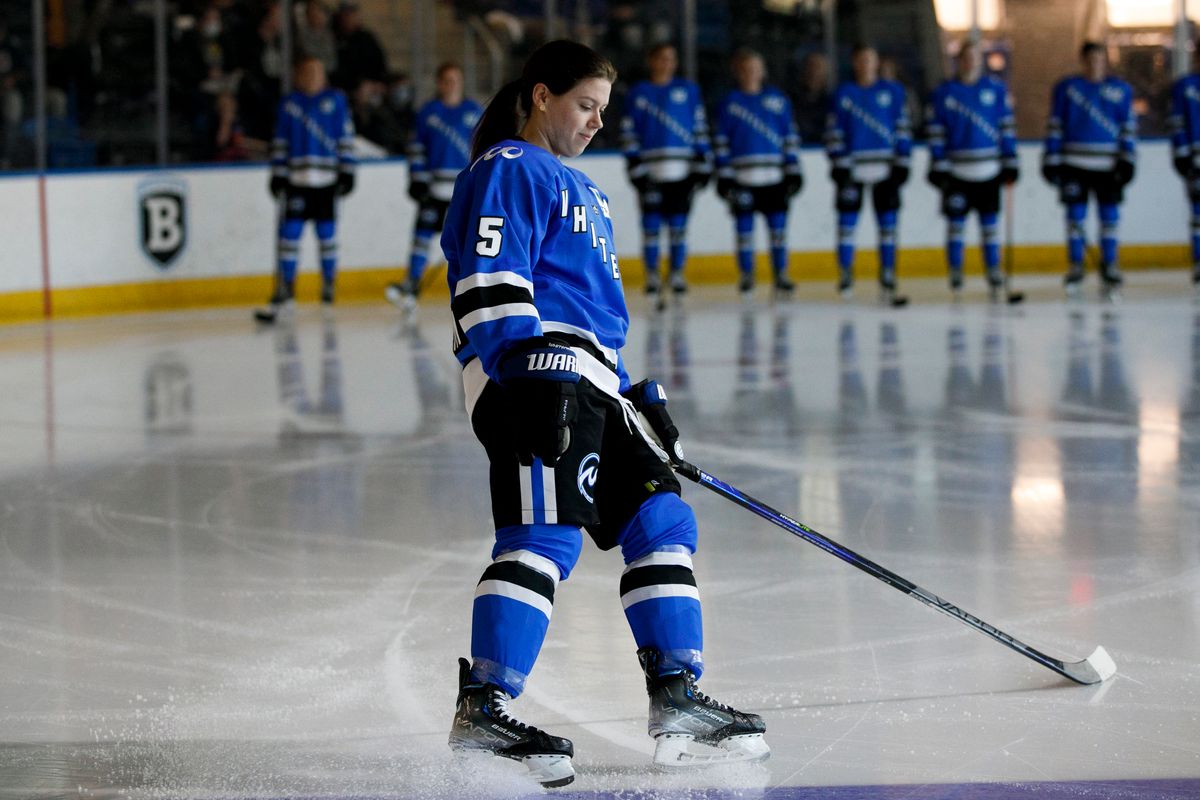 After five seasons playing hockey overseas, Olympic gold medalist Sidney Morin wanted to come back home to Minnesota to continue her professional playing career and the Minnesota Whitecaps are sure glad she did. The defender had a splendid season with her hometown team - tying for the team lead in assists (10), and finishing third on the team in goals (7) and points (17), and at the other end of the ice, while often playing heavy minutes, she only took two minor penalties.
That stellar play continued right into the PHF postseason last weekend as Morin added another goal and assist to that total as her Whitecaps swept the top-seeded Boston Pride, in Boston, to advance to the 2023 Isobel Cup Final. Early in the third period of Game 2 Minnesota was clinging to a one-goal lead and kept staving off waves and waves of Boston chances.
Morin and the defense corps were exceptional, not only in the game but in the series, but when she intercepted an ill-advised pass and put it behind the Pride netminder to bulge the score to 3-1, it was arguably her biggest play of the season.
"I kinda saw it in her eyes that their defender was looking to make a stretch pass," Morin said, explaining the play she scored on. "I stepped into it, had a few players on my team telling me - GO, GO, GO! So that's what I did. I used their defender as a screen and shot it through her legs, and it happened to go in. A huge goal for our team to continue and carry that momentum and build up our lead."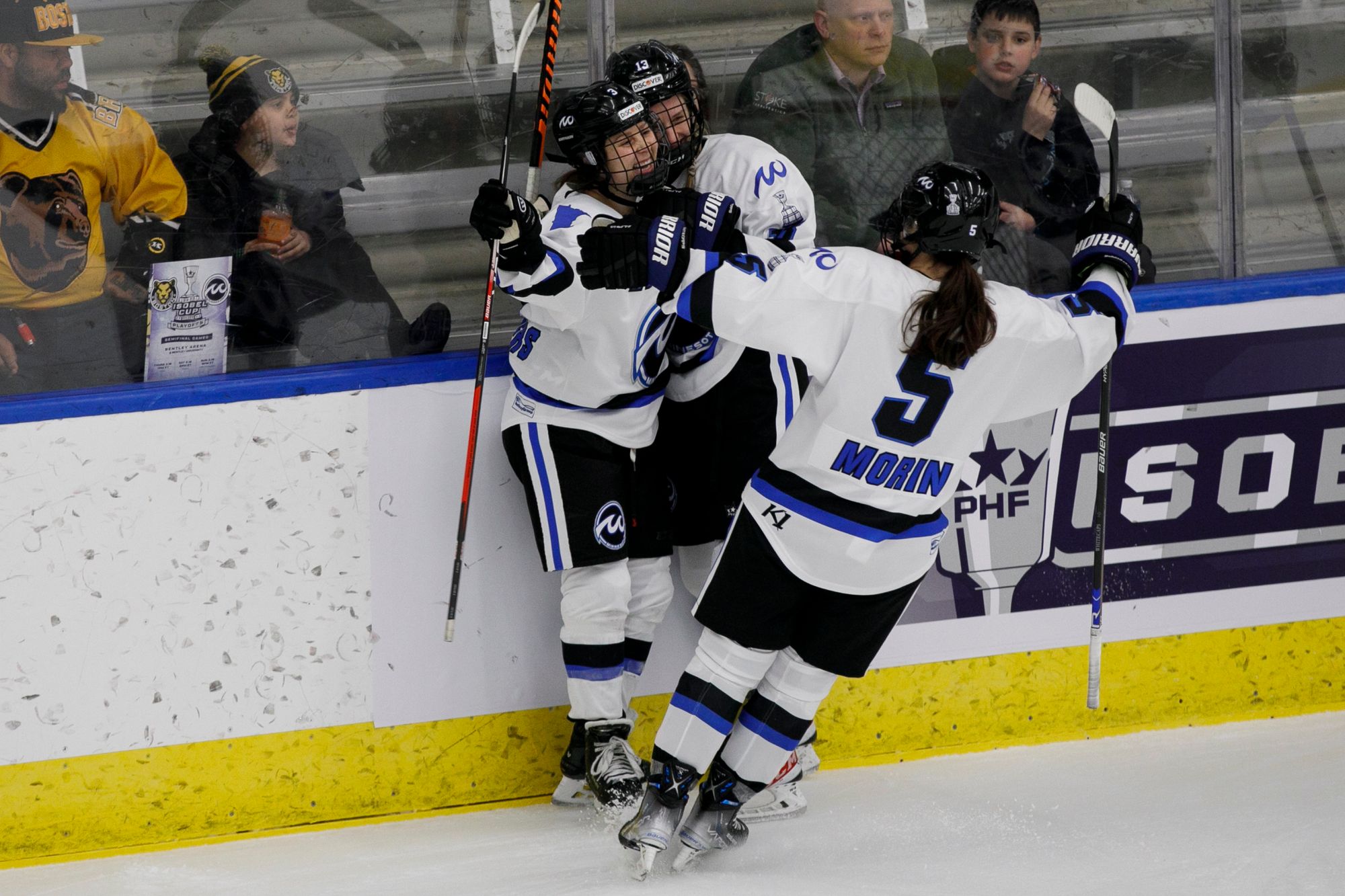 Morin is well known for her offensive talents, but she really shined in the semifinals defensively (as did all of the Whitecaps defenders). They stuck to their game plan and were able to neutralize and frustrate Boston's offensive dynamos time and time again over the two-game series.
"They have a ton of super talented forwards, and (have) proven that all season long. We talked as a group about being smart with our pinches, and we tried not to give up too many odd-player rushes because they will capitalize on those opportunities. That was a huge part of it," the 27-year-old Minnetonka native said after the sweep was complete of her team's strategy heading into the playoffs on an eight-game skid.
"We really didn't pinch much, we let them come to us and played those rushes the way we know we can play against them. In the D-zone, honestly, we were all over them - we didn't give them time and space in the corners, we played physical and were there to pick up rebounds for Lev - and she (Amanda Leveille) was able to make some amazing saves throughout the weekend. It was a collective effort, we had forwards sacrificing their bodies nonstop to block shots. Just a collective effort to bear down and not give them an inch."
The Ice Garden: As one of the leaders of this team, what has it been like to go through what you went through at the end of the season and to come into Boston against the PHF's best team, and really dominate them from the start to the finish of this series?
Sidney Morin: Honestly, We had nothing to lose, we had a terrible end to our season, and we either were gonna come in here and get swept, or we were gonna come in here and show the league what we're made of. We have a lot of girls with a ton of experience on our team - in this league, national championship games - nobody is scared of these types of moments and I think that really showed this weekend. We really were never scared of what they had and trusted what we could do. Honestly, I'm so proud of our group for battling the way we did and believing that we could do it.
TIG: Have you ever been on a team that was this big of an underdog?
SM: I don't think so, but we've proven that we can beat these teams before. We've played in tight games and proven that we can do it. We were just able to put together 120 minutes over the past two games and that was a really special feeling for this group. Obviously, after the first game, it put a little more belief in our minds and hearts that we could battle through anything.
TIG: You still have one game left but what are your impressions of this league after playing in it for a fun season for the first time?
SM: It's been really special just to return home to my home state of Minnesota after being away for five years. I've honestly been really impressed by what the league is doing to help us be professional hockey players and letting us focus on just doing that. Especially in Minnesota, we have great facilities and a ton of staff that is taking care of us - just being treated how we should be treated, which is something you take for granted when you graduate college. That's not the case everywhere in professional hockey.
We're really lucky in Minnesota. Regarding the league as a whole, I think the competition is great, every single weekend it's been a battle - every team is coming to play, everybody's got good players, and any team can win on any given night. That's really fun to be a part of, and that's not really the case everywhere in the world where I've been playing. It's fun to be back, and I'm happy to be playing against this type of talent; also proving myself back here in America this season.
TIG: Have any friends or former teammates been reaching out to you asking about the PHF, what it's been like, or your season?
SM: Yeah for sure, I have some friends over in Sweden and Switzerland as well. They're curious about what is going on over here and definitely interested in making the switch at some point; if that's possible. And if they don't, it still just helps them vie for their leagues and their countries as well, it really is a model for other NGBs across the world that this is the standard and this is how players should be treated.