Buffalo Beauts
Three ups, three downs: Beauts close out home season vs. Whale
The final home weekend for Buffalo was, of course, not without its peaks and valleys.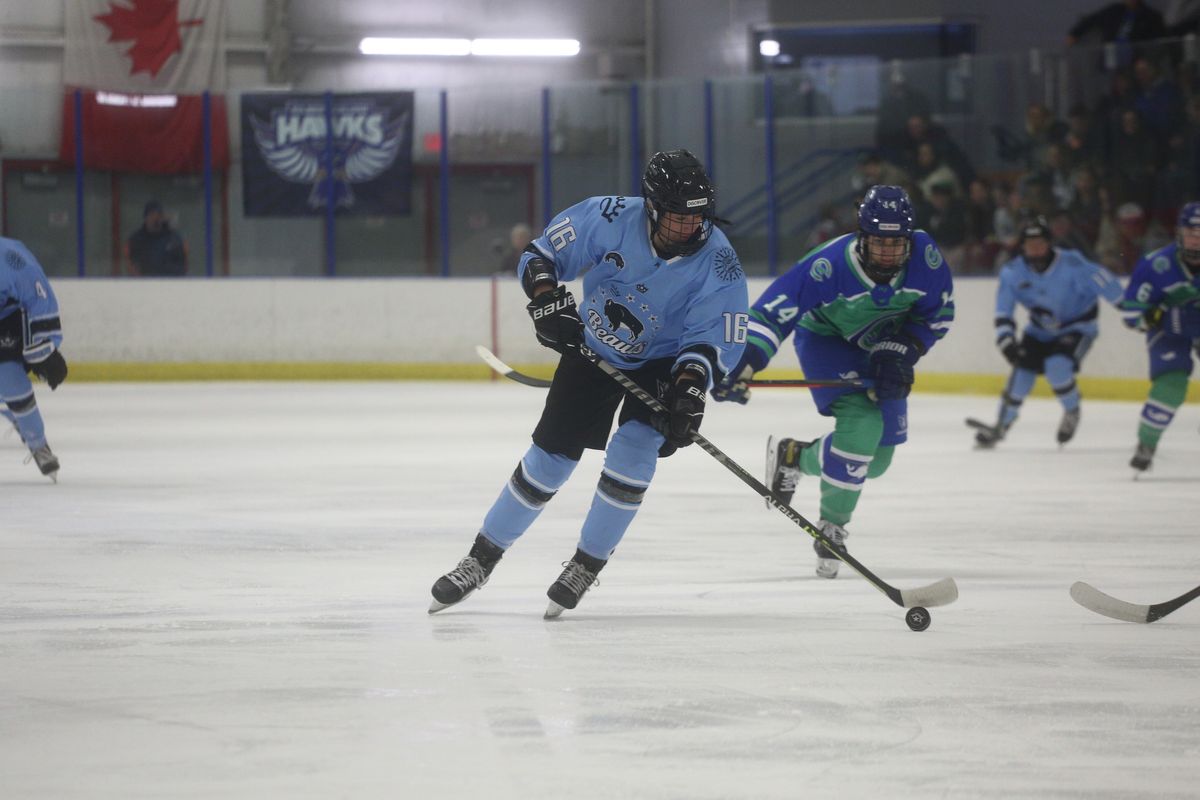 It's always a bittersweet kind of thing watching the home season end, and despite all of the frustrations this year, 2022-23 is no exception to the rule. The Beauts took on the Whale at Northtown in front of two packed crowds, paying homage to their alumni Saturday night in a 2-1 overtime loss. Sunday's afternoon game, a 4-2 regulation loss, was "Good Neighbors Day" to honor the fans and highlight the end-of-year Beauts awards presentations.
During Sunday's awards ceremony, Amy Budde was honored with the Debra A. Cresanti Memorial Award for community engagement, her second such award in two years, while Jess Healey was given the "Row the Boat Award" (for exemplifying sportswomanship and being a good teammate), Whitney Dove was voted the Unsung Hero of the season, Summer-Rae Dobson was given the Rookie of the Year plaque, and Mikyla Grant-Mentis was named the Beauts' MVP of the year. (Check out my piece from earlier this weekend on who my picks would have been, and see how I stacked up to the players' choices.)
Despite the two losing scores, both games were played very evenly by Buffalo for a good portion. Neither game saw any scoring in the first period, and goaltendersLovisa Berndtsson and Sam Ridgewell each put up solid performances. However, while Connecticut's high-octane offense was able to get going eventually, the same couldn't be said for Buffalo.
So let's look at the bright and dim spots for the final home weekend.
Up: MacPherson line gelling
Cassidy MacPherson has been between Emma Nuutinen and Claudia Kepler over the last few weeks, and that line has quickly become an impressive one for the Beauts. Nuutinen especially drove the offense forward, with seven shots combined over the two games and some really impressive drives to the net to create havoc for Connecticut goaltender Abbie Ives. Her work in particular helped linemate Kepler tie up Saturday's match as she created a good rebound chance that Kepler was able to finally slam home.
Kepler and Beauts head coach Rhea Coad both spoke very highly of Nuutinen, with Kepler saying of her line, "I feel like we're really starting to get where people are, whether it's Cass on the breakout or Emma when she's flying in the zone — like, we're really starting to make those tape-to-tape passes ... and with Emma's speed and the way she drives to the net, that's kind of what we're trying to capitalize on."
Down: Still a lack of offense
We're now at 2.1 goals per game for this skater corps, and it's a big part of why they haven't been able to get their legs under them for much of this year. Whether it's the breakout, or the zone entry, or the power play, or picking spots on breakaways, everything is just a bit off. This has led to a lot of frustration watching them play goalies who are strong, but not invincible. Ives is a goalie who doesn't give up a lot with her size, but once she starts moving, she has some spots that can be exploited. I wanted to see a lot more of the Beauts getting in front of her and making her have to work for each save, and that just wasn't the case. Credit the Whale defense for doing everything they could to protect their netminder as well — they got a lot of sticks in the lanes and pushed the Beauts offense wide every chance they could.
Up: Lollo still rolling
Berndtsson stopped 46 shots Saturday in the OTL, an unbelievable effort given she was on the bench for three games prior. Her rebound control and lateral movement were excellent, and she was a big part of why Buffalo got to extra hockey overall. Watching her play this season has been awesome — she's been getting to show the level she's capable of playing at after a shaky first season in the PHF, and it's been in so many ways a saving grace for this team. Moreover, she's made it clear that she wants the starts. Y'all have already heard me go off about how important she's been, so I'll keep it brief, but it's just clear as day with every game she plays that she's earned her spot on this roster going forward.
Down: Lack of discipline leading to another potential suspension
Midway through Sunday's game, Maddie Truax leveled Alyssa Wohlfeiler with a check from behind, earning a five-minute major and game misconduct for the infraction. A few scary moments ensued where Wohlfeiler wasn't really moving on the ice, but eventually she was able to get up and be guided off the ice. No word yet on if she's doing okay or if Truax will get further disciplinary action, but my most educated guess is she won't be playing for at least part of the final weekend in New Jersey.
While the play itself wasn't smart in the least, it's worth noting that there were a ton of missed calls at both ends leading up to this moment. Play got more and more physical as more got let go, and had the refs perhaps clamped down on it sooner, we might not have gotten here. Don't get me wrong — I'm not excusing Truax's play, and regardless you know what's allowed and what isn't in women's hockey. That call did, however, significantly change the course of the game (including the officiating).
Down: An uncertain future come off-season
Let's be honest: there's a lot the Beauts are going to have to confront come Year Nine. Only four players (Kepler, Dominique Kremer, Summer-Rae Dobson, and Jess Healey) are signed to two-year deals, and the rest on one-year contracts are now going to have to compare with an even bigger pool of potential PHFers as the salary cap approaches its highest ever limit of $1.5 million.
With that said, if the org wants to try and rebuild appropriately — i.e., retain as much of its roster as possible and give the players time to really work together — some changes definitely need to happen elsewhere, and that's something Nate Oliver and Beauts ownership need to decide on as soon as possible. Personal relationships aside, it's obvious this team needs better direction, and the overall history of this season doesn't lend well to keeping the current coaching staff in place. Just saying.
Up: Opportunities to reflect, finish strong, and move forward
The good news is, there's still one weekend to go, and the players themselves (as I've mentioned) are still keeping a positive outlook. While the Riveters put up a fight, they're not an unbeatable team, and it'll be nice if the Beauts can end on a high and split this series for the year.