PHF
Six Sign Carly Jackson to One-Year Deal
The mullet-sporting pride of Nova Scotia is staying put in Toronto for 2023-24.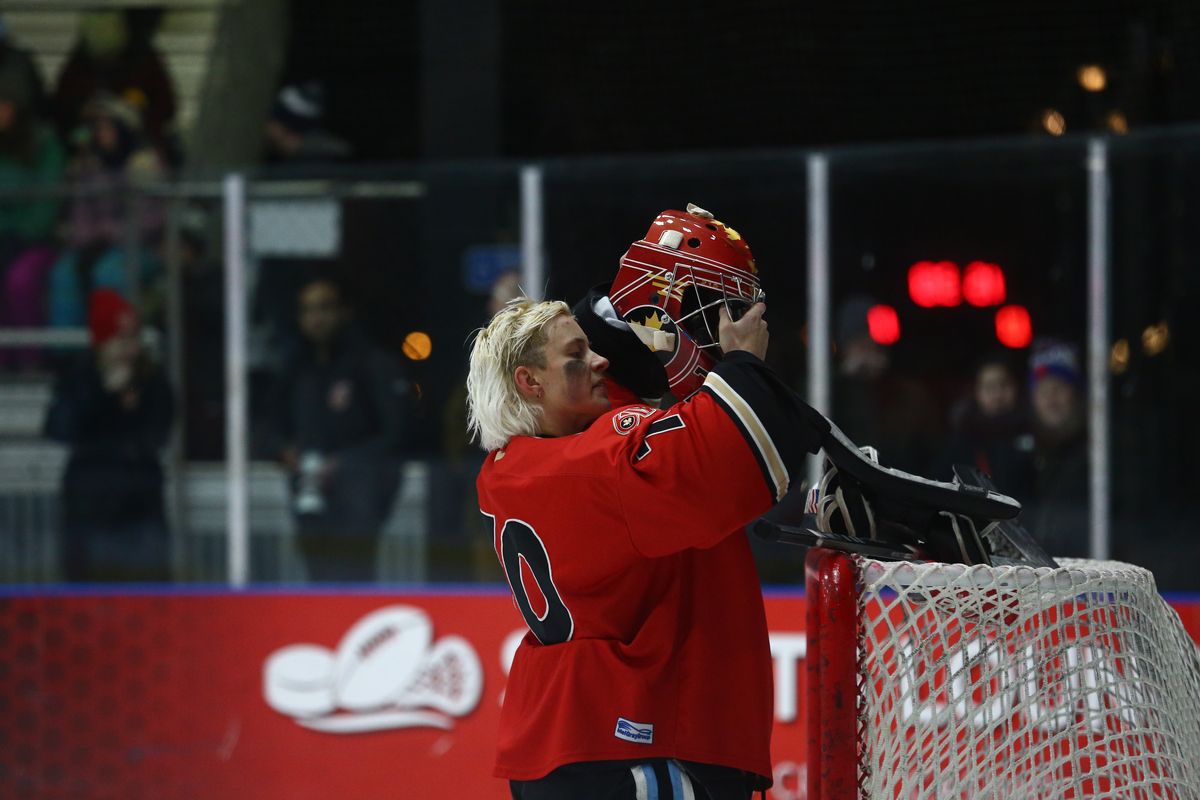 The Toronto Six announced on Monday that they have signed backup goaltender Carly Jackson to a one-year deal worth $60,000 (USD).
These two are officially back together 🥹@ElaineChuli x @tuffmustard #GotYourSix pic.twitter.com/ZDYqgMSPbv

— Toronto Six 🏆 (@TheTorontoSix) June 5, 2023
"CJ" has made a name for themself through their on-ice play, iconic mullet, and heart of gold. In her third pro season, Jackson put up career-high numbers with a .926 SV% and a 1.90 GAA. She had a perfect 5-0-0 record as the Six's backup behind Elaine Chuli, and was named as one of the Fans' Three Stars of the Season for 2022-23, receiving the honour alongside Boston's Loren Gabel and Buffalo's Dominique Kremer.
"I can't say enough about the importance of the love you give us. It is a true joy to play in this league in front of the best audience! Sharing the love of the game with PHF fans is a great blessing the game has given me. Thank you again, I am so happy to be in this position and to be blessed with this award. Love you PHF fans xo!" Jackson was quoted in the press release announcing the Fans' Three Stars selections.
Before making the professional jump to the PHF, Jackson was a threat in between the pipes at the University of Maine from 2016-20. Through 122 NCAA games, they recorded a .928 SV% and a GAA of 1.98.
Thanks for voting folks!! @PHF @TheTorontoSix https://t.co/l9UzSaY6MC pic.twitter.com/wpszypsZOI

— Carly Jackson (@tuffmustard) May 18, 2023
In the 2020 NWHL Draft, Jackson was selected third overall by the Buffalo Beauts. Since then, she has started in 29 PHF games where she has a combined .911 SV% and 2.96 GAA. During her rookie season she was the Beauts' recipient of the PHF Foundation Award and was also voted as one of the Fans' Three Stars. This past season they took on the role as the Six backup and found their groove both on and off the ice, where they helped Toronto capture the Isobel Cup for the first time in franchise history.
"I want another Cup. I don't want that thing out of my hands or out of my sight," said Jackson in the press release announcing their signing.
Jackson joins Saroya Tinker, Taylor Davison, Claire Dalton, Chuli, and captain Shiann Darkangelo in re-signing this offseason. Daryl Watts is also set to enter her second year of her two-year deal as Toronto looks to repeat as Isobel Cup Champions.