PHF
Six in Five: Let's Talk About...
A look at the past month in Six land.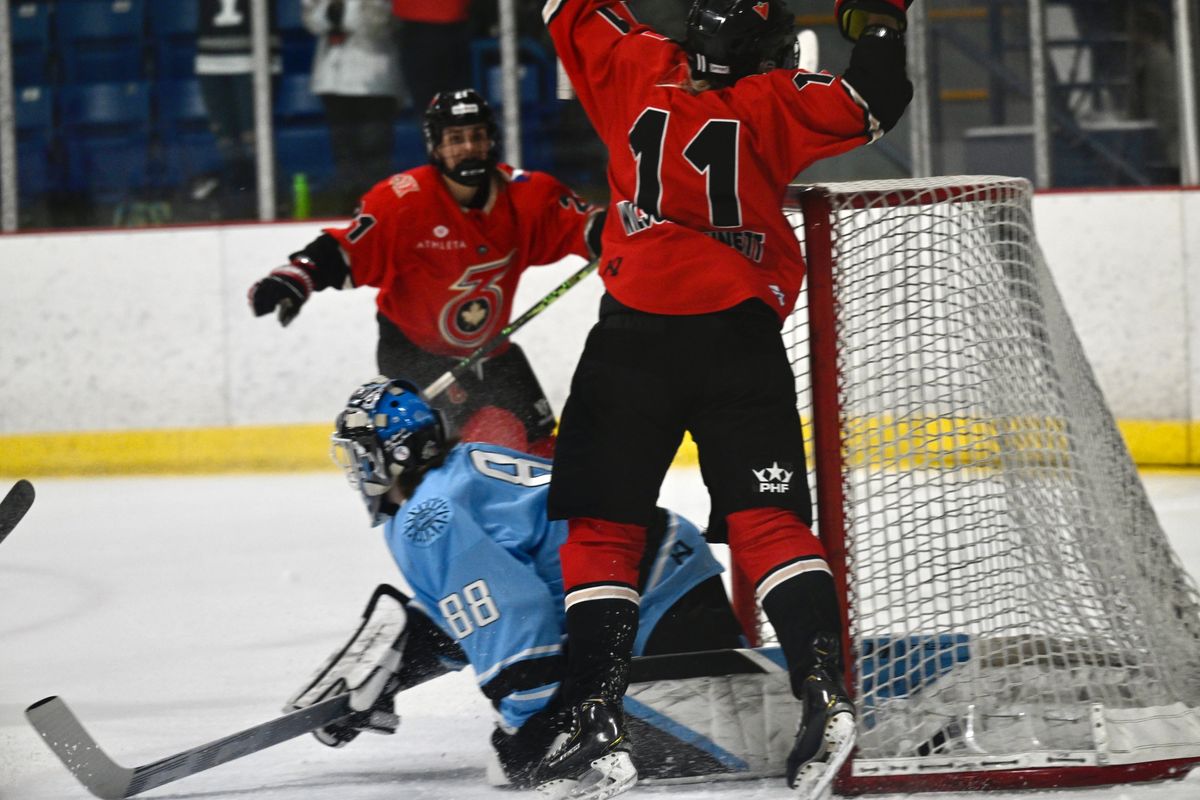 And we're back! This column has been on hiatus, but the Toronto Six certainly have not. Over the last month they've gone back and forth with Boston for first place in the standings; as of right now Boston is ahead with 51 points to Toronto's 48.
1. Let's Talk About Hockey Games
It's been a while so we'll do a summary speed round of the last month or so.
February 4 & 5 vs. BUF
The Toronto Six sweep the Buffalo Beauts, they shut them out on Saturday and then score seven goals on Sunday. Mikyla Grant-Mentis is still very good at hockey, even if she's not playing it in Toronto anymore.
Final Scores:
February 4: 3-0 TOR W
February 5: 7-2 TOR W
February 11 & 12 vs. MTL
It's the second time the Toronto Six and the Montréal Force play each other, this time in Toronto. Tricia Deguire puts on a goaltending clinic in the net for the Force and stops 39 shots, while Toronto's Elaine Chuli holds her own clinic at the other end of the ice and saves 31. The Six are shutout and lose 3-0. Is it time to panic? Should they throw the lines in a blender? Do I have to retract my pre-season statement that the Force were probably only going to be kind of middling in their first season? The Six win 2-1 on Sunday and everything is fine.
Final Scores:
February 11: 3-0 MTL W
Febrary 12: 2-1 TOR W
February 18 & 19 @ CTW
The Six score five goals on Saturday, Connecticut scores three. Five is bigger than three so the Six get the W. On Sunday, Whale score one and then the Six score one, and then the Whale score one and then the Six score one and the Connecticut scores two and the Toronto scores two and the Connecticut scores two and Toronto does not. The Whale have six, the Six have four so that's a win for the Whale.
Final Scores:
February 18: 5-3 TOR W
February 19: 6-4 CTW W
February 25 & 26 @ MIN
The Caps were not in fact rolling on Saturday or Sunday; the Six beat them 1-0 and then 7-1. Saturday was a fun game if you like watching goalies make a bunch of crazy saves, while Sunday was a fun game if you were not a Minnesota Whitecaps fan.
Final Scores:
February 25 1-0 TOR W
February 26 7-1 TOR W


2. Let's Talk About Daryl Watts
News of the Daryl Watts signing broke at the end of January. Watts was supposed to head back to the University of Wisconsin to get her masters degree, and planned on hanging up her skates. It looked like the first freshman to win the Patty Kaz was going to be done for good. Then she changed her mind.
Watts signed a two-year contract with the Six. While it's clear that she took a few games to adjust to the new team, Watts has already made an impact. She has one goal and four points in 10 games played so far and she's starting to enmesh herself in the Six's systems and style of play.
Much has been made of Watts' $150,000 contract ($200,000 CDN-ish thanks to that good ol' exchange rate), so there's not much left to say about that other than that she absolutely deserves it and that it's a landmark deal for women's hockey. Watts is the kind of player you build towards the future with. With her locked in for the playoffs and next season, the Toronto Six look close to getting it done.
3. Let's Talk About Location
It's a nitpick, I know, but the Toronto Six don't really play in Toronto. Well. Technically they do, but really they don't. If you look up the postal code of Canlan Sports, the arena that the Toronto Six play in, it's in North York, ON. At risk of turning this into an Ontario geography lesson, that's in the Greater Toronto area, but not really in Toronto. Getting from Union Station in downtown Toronto to Canlan takes a full 40 minutes (at best) on the subway.
The arena that they play in is an excellent community arena, but it's not necessarily suited to a professional team. Players do have their own dressing room and designated workout space, but to move between those spaces requires walking through a corridor that gets ridiculously crowded after games. Since most Six games are in the afternoons on weekends, there are often youth hockey tournaments going on. You have to weave through a crowd of fans, hockey players, and parents if you're trying to get anywhere in a hurry.
Canlan has been an excellent first home for the Six, but just like many young professionals in the GTA do when they get a raise, it might be time for them to think about ditching the suburbs for downtown.
4. Let's Talk About The Playoff Picture
Heading into the last weekend of the regular season, the playoff picture is pretty much set. The Pride sit in first place, followed by the Six, then the Whale, then the Whitecaps. The Riveters, who are nine points behind the Whitecaps with two games remaining, have been mathematically eliminated along with the Beauts and the Force.
All that's left to do is figure out what order the top four teams will finish the season in. The final weekend of games will see the Six and the Pride battling for first, and the Whale and Whitecaps battling for third.
To claim first place, the Six need to win both games, either in regulation or in overtime. All Boston needs to do is win one game, either in overtime or in regulation.
Toronto will either play Connecticut, or Minnesota, depending on how both weekend series shake out. In four regular season games against Minnesota, Toronto is undefeated. They've struggled slightly more against the Whale, who they are 2-2 with. If they want to make the Isobel Cup Final for the first time in team history, they'd probably have better odds against Minnesota. Even still, the playoffs can be a different beast. Toronto has historically had strong seasons, only to fall short come the semi-final game.
5. Let's Talk About Neutral Sites
At the time of writing, it is March 6 and we still don't know where the Isobel Cup Final is being held.
Now I like to think that I'm pretty patient, but to have "Location TBA" listed on the website 20 days before the puck is supposed to drop is just ridiculously inexcusable. On top of that, the league has said that the championship will be played at a neutral site. This is a league that has international players, and it's hard not to think of the family and friends who are waiting to figure out how much time to get off work, and whether they're going to need to fly in.
If the league hasn't figured out where the neutral site game is going to be, that's a failure in planning. If they do know and they're leaving everybody in suspense for a purposefully dramatic reveal, then that's just kind of weird and silly.
No matter how cool and impressive the neutral site ends up being, it will be hard to match the energy and excitement of a home crowd rooting for their team to win it all. It would even be hard to match the energy of a heartbreaking loss on home ice. There's an atmosphere that home fans bring that's really hard to find elsewhere, even if you can convince some to travel, it's not quite the same.
There are things like TV deals and sponsorship agreements to consider, and of course, it's hard to give one team home ice advantage for a one game championship. Just because it's hard right now, doesn't mean it can't be better in the future.
The home crowd at the All-Star Game in Toronto was dialled in, enthusiastic and fun, bringing that energy to a championship series in the near future should be a priority
+1
The Six have two more games in the regular season. The first on Saturday March 11, and the second on Sunday March 12, both against the Boston. These last two games will determine whether Toronto finishes the season in first or second place.