Metropolitan Riveters
Rachel McQuigge Makes Triumphant Return to Riveters' Crease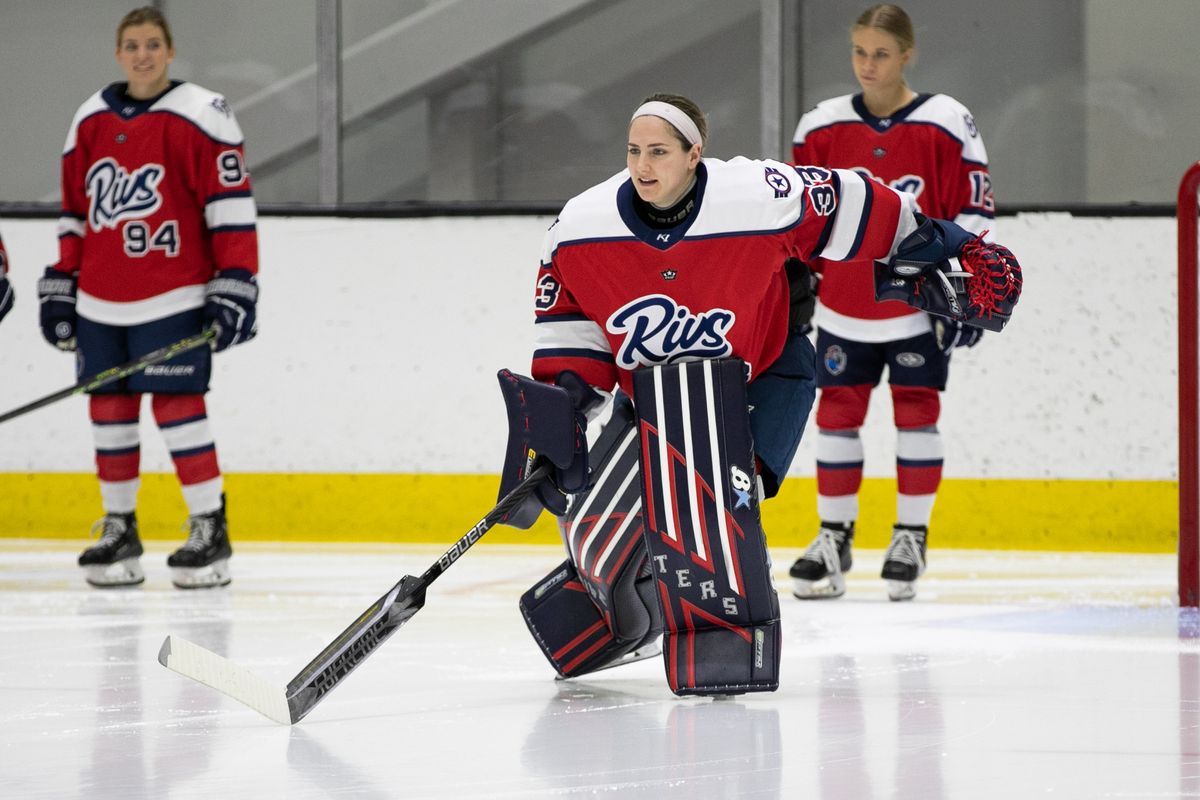 As journalists, we always love a feel-good story. Most of us stop rooting for teams when we begin this profession and begin rooting for the people we get to know or feel-good stories. As luck would have it that's just what I witnessed last weekend when goaltender Rachel McQuigge returned to the Metropolitan Riveters crease after missing nearly three months due to an injury.
The 24-year-old netminder played well in her first four pro starts before being shut down due to the injury, but made her triumphant return by making 23 saves in a 6-2 win over the two-time defending Isobel Cup champion Boston Pride to keep the Rivs' flickering playoff hopes alive.
"The position that I'm in you have to learn the skill of managing the highs and lows, and obviously being out for a period of time is a low," she told The Ice Garden. "Getting a start against a good team is a high or low, depending on how you approach things. So I just try to stay level and be excited or grateful for what I have or get. I don't try to read too much into it. I can compete against these players, I played against them in college so I just look at it like I have to make their night hard," she added with a laugh.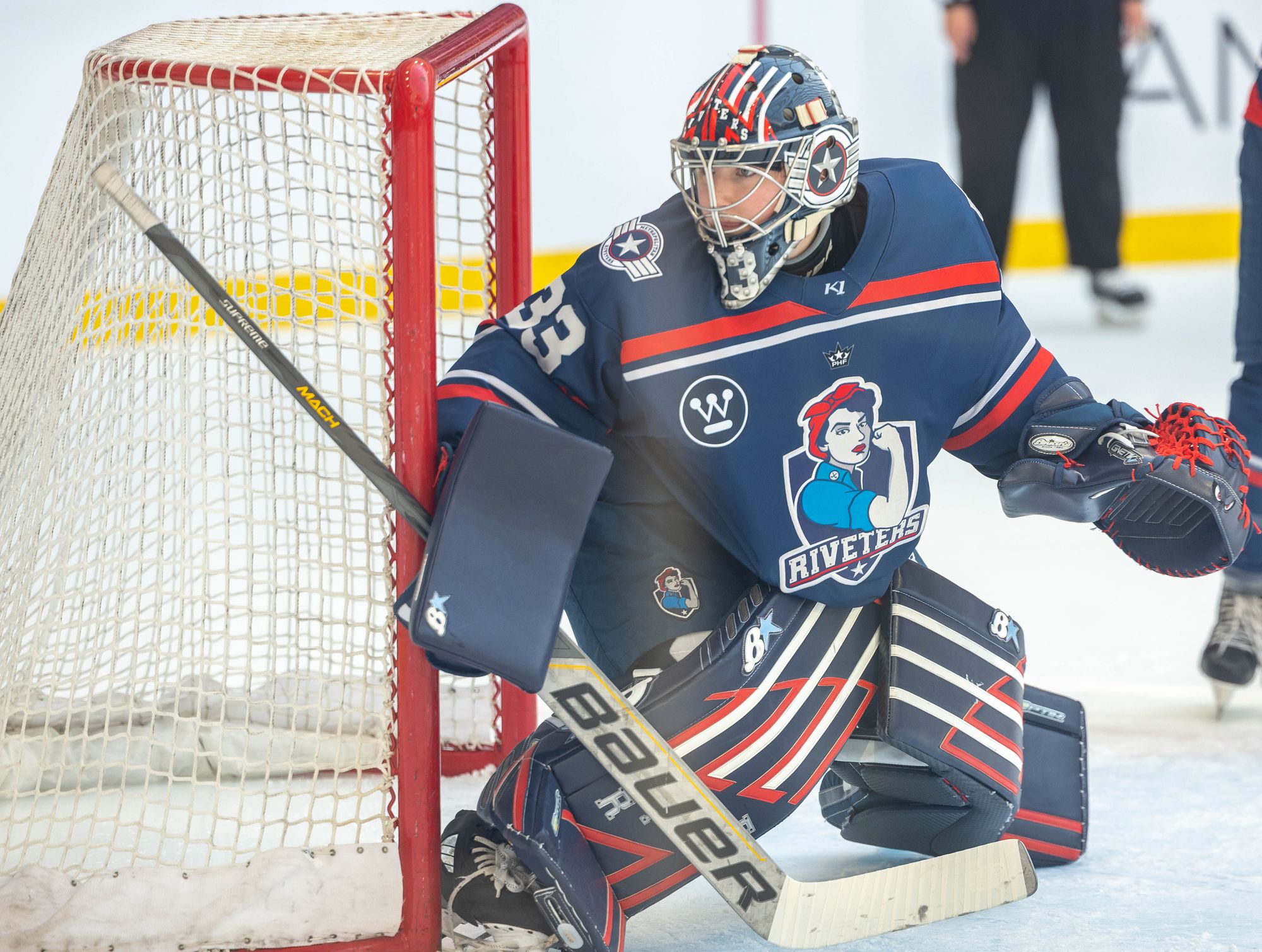 "I love going out and competing and you get that against players with skill like Boston has."
Unfortunately, things did not start off great in McQuigge's first start since late November as Boston took a 1-0 lead just 2:14 into the game. "Yeah, Loren Gabel's release is pretty good," the goaltender said through another laugh. "She's done that to me before."
"Your natural reaction is - aw man, that wasn't great, that's not ideal. I just try to manage that high and low. I get really pumped up during games but I try to tamp that down," the netminder said. "Don't get too excited or disappointed with anything that happens."
"Especially when it's right off the bat, you still have 58 more minutes to make up for that."
No one person is a team, that's especially true in hockey and for goaltenders specifically. McQuigge's teammates had her back on this night and responded just 2:02 after Gabel's goal to bring things back to an even score.
"That was a big goal from Fanni (Garát-Gasparics)." The game remained 1-1 through one period before the Riveters exploded for a three-goal second period to give their goaltender a little cushion heading into the final 20 minutes of play. Boston would get their second and final goal midway through the final period before Kelly Babstock popped in two late goals to seal the deal and clinch McQuigge's second pro win.
"With any injury, you're going to have some maintenance you have to do, but performance-wise I'm good to go," she replied when asked about any lingering effects from the ailment that sidelined her from late November to late February. For any player, it is a big deal to at least get a game or two in before the end of the season after being injured, and maybe it means a little more in the PHF where a lot of players are on one-year contracts and want some good vibes (and video) before heading into an off-season of possible uncertainty.
"Any chance to play, I'm excited and grateful for. I did sign a one-year contract so everything (in the future) is up in the air right now."
It goes without saying, and I think I knew the answer already, but I had to ask if the former Princeton goalie if she'd like to come back and play for the Riveters again next season.
"Yeah, definitely. For sure," McQuigge responded with an ear-to-ear grin. "I've had a great experience this year and I didn't know what to expect walking into it. It's been a ton of fun and I want to compete (at this level) for as long as I can."
Another question I had to ask - has Rachel been recruiting her sisters, Brooke and Kirstyn (both currently at Clarkson University) to join her in the pros?
"They each scored a goal today," she exclaimed before I could even finish the question, "I gotta brag about my sisters! If they want to, I would love to play with them. My middle sister would play with us if she got called up in the summers at juniors and minors, and I played against them in college."
"But I've never played with my youngest sister, that would be unreal to play with them on the same team. My youngest sister is four years younger than me."
I mentioned that there is a possibility that the eldest McQuigge sister could play against her younger siblings at this level one day, but. "Yeah, yeah…I don't like playing against them, they're too good," she said through a laugh.
The McQuigges are Canadian and all chose to go the collegiate route in the US to compete and develop athletically, but Rachel took the harder, or more challenging path, by enrolling in an Ivy League school.
"I'm from a small town in Ontario, but my eighth-grade yearbook quote was that playing hockey at a Division I school was my goal," she explained. "As soon as I got to the campus, (at the time) I didn't realize the stature the school holds…I knew Harvard from movies," she said followed by a laugh.
"I just loved the campus, loved the coaching staff and I don't know what it was, but something said I could spend four years there. I appreciate academics and have a lot of interest in them. It ended up naturally being a good fit, but kind of an accident to begin with."
"I've been fortunate with the opportunities I've had."
One of these opportunities arose while the Riveters' netminder was recovering from her injury this season. It allowed her to be involved with hockey while she was unable to get on the ice for games.
"Any opportunity I get around hockey is really exciting. I love talking about it, so broadcasting kind of naturally made sense," McQuigge told TIG. "I didn't think going into this year that it would be something I'd be doing. My coach at Princeton (Cara Morey) suggested me when the ESPN+ guys reached out looking to fill a spot."
"It worked out that we had an off-weekend and I was able to go cover a women's series. That was easy because I know and keep up with all of them, and I know Syracuse from my sister being there. My partner on the broadcast was great about showing me the ropes and setting me up with questions," she continued.
"They reached out again this past weekend about the men's team, which I don't know as much about, so I was a little nervous. I don't know if people think that's something I'm decent at and if there will be other opportunities, but I would love to keep doing it."
Like any good athlete, she wants to practice a bit if she can before tackling more of those opportunities. Practice does make perfect.
"I would love to do some training on it," McQuigge added. "I feel unpolished, and I should know all the players and how to do the research, but I don't know the skillset, yet."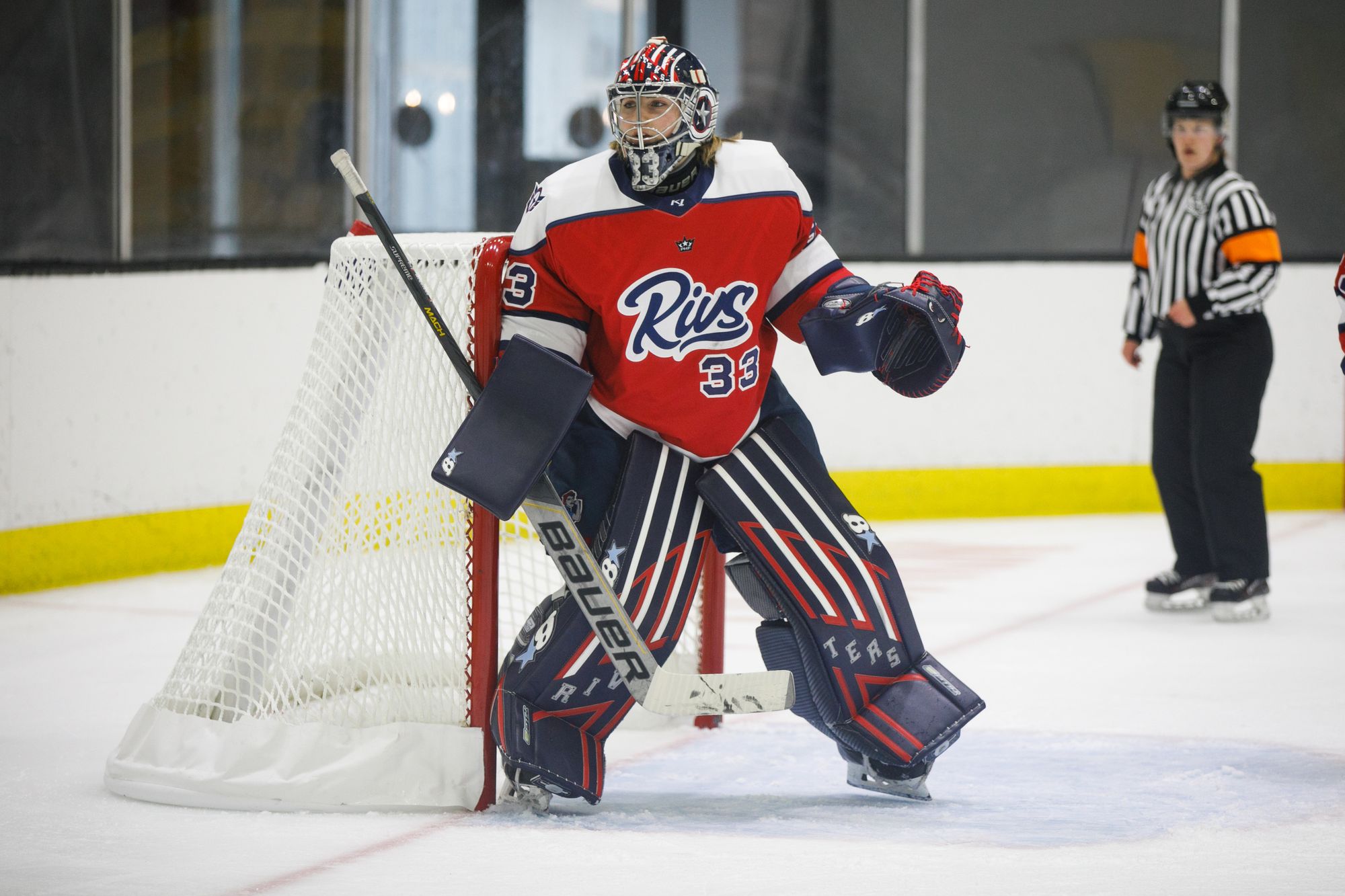 She may be a rookie in the PHF and in the broadcasting booth, but McQuigge's desire to learn, get better, excel, and have fun are all atop the charts. Here's hoping she gets more opportunities to play and talk about, hockey in these spaces for the rest of the season, and beyond.
One thing the Riveters have struggled to secure over the previous three seasons is a goaltender who can give them a chance to win every weekend. Perhaps they found one in McQuigge and can find a way to keep her on the roster heading into Season 9 of the PHF.