PHF
Q & A with Force Forward Kristina Shanahan
Kristina Shanahan on enjoying her first pro season, playing with her best friend, and more.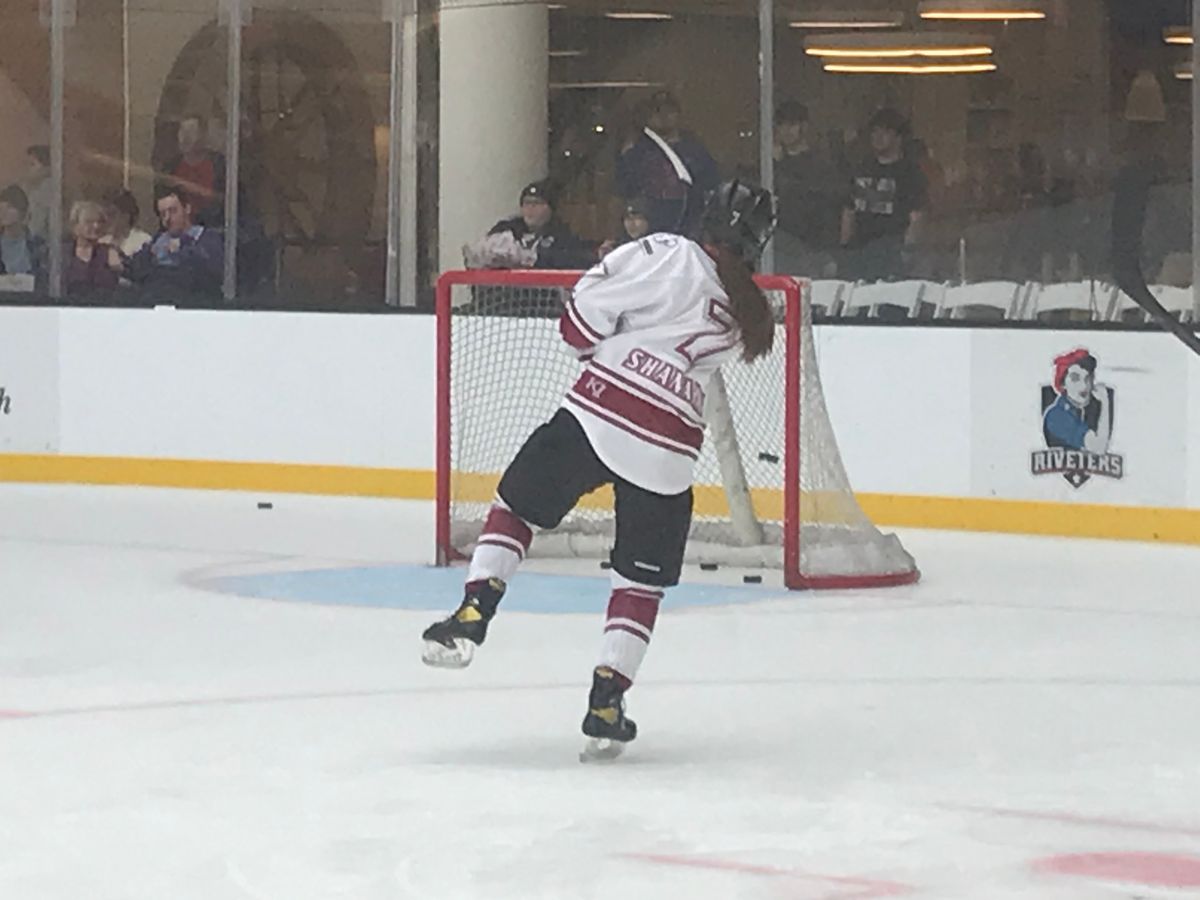 Years from now when we look back at the inaugural season of the Montréal Force we will also look back at the beginning of some professional careers for certain players. One of those players will be Kristina Shanahan, who has all of the tools to be a great player in the PHF. Fans of the Force got a good glimpse of that at the end of the season when she scored in back-to-back games while playing on the team's top line.
"It definitely feels good (to score). Playing with Jade (Downie-Landry) and Ann-Sophie (Bettez) is a lot of fun and they provide a lot of offense," Shanahan told The Ice Garden after scoring her fourth goal of the season. "I like to support them and take advantage of my opportunities. It was a bit of a slow start for me (this season) but it's nice to get another one before the end."
The University of Vermont product earned that promotion to the top line by playing and practicing hard despite not always seeing the results, points-wise anyway. Montréal Head Coach Peter Smith sure sounded like he wants Shanahan back next season when he addressed the media following the team's final game of their first season.
"The big thing for me is that it is a quantum leap jumping from playing college to playing in this league. It is a hard league to play in. It's more physical, the women are bigger, stronger, and faster. When you look at someone like Jade Downie-Landry or Tina Shanahan, Alyssa Holmes, Brigitte Laganiére - we have so many first-year players," explained Smith.
"If you watch how they played when we started this back in September to what they are now, they have so much more composure and a much better idea of what it takes to be successful in this league. It's really exciting for us in looking forward to next year with those types of players."
The Force's President/GM Kevin Raphael also was impressed with Shanahan's growth this season, as he explained to The Ice Garden prior to his squad's season finale.
"Kristina Shanahan is a wonder. I think she grew up a lot this year - she's talented, her shot is amazing, and she's an amazing soul in our locker room," Raphael replied when asked if any players making the jump from college to the pros have really stood out to him. "Pleasantly surprising."
I don't know nearly as much about hockey as Coach Smith, but I do believe Shanahan has a bright future at this level. We spoke with her about her first season as a pro, having her best friend with her on the team, and more.
The Ice Garden: Do you have to change your game at all when you are playing alongside different players?
Kristina Shanahan: "Not necessarily. I'm someone who tries to do all the little things right like making good breakout passes. When I do that they always create something off the rush. So I'm definitely not changing my game, but being more confident makes a difference."
TIG: You came to a team at the start of the season where everyone was new and it was obviously a completely new team. How long did it take for everyone to find their role here?
KS: "I think it's still going on now at the end of the season. It's hard when you have a bunch of new players coming to a roster, you're trying to create an identity for the Force and it's a work in progress. I think we've done well for our first year; it's not where we want it to be, but it's about finding that chemistry and who works well with who. If you have an established team you probably have a few lines that you know what you're getting from them and you try to fit the new players in. When you have all new players, that's way tougher to do. Things will only go up from here for us."
TIG: What was the biggest adjustment for you this season as a player who was playing in college last season at this time?
KS: "Honestly I think the speed is pretty similar to the NCAA, but it's definitely more physical and the players here are more mature, more skilled. You have to make skill plays, be mature on the ice, and create space for yourself. In college, it was a speed game but I was able to find more room for myself (on the ice). Here, it's just as fast but you have to work harder to create your opportunities. A lot of players here have played for a long time, they know how to make little plays and do the little things right. That's the biggest difference I've seen."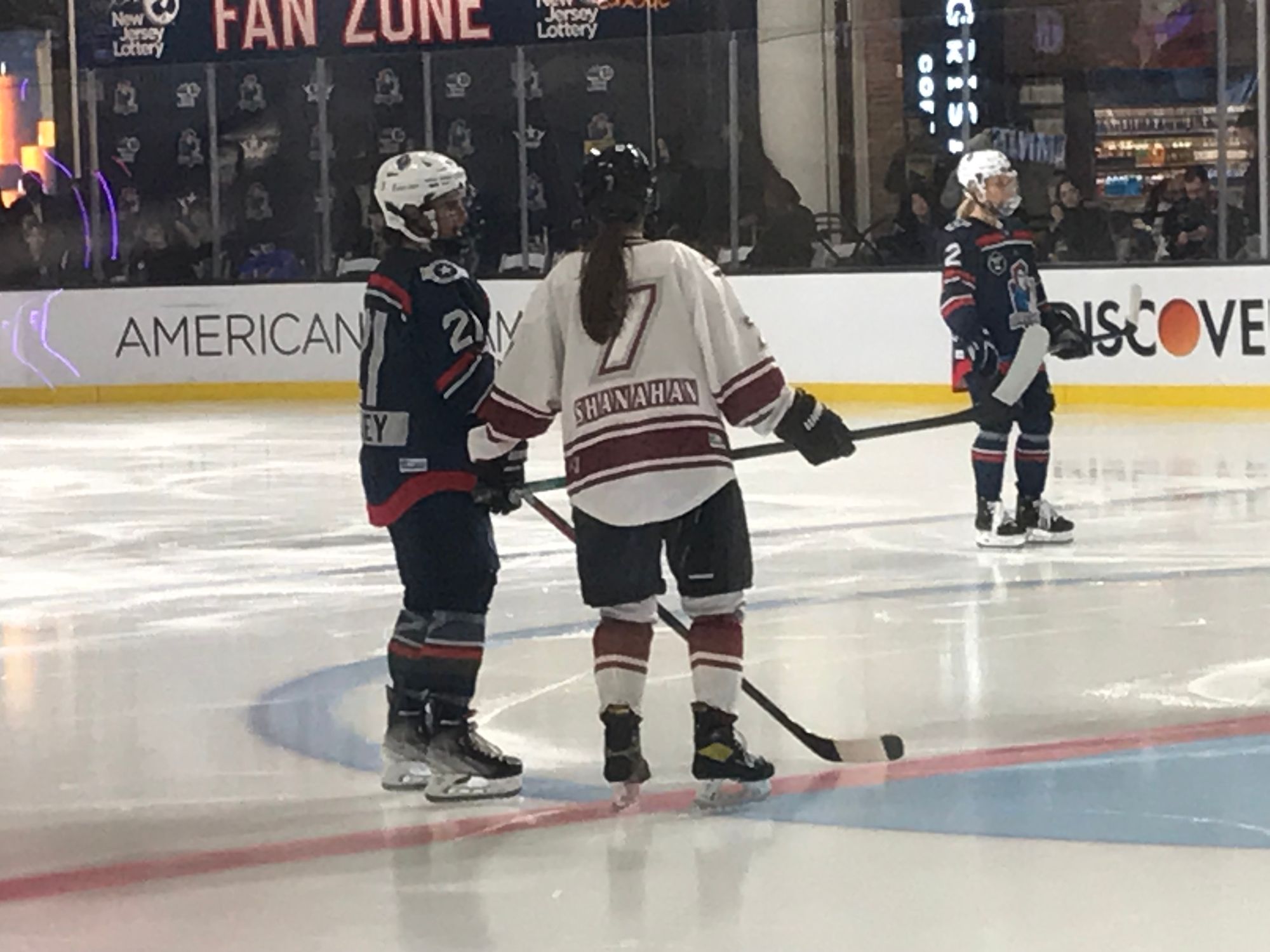 TIG: How much easier has this whole experience been having your college teammate Alyssa Holmes going through this with you?
KS: "We've been best friends since our freshman year, we live together. I'm from Montréal, but she's not so I kind of dragged her here with me, haha! But it's been awesome and so much fun to play with her again; we thought we were done playing after last season. When we found out about the Montréal team I told her to come on board and here we are. It's been like a bonus year for us."
TIG: Most players are on one-year contracts in this league right now, would you have played in the PHF if there wasn't a team in Montréal this season?
KS: "Honestly no. I'm trying to go to med school, that's my career goal; unfortunately, I didn't get in. I figured I wanted to be in Montréal, I have a full-time job there working in research and I didn't want to give any of that up. Hearing about this opportunity was an amazing bonus. I probably wouldn't have played this season, I think that will change in the future. I really do. With the doubling of the salary cap (next season), it is going to probably entice players to go live somewhere else if they are getting a living wage. That's really exciting. Maybe my answer to that question would've been different if it was this upcoming season."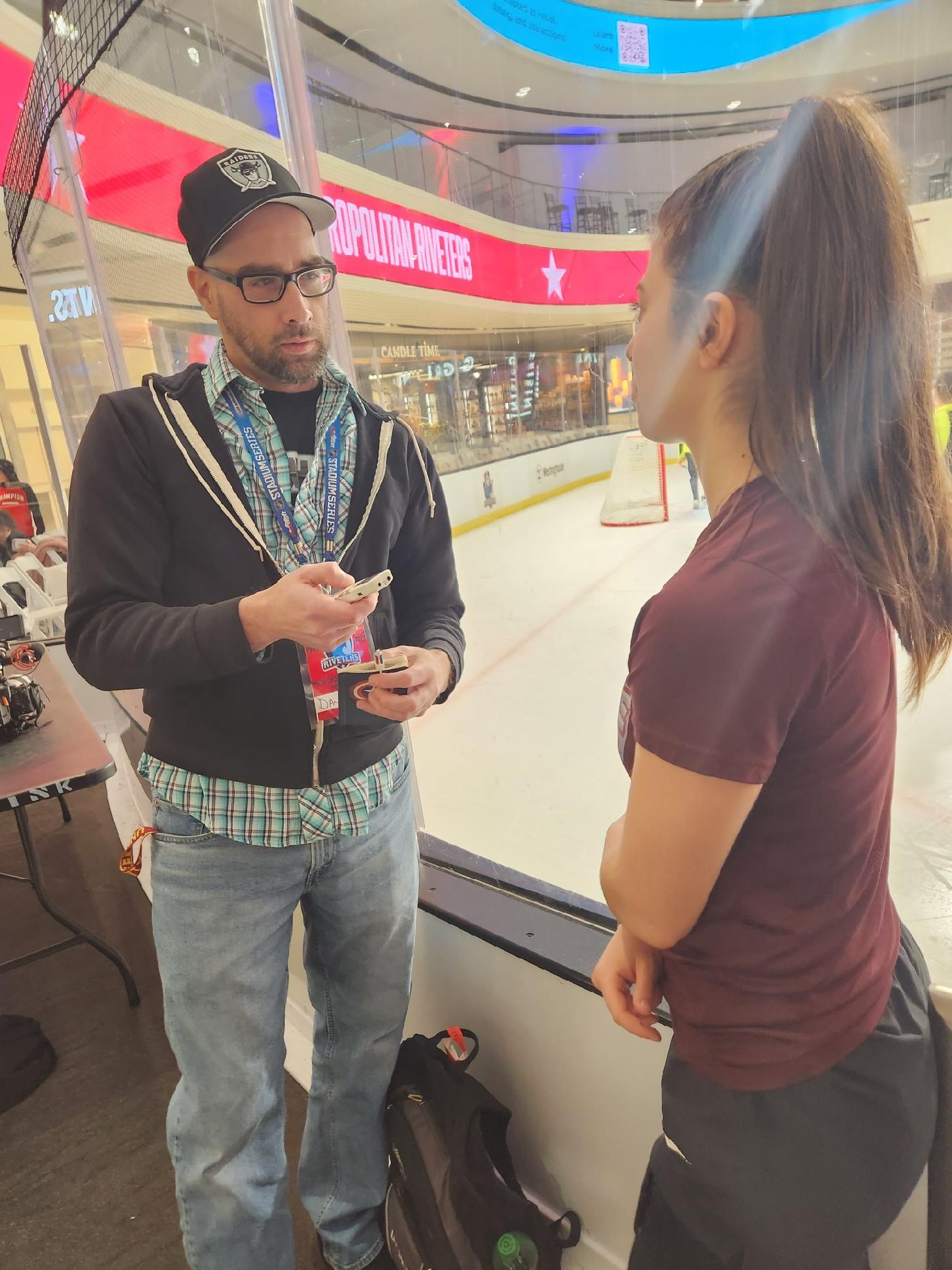 TIG: What was it like playing in a mall?
KS: "I think it took us the first period to adjust, we got back in the locker room and felt like we were okay after a while. Especially coming out for warmups, there's a lot going on. It's a really fun atmosphere to play in. You have a lot of people watching, people coming and going in a mall. During warmups, I saw a lot of people filming us, probably because they'd never seen women's hockey before. It was fun and the ice was better than expected - we all said that."