PWHPA
PWHPA Championship begins in California
The PWHPA has landed in California for the conclusion of the 2022-23 Dream Gap Tour. The standings are final, and the matchups set for the playoffs.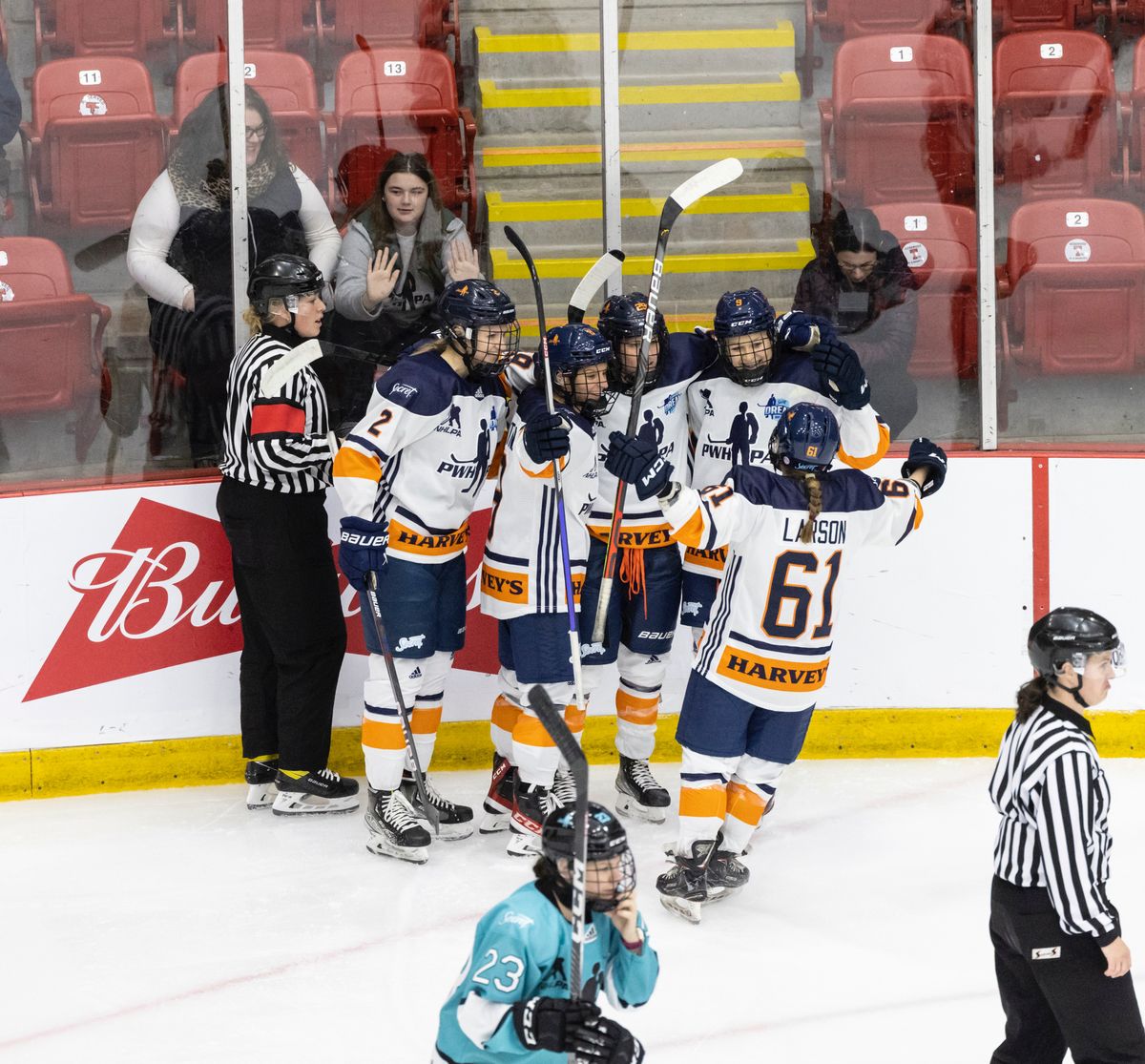 The PWHPA has landed in California for the conclusion of the 2022-23 Dream Gap Tour. The standings are final, and the matchups set for the playoffs.
This weekend, the players will play their first ever championship to conclude a cumulative season. The teams played 18 games each in a tour that visited over a dozen cities in Canada and the USA.
In the playoffs, Harvey's will play Sonnet and Adidas will play Scotiabank on Friday. The losers will play a consolation game Saturday and the winners will battle for the title Sunday.
Here's how the standings shook out:
Harvey's
Team Harvey's has been the clear frontrunner of the PWHPA all season. The team completed fourteen wins and just three regulation losses. Their combination of players featured top PWHPA all-stars at every position allowing the team to dominate every aspect of the game.
Harvey's led the PWHPA in goals for, against, powerplay and penalty kills. Marie-Philip Poulin led the team and league in goals and assists with 24 points in 18 games. Their leading goaltender, Ann-Renée Desbiens was a top PWHPA puck-stopper. The Canadian had a .936 save percentage over 11 games earning her the player voted Goaltender of the Year Award.
Harvey's hasn't lost to Sonnet this year. They have outscored the fourth seed 22-11 over their six matchups. Strong performances from Harvey's leaders like Poulin, Desbiens, and defender Lee Stecklein should be enough to lift the top team over Sonnet and into the final.
Adidas
Adidas had a slow start to their season, but they have hit their stride and are on a roll. They won six of their last seven games and the team chemistry seems to be exploding.
Adidas' goaltending has been a strong asset for the team's performance.  Aerin Frankel, the rookie goaltender out of Northeastern, has been a top performer for the team. Frankel was a much-hyped prospect coming into the PWHPA following an outstanding NCAA career that named her the best college goalie since Desbiens. Frankel's first steps in the PWHPA were shaky with an early blowout loss. But the American youngster rebounded quickly and has backstopped some of the team's best performances. She has five wins in six games and an impressive .938 save percentage. If Frankel gets the start Friday, she could carry her team through.
Kristen O'Neill and Laura Stacey have been standout skaters for Adidas. Sarah Nurse and Kendall Coyne Schofield continue to be threats whose playing styles compliment each other nicely. Adidas will have their work cut out to contain the offence of Scotiabank but shouldn't have any issue putting goals past Scotiabank's troubled back end.
Scotiabank
Scoring hasn't been an issue for Scotiabank but keeping the puck out of their net has been a challenge. The team has kept pace with Adidas scoring 2.6 goals per game, but they've allowed 0.8 goals per game more. Scotiabank beat Adidas 5-0 in their first matchup but Adidas has outscored them 17-11 in their five subsequent games.
Speed has been the key to success against Scotiabank. Teams have been able to separate and pass Scotiabank defenders, positioning themselves around the net. Unable to keep up with speedy skaters and snappy passes, teams cycle the puck dangerously in Scotiabank's end.
Natalie Spooner will provide a big boost. The energetic forward missed much of the season while pregnant but after giving birth in December, she has leapt back on the ice. She rejoined Scotiabank for games in Tampa and already has a goal. Spooner is a defensively responsive forward with a big body that can help protect Scotiabank's net-front area.
Although the team has scored plenty, it has largely come from Rebecca Johnston and Blayre Turnbull. More depth in the scoring will be crucial if they want to win any of their games in California.
Sonnet
Sonnet has struggled all season. They've won just four games and been outscored by opponents 58-34 which is the worst ratio of the four teams. Abby Roque and Hannah Brant led the team in scoring with seven goals apiece. But other stars like Claire Thompson, Rebecca Leslie, Erin Ambrose, and Hilary Knight have not provided the scoring the team might have expected from its stars. Iya Gavrilova, Hanna Bunton, and Leslie have been entirely held off the goal column.
Hilary Knight has produced only three goals this year and two came in Sonnet's second to last game. If those two goals are indicative of Knight's return to her usual levels of production, it could be a huge boost to the team's offence.
It is a mountainous task to face Harvey's in the playoffs. Their offence will be unrelenting and defence well armoured. But anything is possible in single elimination. With some puck luck, Sonnet could book their ticket to the final.