PWHPA
PWHPA announces nominees for 2023 player awards
Some expected nominees and some surprise omissions? J and Simon give their thoughts.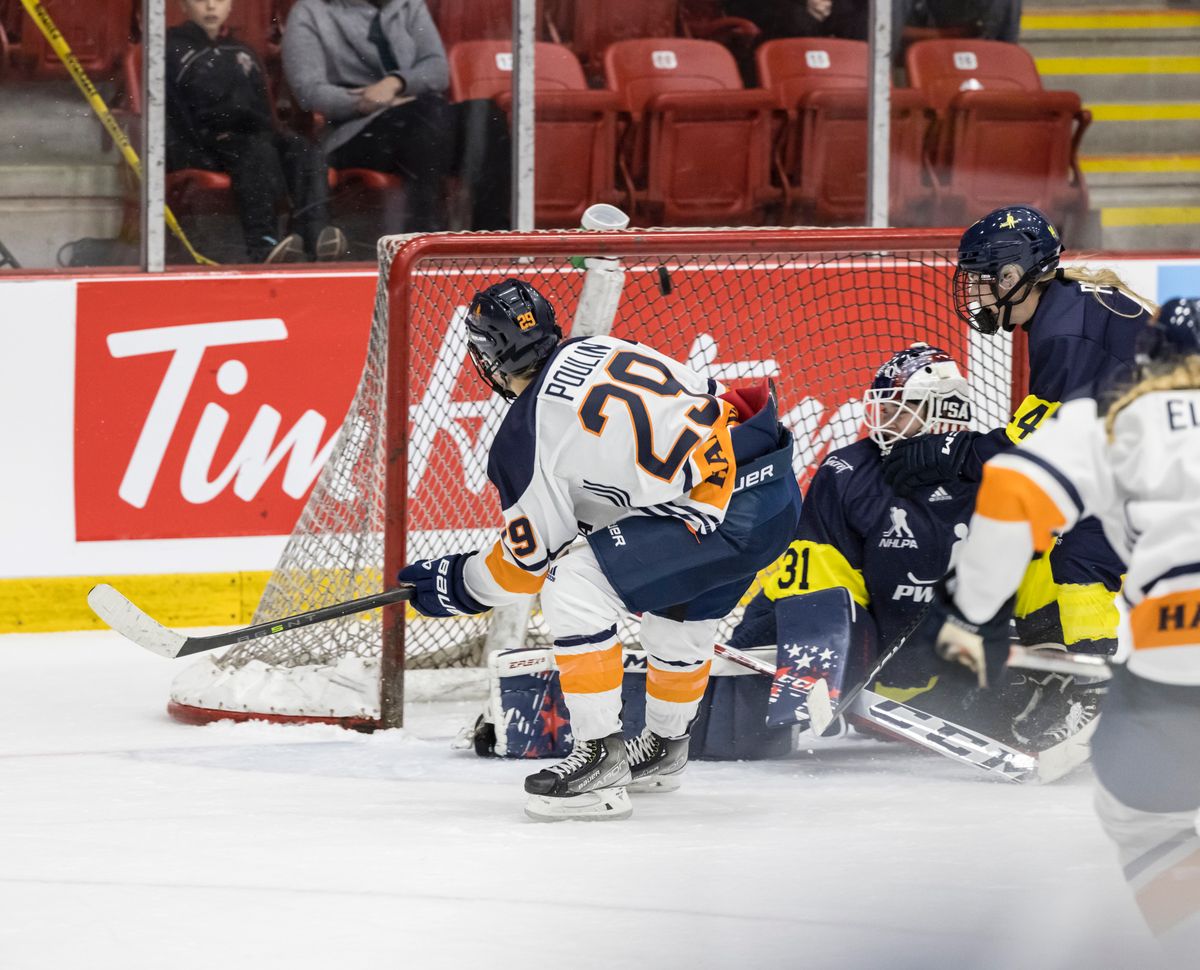 The PWHPA announced its first-ever award ceremony set for Saturday evening in Washington, D.C. Four player-voted awards will be handed out and the PWHPA will highlight one player with a Humanitarian Award.

The league announced the nominees for the four player-voted awards Wednesday. Scotiabank led the nominations, with seven players highlighted. Harvey's followed closely with five.
There will be a red carpet event before the ceremony with media members present. The event won't be broadcast, but fans can follow the action on the PWHPA social media channels.
Forward of the Year
Blayre Turnbull (Scotiabank)
Alex Carpenter (Scotiabank)
Marie-Philip Poulin (Harvey's)
Rebecca Johnston (Scotiabank)
Three of the nominees for forward of the year are top four in PWHPA scoring. To everyone's shock, Marie-Philip Poulin leads the PWHPA in points and is tied for first in goals, with 10-10–20 in 16 games. She leads the way for Team Harvey's who has dominated the PWHPA this year.
Rebecca Johnston is third in scoring with an astounding 1.38 points per game. Her teammate, Blayre Turnbull, is fourth with seven goals and ten assists in 16 games. The two have driven Scotiabank's offense which has strengthened throughout the year.
Alex Carpenter is the third Scotiabank forward nominated for the award, showing the team's prowess. Carpenter is a tough netfront presence whose clutch goals have given Scotiabank chances to win in big moments.
Jessie Eldridge sits second in PWHPA scoring but was omitted from the player-voted nominations. Poulin's linemate has tallied her own series of impressive assists and goals.
Defender of the Year
Savannah Harmon (Harvey's)
Ella Shelton (Scotiabank)
Lee Stecklein (Harvey's)
Megan Keller (Scotiabank)

Three of the four nominees are top five in scoring from the blue line. Lee Stecklein has scored three goals and ten assists in 16 games, Megan Keller has ten points in 16 games, Ella Shelton has eight in 16, and Savannah Harmon just six in 16.
Notable omissions were Laura Fortino and Jaime Bourbonnais, additional defenders from teams Harvey's and Scotiabank.
There is an intangible and untrackable "unpleasant to play against" metric to this award. The four nominees are defenders who punish their opponents either with scoring, tight checking, or relentless pressures. Being a thorn in the side of other forward and supporting your own forwards is an element only other players can speak to.
Goaltender of the Year
Ann-Renée Desbiens (Harvey's)
Nicole Hensley (Sonnet)
Maddie Rooney (Adidas)
Kristen Campbell (Scotiabank)
Thirteen goaltenders played games in the PWHPA this season. The four nominees are the goaltender of each team with the most games played. All are regular players for teams Canada and USA.
Ann-Renée Desbiens played ten games and is the most likely to win. She had the most wins, and the second-best save percentage at .937 through a lot of minutes played. The argument against her would note that she hasn't recorded a shutout this year.
Kristen Campbell had nine games for the third-place Team Scotiabank. Five of those games were wins, good for second in the league. She had the fifth-best save percentage at .930 and a league leading two shutouts, both of which came against Team Adidas.
Maddie Rooney had four wins in seven games played. Her save percentage was .907, ninth-best in the PWHPA and her GAA of 2.57 was eighth-best. Rooney had one shutout.
Nicole Hensley tied Desbiens for the most games played and was responsible for all three of Sonnet's wins. She managed to produce one shutout and maintain a .920 save percentage while tending the goal of the worst team in the PWHPA this season.
To me (J), Rooney and Hensley's nominations come as somewhat of a surprise. Both of the other goaltenders for Team adidas, Aerin Frankel and Sydney Scobee, had better stats than the starting pair, as did Geneviève Lacasse and Marlène Boissonnault of Team Harvey's. Scobee and Boissonnault only played in two games each, but Frankel and Lacasse each had four wins in five games. Emerance Maschmeyer of Team Scotiabank also had better stats, and she played in seven games, tying Maddie Rooney for fourth in the PWHPA.
Goaltenders can't control usage, coaches do that. A goalie can only control her play on the ice, and five goalies turned in statistically better performances than two of the award finalists. The players voted on these awards, so there are a number of elements at play that aren't represented in the statistics, but I'll still admit to some confusion over the selections here.
I (Simon) think Frankel deserves a lot of recognition. She is the best young goaltender since Desbiens and was awarded as the best player in the NCAA. Her pro career started with a couple of hiccups. She allowed five in her PWHPA debut in Adidas's 5-0 loss to Scotiabank. But, to her credit, Frankel has performed extremely well as the season has progressed. Her play has helped Adidas pull themselves into second place. In more than half of her games, Frankel has been one of the stars of the game.
Coach of the Year
Kori Cheverie (Harvey's)
Dean Seymore (Scotiabank)
Laura McIntosh (Sonnet)
Matt Leitner (Adidas)