pwhl
PWHL Ottawa's Training Camp Players to Watch
Get to know some of the most intriguing participants looking to make Ottawa's roster.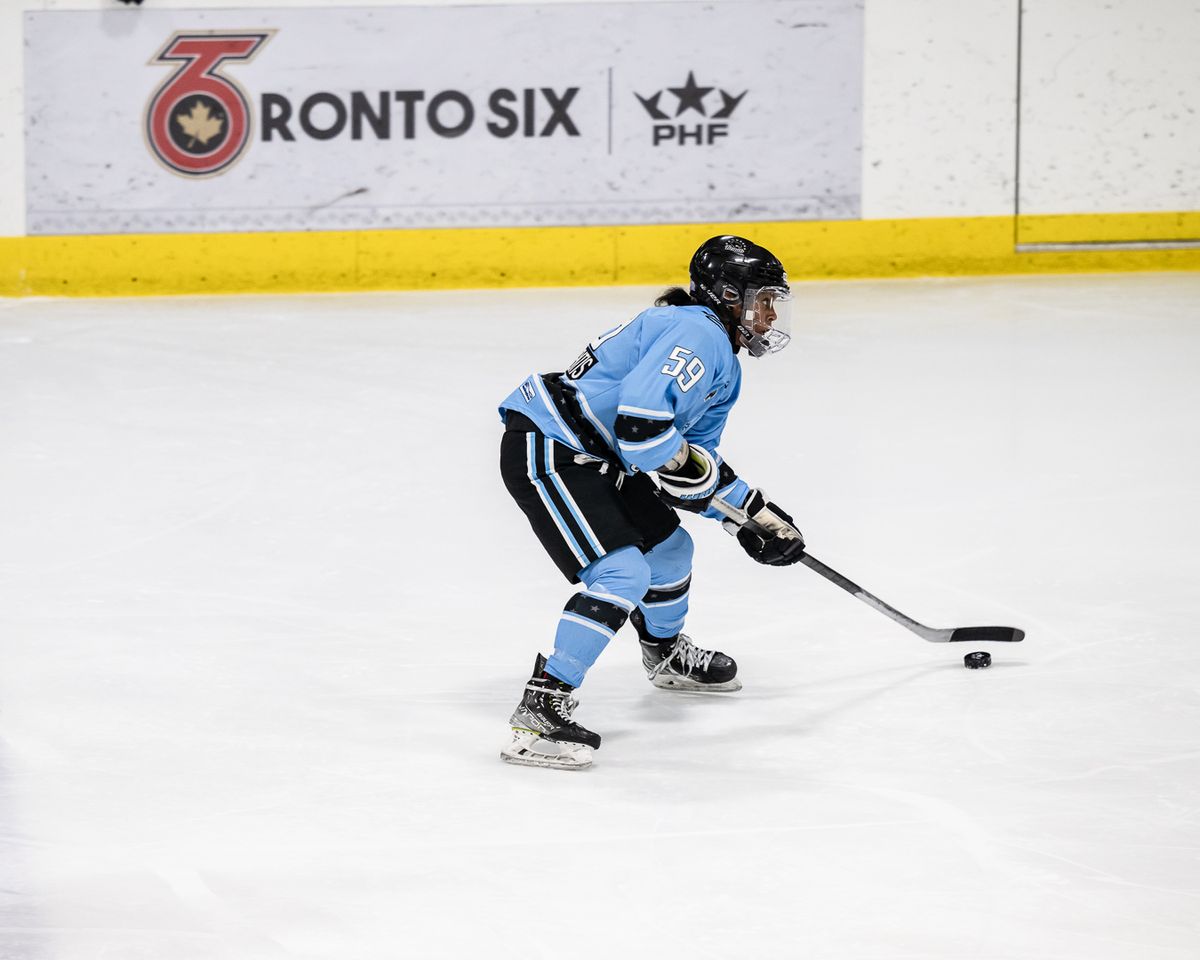 Editor's Note: This story is brought to you by TIG guest contributor LJ Bachenheimer. You can follow LJ on social media here.
---
On Oct. 16, the PWHL released the rosters for the new league's first training camps, each with 28 to 35 players looking to make the lineup for opening night. Ottawa brought in 33, the most of all six teams, consisting of a mix of free agent signings, draft picks, and undrafted free agents. I would argue that they have one of the most exciting training camp rosters, with all the components of a fun and skillful team just waiting to be built. Let's get into who some players to keep an eye on are, and what they might be able to bring to the table in Canada's capital city.
Forwards
Mikyla Grant-Mentis
It came as a shock to many that no PWHL team selected Mikyla Grant-Mentis in the draft, but her invitation to Ottawa's training camp is a good sign. Following the draft, it appeared that the Ottawa roster could have benefited from a little more offensive talent, and a high-octane goal scorer like Grant-Mentis can help fill that need. Her 2022–23 season with the Buffalo Beauts was a down year compared to her time with the Toronto Six, which included her 2020–21 NWHL MVP campaign, but Grant-Mentis still led the young, struggling Beauts in scoring with 9 goals and 21 points. At only 25, Grant-Mentis still has room to improve, and her season in Buffalo showed increased versatility in her game. There is practically no downside to having Mikyla Grant-Mentis on your team; I hope Ottawa management recognizes that and keeps her around for their first PWHL season.
Daryl Watts
This might just be my Badger bias talking, but I think Daryl Watts could be poised for a breakout year in Ottawa, which drafted her in the sixth round. She played 12 games with the Toronto Six in 2022–23, tallying 3 goals and 7 points on the road to the Six's Isobel Cup victory. But I don't think we've seen nearly enough out of her at the professional level. Watts had a storied NCAA career between two years at Boston College and three at Wisconsin, with her many accolades including four Patty Kazmaier nods and a win in 2018, and a National Championship with Wisconsin in 2021 — where she scored the infamous overtime winner. I want to see her bring that playmaking talent and offensive spark to this growing Ottawa team.
Fanni Garát-Gasparics
Fanni Garát-Gasparics was a standout for the Metropolitan Riveters last season, her first in North America, and earned an invitation to Ottawa's camp. The Team Hungary captain had 7 goals and 14 points over the 2022–23 PHF season and held a steady spot on the power play with her quick speed and strong shot. Perhaps Gasparics' most attention-grabbing moment was her four-goals-on-four-shots performance for Team World in the 2023 PHF All-Star Game, a stellar example of her scoring touch. Similar to Grant-Mentis, Gasparics could be a great addition for Ottawa to help pump up their offense.
Other Forwards to Watch
Akane Shiga: One of Team Japan's best players was set to make the jump to North America when she was signed by the Buffalo Beauts before the PHF was sold. She doesn't have much professional experience, so it will be interesting to see what she can show at Ottawa's camp with her invitation and if she earns a roster spot.
Natalie Snodgrass: The former UConn captain tied Jonna Albers to lead the Minnesota Whitecaps in points and goals. A consistent offensive threat, I could see this camp invitee being another strong contributor to Ottawa's forward core.
Emily Clark: One of the Ottawa team's initial free agent signings, Clark has been set up from the beginning to make a big impact. With a long record of international success, speed, and a scoring touch, the former Wisconsin Badger will be a great anchor for the Ottawa offense.
Defenders
Savannah Harmon
Ottawa went for defense first in their inaugural PWHL draft, an intention they made clear by selecting Savannah Harmon with their first pick at fifth overall. Harmon has been one of Team USA's top defenders of the last few years, with reliable play on both ends of the ice. She brings a championship pedigree to Ottawa, including two NCAA Championships with Clarkson, a PWHPA championship with Team Harvey's, and a gold medal with Team USA at the 2023 World Championships. I was excited to see Harmon get picked in the draft, and I'm even more excited to see what she'll bring to the PWHL this season.
Jincy Dunne-Roese
This is a player I want to keep an eye on. Jincy Dunne-Roese had a stellar NCAA career with Ohio State, helping lead the Buckeyes to their first Frozen Four appearance and WCHA championship and being named WCHA Defensive Player of the Year twice in the process. A strong defender with a knack for scoring, she was drafted 17th overall in the third round by Ottawa. Although she's been a member of Team USA since the 2021 World Championships, Dunne has never quite had an opportunity to shine on the international stage. In Ottawa, she'll have the opportunity to slot into a top-four role and show her skill in the new professional league.
Tori Howran
For a team prioritizing defense, Tori Howran is a great camp invite for Ottawa. She had a consistent tenure with the Connecticut Whale as a shutdown defender. Her skill and leadership earned praise from coaches and teammates alike, as well as a spot in the 2023 PHF All-Star Game. Howran was an exciting pick when the Whale selected her seventh overall during the virtual 2020 NWHL draft, and as a camp invitee she continues to be an exciting blue line prospect for Ottawa. Howran could be a good candidate to shake up the defense lineup built during the PWHL draft.
Other Defenders to Watch
Saroya Tinker: I was glad to see Tinker invited to take a spot on a PWHL training camp roster. She's perhaps best known for her leadership and activism off the ice, including as executive director of Black Girl Hockey Club Canada. But Tinker is a strong defender who can be a sturdy presence on any team's blue line as much as she is in the locker room.
Amanda Boulier: The two-time Isobel Cup champion was drafted late by Ottawa, 77th overall in the 13th round. Boulier is a strong puck-moving defender with a long tenure in the NWHL/PHF and a lot of skill and experience to bring to Ottawa.
Ashton Bell: The former Minnesota-Duluth captain was Ottawa's second draft pick at eighth overall. She earned an Olympic gold medal with Team Canada and a host of WCHA awards during her college career, a pedigree that will hopefully set the offensive defender up for a breakout season as a professional.
Goaltenders
Sandra Abstreiter
Emerance Maschmeyer is the clear No. 1 goalie in Ottawa, but Sandra Abstreiter is an incredibly strong backup who might even be able to steal some starts. The German netminder has had recent success on the international stage, acting as the starter for Team Germany at the 2023 World Championships and posting a .929 save percentage across five games, including a shutout against France. This came after six seasons at Providence, her best being in 2020–21, where she backstopped the Friars to an appearance in the 2021 NCAA tournament. Drafted at 68th overall in the 12th round by Ottawa, Abstreiter was practically a steal and would be a great addition to have in goal.
Rachel McQuigge
The former Metropolitan Riveter is an intriguing option for Ottawa's third goalie. Following a standout tenure at Princeton, Rachel McQuigge shared the net for the Rivs in 2022–23 alongside Katie Burt and Eveliina Mäkinen, posting a .888 save percentage in eight games for her first professional season. McQuigge, who was invited to Ottawa's camp, is another young goalie with plenty of room to develop and a little pro experience — which would make her a great addition to a rotation in net or in case of injury.