PWHPA
Early Details About New League's Official Name and Cities
Ahead of a scheduled press conference, social media revealed hints of the new North American League's official name and team locations

Well, there you have it, folks: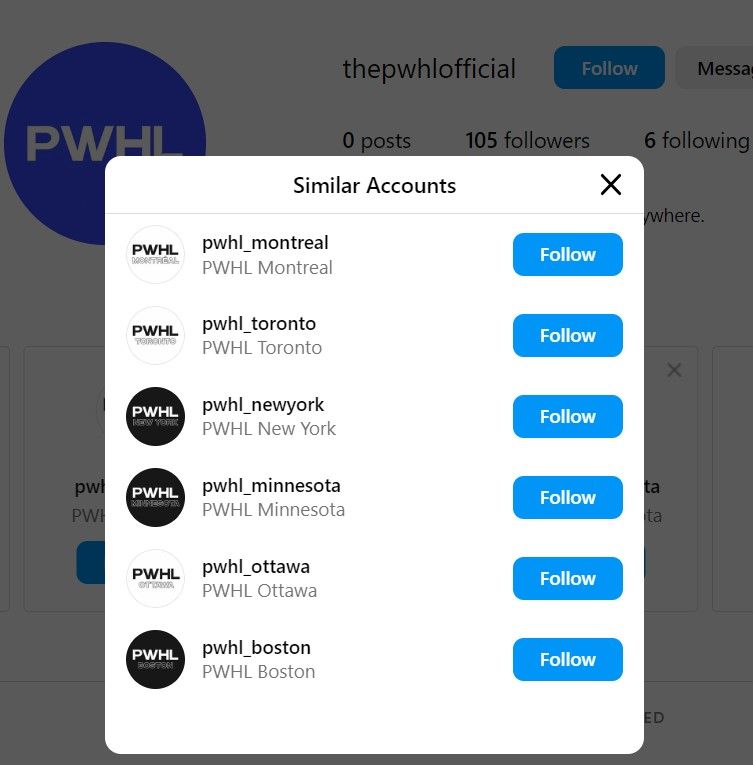 The newest professional women's hockey league in North America has its official name and the cities each team will play in.  

The PWHL will feature six different team markets in their inaugural season. Teams in the new league will call Boston, New York, Minnesota, Toronto, Montreal, and Ottawa home when the puck drops in January 2024.

Just over 15 hours away from the virtual media conference that was set to announce specifics about the new league, including team locations and details on how the inaugural player selection process will look, alert watchers on social media yet again broke some huge women's hockey news.

If you haven't been on social media yet tonight, you can get the gist from the screenshot above: there are seven new accounts that have surfaced. The official PWHL account, which can be found on X here and Instagram here, currently only follows six other accounts. Those include the official team accounts of Boston, New York, Minnesota, Toronto, Montreal, and Ottawa.

Tomorrow's virtual media conference is scheduled to go live at 11 a.m. (ET), with media members invited. The Ice Garden will continue to keep you updated as we learn more about the incipient PWHL.