PWHL Announces Head Coaches For Each Team
Courtney Kessel, Charlie Burggraf, Kori Cheverie, Howie Draper, Carla MacLeod, and Troy Ryan become first coaches in league history.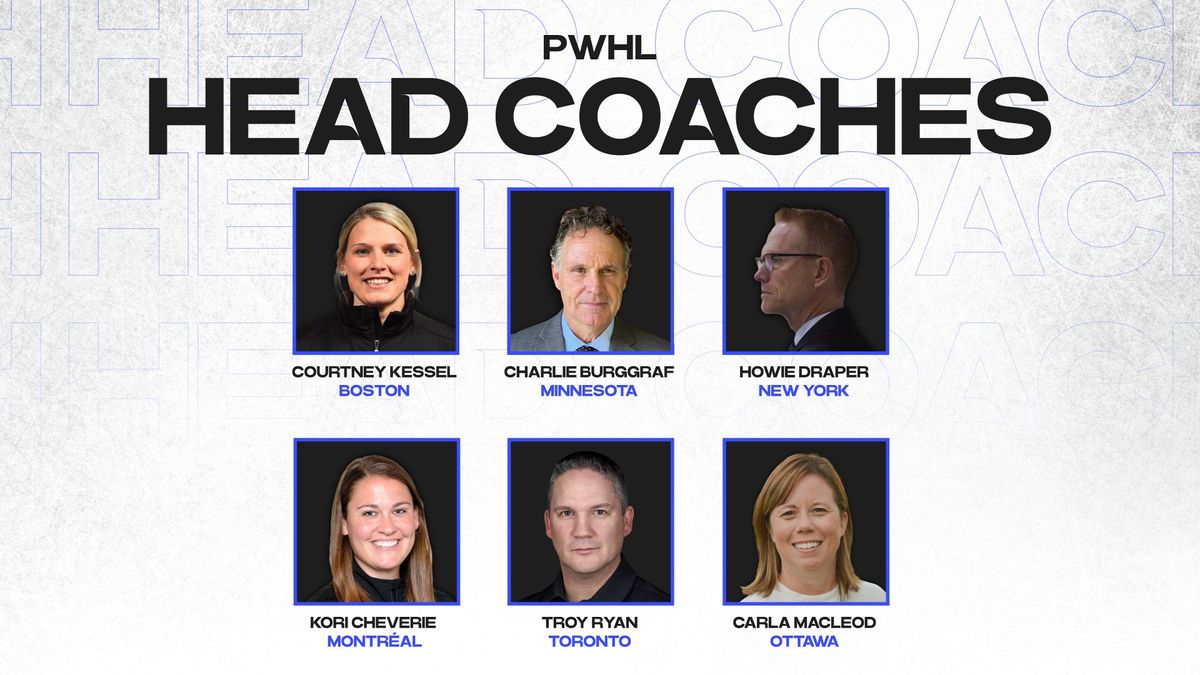 The PWHL announced on Friday afternoon their  first head coaches in league history. The league's new bench bosses include Courtney Kessel in Boston, Charlie Burggraf in Minnesota, Kori Cheverie, in Montréal, Howie Draper in New York, Carla MacLeod in Ottawa, and Troy Ryan in Toronto.
The six coaches were all hired in their new roles by each team's respective general managers. "I want to credit our general managers for their efforts in identifying highly qualified candidates that are well-respected and motivated to help our athletes reach their full potential in the PWHL" said PWHL senior vice president of hockey operations Jayna Hefford, in a press release.
Kessel is shipping up to Boston after years of experience both on and off the ice. She was the head coach for the CWHL's Toronto Furies during the 2018-19 and then joined the Princeton University women's hockey program as an assistant coach for four seasons. She also spent time with Canada's National Women's Team in July 2023 as an assistant coach.
Burggraf will be representing his home state with PWHL Minnesota as he also reunites with GM Natalie Darwitz. Burggraf coached Darwitz in his first two seasons as an assistant coach for the University of Minnesota Golden Gophers and helped the Gophers win the 2005 NCAA National Championship.
Cheverie joins PWHL Montréal in her fourth season as part of Canada's National Women's Team staff, serving as an assistant coach for gold medal wins at the 2021 and 2022 IIHF Women's World Championships, the 2022 Olympic Winter Games, and silver at the 2023 World's. The Nova Scotia native led her home province to their first-ever women's hockey medal with a silver at the 2023 Canada Winter Games. She also made history during her five-year tenure at Toronto Metropolitan University as the first full-time female assistant for a U SPORTS men's hockey program.
Draper has spent the past 26 years as the head coach of the University of Alberta women's hockey program, where he helped the team to an incredible 665 overall wins, a record eight U SPORTS National Championships, two silver medals, and 14 Canada West titles, earning four U SPORTS Coach of the Year awards in the process.
MacLeod joins Canada's capital following her tenure of coaching Czechia to historic back-to-back bronze medals at the 2022 and 2023 IIHF Women's World Championships – the country's first medals as part of the tournament's top division.Her success earned her a three-year extension with the national team that will take her through the 2026 Olympics. The Calgary, AB native spent the last two seasons as head coach of the University of Calgary Dinos women's hockey team, and prior to that, was an assistant coach with Team Japan from 2012-14 and led the U18 Female Prep Team at Edge Hockey beginning in 2014.
Ryan heads to PWHL Toronto with more than 20 years of coaching experience under his belt, most notable with his time as the head coach of Canada's National Women's Team – a position he's held since 2020 and is signed for through the 2026 Winter Olympics. This season, he earned silver at the 2023 Women's World's, then joined Canada's men's team where he won World Championship gold. The Nova Scotia native has earned four Hockey Nova Scotia and Maritime Coach of the Year recognitions, and two Sport Nova Scotia Coach of the Year awards.
Coaches will join their general managers at CBC's headquarters in downtown Toronto for the inaugural PWHL Draft on Monday, September 18. Viewers can watch Monday's draft live on the CBC Gem App, website or YouTube channels.