PHF
PHF Season in Review: Minnesota Whitecaps
The Whitecaps were…underdogs?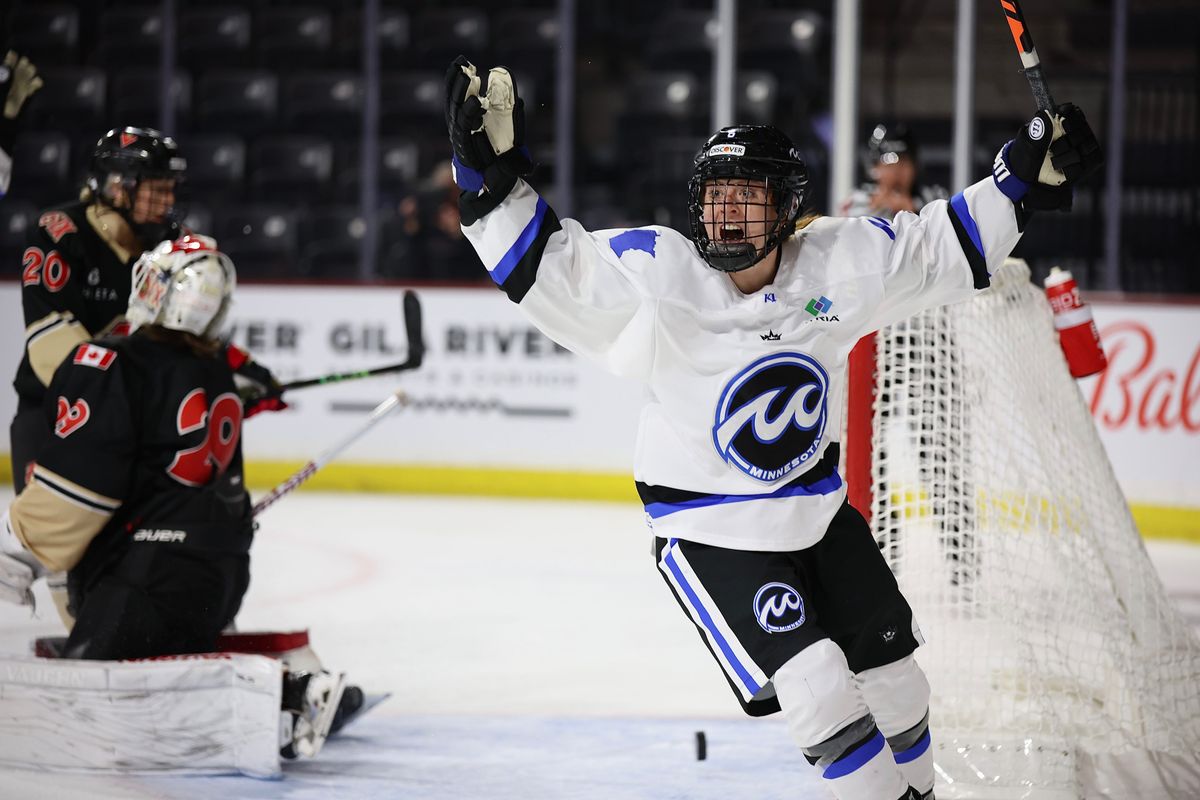 Record: 10-11-3, fourth place - Isobel Cup Final appearance
The Whitecaps have made it to the Isobel Cup Final nearly every season since joining the PHF. While it didn't look likely this season with an eight-game losing streak heading into the playoffs, the Whitecaps upset the Boston Pride in the semifinals to return to the Isobel Cup Final, where they fell to the Toronto Six in overtime.
In a year with some missing pieces and the makings of a small rebuild, a fourth-place regular season finish and an exciting playoff run should not be considered a failure for the Whitecaps by any means. After all, Minnesota was just one goal away from lifting the Isobel Cup.
Offense
Overall: 2.4 GFA; -8 goal differential
Points leader: Natalie Snodgrass with 20 pts (10 G, 10 A), Jonna Albers with 20 pts (10 G, 10 A)
Goals leader: Natalie Snodgrass with 20 pts (10 G, 10 A), Jonna Albers with 20 pts (10 G, 10 A)
Taking a first glance at this season's forward depth, there was an obvious huge piece missing. The Whitecaps had to redefine their offense when Allie Thunstrom signed with the Boston Pride in the 2022 offseason. Thunstrom was the team's leading goal scorer in 2021-22 (18 goals in 20 GP) and has the ability to completely change a game on any given shift with her speed. That's not something you can replace so easily in free agency.
While the Whitecaps were able to make it far, it was clear their struggles were in the scoring department. Minnesota was shut out five times this season and had six one-goal losses. Without a weapon like Thunstrom in the lineup, the regular season offense looked a bit lackluster for the Caps. But it wasn't all bad news for Minnesota.
Snodgrass and Albers were big pieces to the puzzle this year, sharing the team lead in scoring with 20 points each. However, that duo couldn't crack the top 10 in scoring in the league. Every other team except the Beauts had at least two players in the top 15 in scoring. Liz Schepers was the third-highest-scoring forward with 14 points, but she was the only other Whitecaps forward with double-digit points.
Defense
The scoring depth woes of Minnesota's forwards did not extend to the blue line. During the regular season, Minnesota's top three defenders combined for 37 points, which was a huge help to their struggling offense at times. Sidney Morin was a great addition to a more traditional defense as someone who could provide more scoring strength, but it was Amanda Boulier who blocked the most shots for the Whitecaps this season.
After a season with the Boston Pride, Boulier returned to Minnesota's defense in a new role that saw her offensive production slip. That may be proof of some of the growing pains that the Whitecaps will simply have to work on moving forward.
Goaltending
Amanda Leveille: 17 GP, 9-6-0-2, 2.43 GAA, .923 SV%
Jenna Brenneman: 7 GP, 1-5-0, 3.18 GAA, .905 SV%
Chantal Burke: 1 GP, 0-0-0-0, 6.00 GAA, .889 SV%
When you talk about goaltending in this league, Amanda Leveille should be at the forefront of the conversation. Her mile-long list of accolades speaks for itself. As expected, she had a strong performance in 2022-23, finishing with a .923 SV% and earning nine of Minnesota's 10 wins.
While she was out for a handful of games this season with injury, Leveille still found herself between the pipes in the Isobel Cup semifinals, where she helped dethrone the Boston Pride — who were fully expected to make it to the final and win another Isobel Cup. Not only did she beat them, Leveille swept them in the best-of-three series, with 47 saves in the second game, and earned Player of the Game.
Jenna Brenneman took over for Leveille while injured and had five losses in seven starts, which contributed to a lengthy losing streak for the Whitecaps that doesn't truly represent their talent during the entire season.
Most Valuable Player
Natalie Snodgrass and Jonna Albers had incredibly similar seasons, right down to the matching shots on goal. While Snodgrass did play in two less games than Albers during the season, it's not hard to know that the team MVP race is between these two for the regular season.
Using the playoffs as a tiebreaker, the MVP title simply has to go to Albers, who scored five goals in three games — two on the power play, two shorthanded, and one game winner. She led the team in shots in the playoffs, as well as tied Snodgrass for shots on goal.
Moreover, Albers is the heart and soul of this Whitecaps offense. She has been a part of this team since they joined the PHF, and though she skated with a different name on her jersey this season, that didn't stop her from being the driving force for Minnesota.
Best Newcomer
Sitting behind Snodgrass and Albers in the game logs is a name that is not necessarily new to anyone, as she has an Olympic gold medal, a collection of SDHL records, and a successful NCAA career behind her, but this was Morin's first season for the Whitecaps and in the PHF. She did not disappoint.
Leading the team with a whopping 98 shots on goal, the defender tallied seven goals and 10 assists in 24 games, two of which were power-play goals.
It is safe to say Morin was a big reason for Minnesota's success on the ice this year, and her versatility on both sides of the puck helped fill in the gaps left by players like Thunstrom and Morrison.
Looking Ahead
While an overtime loss in the championship game is a brutal ending to a season that can leave a team feeling unfulfilled, the Whitecaps should have nothing to hang their heads about. They have the foundation for a fantastic future — and with Amanda Leveille in net, an Isobel Cup is always only a few stopped shots away.
PHF free agency began on April 11, and while there have been some major signings in the league, the Whitecaps have not made any new signing announcements yet. If I were looking for places to improve, I would strive for adding to the offensive talent.
On March 29, the Whitecaps announced they had parted ways with head coach Ronda Engelhardt, which can bring a fresh look to a team looking for a final few pieces to secure another Isobel Cup win.
Ultimately, it feels weird to say the team that went to overtime in the Isobel Cup final was an underdog all season, but there is no doubt this is one of the first times this team had played through the season with a chip on their shoulder. It felt like a different kind of year for the Minnesota Whitecaps. Going forward, maybe that's a good thing. Whatever the reason, whatever the changes, I would simply never ever count this team out.