PHF
PHF Playoff Preview: Connecticut Whale @ Toronto Six
Let's take a look at the matchup between the No. 2 and No. 3 seeds in the PHF ahead of their series this weekend.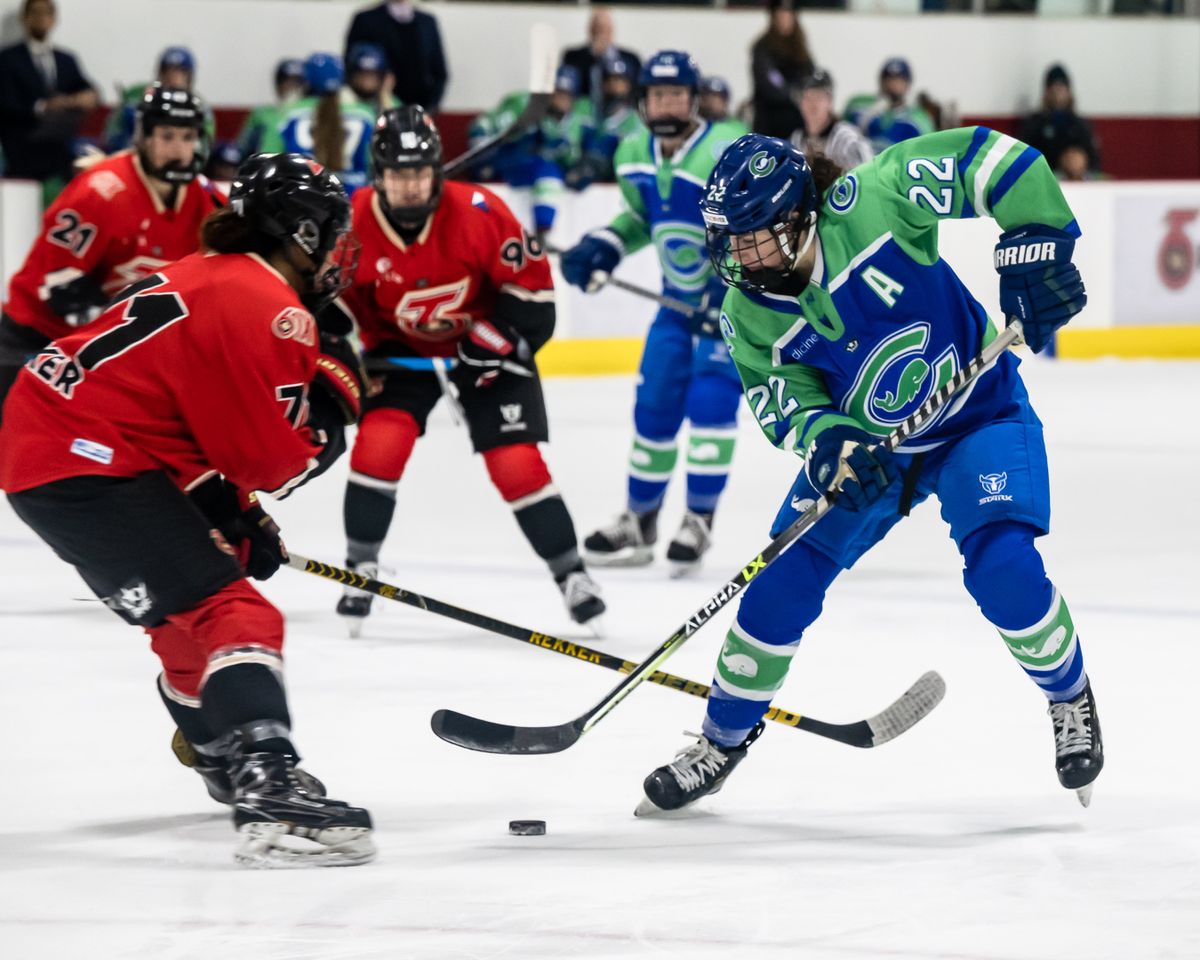 Dates: Fri., March 17, 3 p.m.; Sat., March 18, 2 p.m.; Mon., March 20, 6 p.m. (if necessary)
Location: Mattamy Athletic Centre, downtown Toronto, Ont.
Regular Season Overview
Toronto Six: No. 2 seed, 17-5-2 regular season (51 pts) – won four of last six
Connecticut Whale: No. 3 seed, 14-8-3 regular season (43 pts) – six-game win streak
Head to Head: 2-2 in regular season – each won one home game (TOR 7-4, CTW 5-3) and one road game (TOR 5-3, CTW 4-1)
It's been an interesting couple dozen games for both the Whale and the Six, but especially the Whale, this season. While Toronto has had its own ups and downs, tough losses followed by dominating wins, Connecticut was in many ways a victim of its own scheduling. After dropping their opening game against Boston, they went a full month and a half without playing, resulting in a much slower start than anticipated.
Now, as each team readies for the road to Izzy, they look very well-matched on paper. The Six have been an offensive juggernaut all season, but struggled to hold leads and maintain defense, while the Whale have been steadily building up steam toward the end of the year to finish the regular season on a high. Let's take a look at where each team matches up by position.
Offense
TOR scoring leaders: Brittany Howard, 26 pts; Shiann Darkangelo, 25 pts; Emma Woods, 23 pts; Michela Cava, 21 pts
CTW scoring leaders: Kennedy Marchment, 35 pts; Taylor Girard, 28 pts; Caitrin Lonergan, 18 pts; Justine Reyes, 17 pts
Honestly, it looks pretty even here. The goals-for averages for each of these teams differ by just .1 (3.6 GF for Toronto, 3.5 for Connecticut), and even if you focus on the top threats for each team — Howard for the Six, Marchment for the Whale — you have a line of secondary scorers for each team only too willing to step up. You have young guns like Daryl Watts and Leah Lum waiting in the wings for Toronto as well, while veteran Whale forwards Alyssa Wohlfeiler and Janine Weber are excellent in the clutch.
Overall, each of these opposing blue lines and netminders are going to have their hands full. Speaking of which...
Defense
Even with losing Mallory Souliotis to a broken femur earlier in the season, this defense can be formidable for Connecticut. Obviously, you have to look at one of the strongest stay-at-home defenders in the game in Shannon Turner, but even aside from the anchor, players like Hannah Bates, Tori Howran, Emma Keenan, and Allie Munroe are all savvy on both sides of the puck and can frustrate the best of forward lines. As far as the Six is concerned, head coach Geraldine Heaney has been focused on building up a team defense, but they're much more of an "offense is the best defense" mind and can be a bit unruly when it comes to maintaining the pressure. Lindsay Eastwood and Saroya Tinker both use their size and positioning well, but will need to watch the PIM. Overall, I give the edge here to the Whale.
Goaltending
TOR: Elaine Chuli, 12-5-0-2, .917%
CTW: Abbie Ives, 10-6-0-0, .902%
I mean, what can be said about Elaine Chuli that hasn't already been yelled to the high heavens? The Six have made it clear that she's their No. 1, and even with a bit less consistency in net than in seasons prior, she's still just as technically sound as ever and has the capacity to steal games. Behind her, Carly Jackson has more than proven herself, going undefeated in their five starts and boasting an excellent .926 save percentage.
Ives is a solid goalie for the Whale but has yet to show that extra edge in her game that can steal a series. Meanwhile, Meeri Räisänen was hampered early in the year by the inconsistencies of the team in front of her and hasn't gotten a chance to really shine. The Six definitely have the advantage here, in my opinion.
Prediction
This matchup has all the makings of a series that goes the distance. I foresee three tight games, but I think the Six have the firepower and the goaltending to pull off a win in three.