PHF
A matter of pride: women's hockey and the LGBTQ+ community
As Pride month winds down, we look at how well women's hockey leagues and teams have embraced LGBTQ+ players and fans ... and where they could step up their efforts.
It's a strange time to be a queer hockey fan, to say the least.
Men's hockey has by and large made it clear that when they say "hockey is for everyone," it comes with stipulations — and those don't always include the LGBTQ+ community. With more NHL players asserting their "individual choices" not to wear rainbow jerseys or participate in warmups, and teams bowing to outside influences altogether in some instances, it's felt more and more like our escapist hobby is set on reflecting the reality of our political landscape.
So it's a refreshing turn of events when we see women's hockey making an abrupt turn from that. Not only do teams in women's leagues have Pride nights, but the jerseys for those games aren't just props for warmups; players will wear them throughout the game. Teams may partner with local organizations benefiting the community, or have important figures or even drag artists drop a ceremonial puck. Pride merch in the past has featured work by queer artists as well, and it's overall a much more inviting and inclusive atmosphere.
"At the PHF, we believe in inclusivity and acceptance of all people, at all times, and you are always welcome in our arenas."

As we continue to celebrate Pride, listen to a special message from Madison Packer❤️ pic.twitter.com/RN5Vr1qEWN

— PHF (@PHF) June 20, 2023
One can say it's par for the course; after all, women's sports and especially women's hockey has a greater tendency to have out and proud athletes in the community. Madison Packer and Carly Jackson are two of the most visible players in the PHF, with a large part of their appeal being their outspokenness about embracing who they are as members of the queer community. Teams have also leant into their Pride themed marketing, making TikToks and auctioning off game-worn jerseys after the fact. Not only has it been a great way for players and fans to interact, it's been good business for the league and its teams to embrace the LGBTQ+ community in a way its male counterparts have not.
Of course, that's not to say everything is rainbows and roses. I asked a few fans and even a fellow media member to give their two cents' worth on what they've experienced and what they would like to see improve.
A * indicates the source's name has been changed to preserve their anonymity.
A sense of belonging
In general terms, the PHF has managed to do something the NHL and other men's leagues have not: provide new fans with a space to learn about the league and the sport.
"I have been interested in hockey from afar for a while; however, larger sports leagues, particularly men's leagues, were intimidating since my perception of their typical fan base isn't one that I much relate to," Katie* (they/them), a Boston-based hockey fan who identifies as nonbinary, said via email. "I've also felt that it's a group prone to gatekeeping, which was daunting. My friend introduced me to the PHF, and these fears quickly dissipated thanks to the welcoming atmosphere."
That atmosphere was in full force during the PHF's 2021 "bubble" season in Lake Placid. With no fan interaction in person and the games streaming on Twitch, those who had never even watched a hockey game before found themselves brought into the fandom and interacting in the live chats with people from all over the country and the world. That warm welcome extends beyond your typical theme night for many fans and even members of the media who identify within the LGBTQ+ spectrum.
"When I've been just to regular [women's hockey games] ... going to those games feels different for me," said Hannah Bevis (she/they), an ace hockey writer who initially helped found The Ice Garden and now covers the teams under the NLTT Ventures umbrella (those being the Minnesota Whitecaps and Buffalo Beauts). "It just feels like I can be a little bit more myself, or I worry less about how I'm acting or how I look, because there are a lot of other people who look sort of visibly queer or whom I know are out or supportive because we've connected on social media. It's just that kind of a feeling."
With that sort of presence, and with multiple players within the PHF and other leagues being out and outspoken about LGBTQ+ issues, it stands to reason then that Pride nights would also have a different feel than in the major men's sports leagues. For starters, there have been no women's players declaring that their faith makes it impossible for them to wear a rainbow for a night. Teams wear their Pride night jerseys for the entire game, rather than just warmups, and some teams even wear the jersey for an entire weekend (in the case of the Riveters last season).
While no PHF team has the budget and resources to be able to make it a major production like, say, an NHL team can, there is still an earnestness about the presentation that resonates with fans.
"The PHF jerseys are sometimes simpler and less elegant, but the teams do a great job picking local people or having their team designers come up with a really cool design," said Dee (he/they), a Newark-based Riveters fan. "I genuinely feel like the overall experience is miles better in the PHF. NHL teams each take a different approach to celebrating Pride, but you might not get much outside of a special puck drop or a few graphics."
A wealth of representation
It appears to all come down to the presence of queer folk amongst women's hockey teams, compared to the NHL. While the men's side of the sport has worked over the past decade-plus with organizations to promote inclusion and preached their "Hockey Is for Everyone" initiative, there has been a long history of the NHL in particular having trouble practicing what it preaches. As a result, we have yet to see an active NHLer come out. Luke Prokop made history as the first openly gay player under contract with an NHL team (the Nashville Predators) back in 2021, but he has yet to play a game in an NHL uniform. We also have yet to see a significant LGBTQ+ presence behind the benches or in teams' front offices.
In contrast, women's players have been much more open in expressing their sexual orientation, as aforementioned with Packer and Jackson being two of the best examples in the PHF. Madison and her wife Anya Packer are perhaps the most high-profile couple in the league, while Jackson is one of the most beloved players by LGBTQ+ and straight fans alike.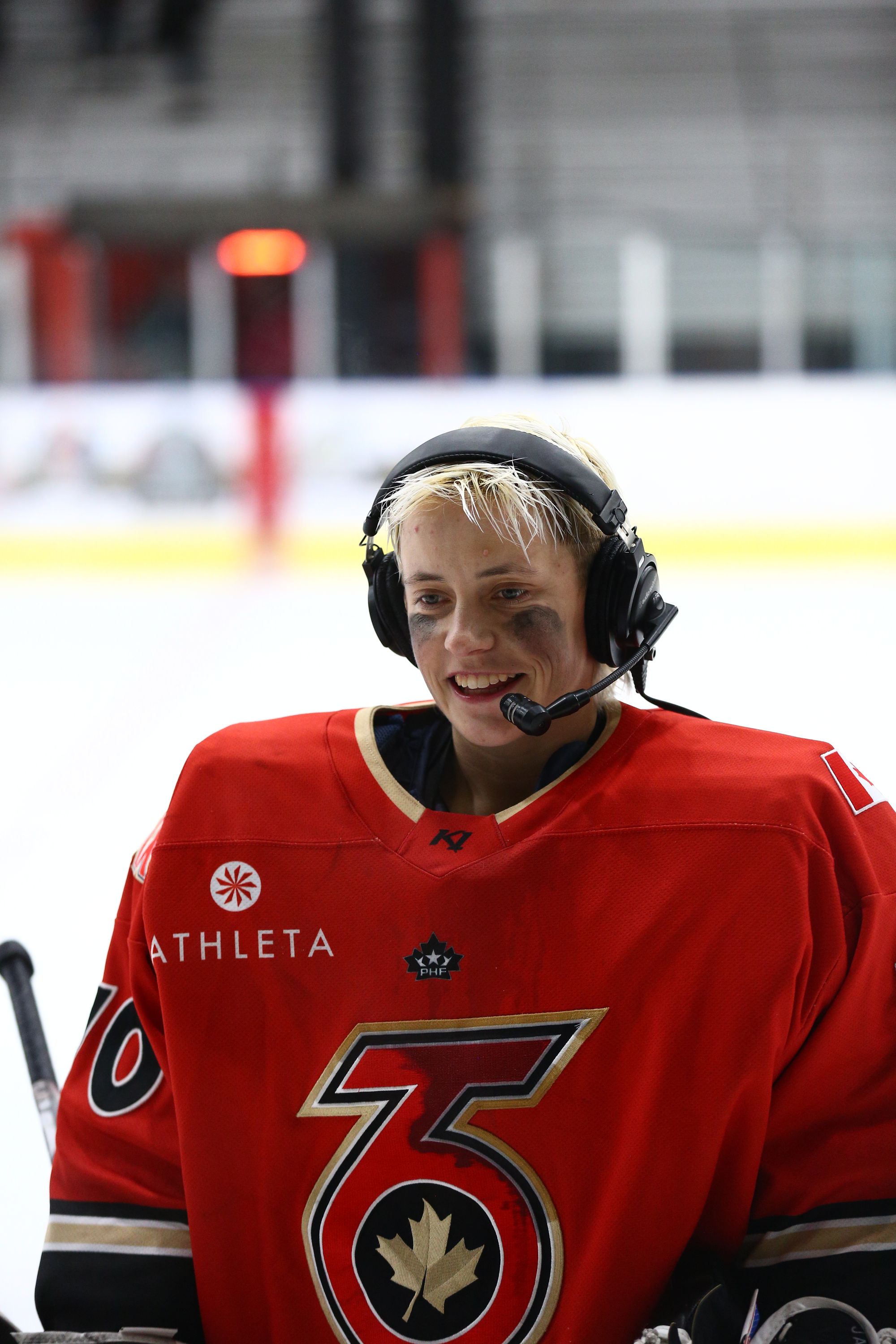 "Madison's got a wonderful family, and she's highlighted that in her public persona," Dee said. "She's also done incredible work highlighting mental health struggles and reminding fans of the importance of taking care of themselves and seeking help when we need it. I think her advocacy is really lovely, and I say that as a younger queer person who sometimes needs these reminders that things will be okay.
"Carly's taken a different approach. As one of the league's preeminent 'gay icons,' she's really captured another side of the queer experience: how wonderful it is when someone is safe enough to live openly and authentically and just be a 'weird little guy,' as I think she's called herself."
In the PWHPA, Hilary Knight came out as a member of the queer community in 2022, and Marie-Philip Poulin and Laura Stacey announced their engagement in late May of this year. Other players have been quieter in their assertions, but their social media posts display beautiful, happy queer relationships.
As for the leagues and associations they play for, it's a welcome sight to see social media admins and higher-ups leaning into celebrating Pride. In fact, more than a few staff members and volunteers, as well as media covering women's hockey, identify as LGBTQ+, meaning they understand the importance of this type of inclusion.
"It's become sort of a women's hockey stereotype that the players are all queer (and it's true that many players are), but it also applies to fans like me, who've found comfort in a more welcoming and supportive environment," Dee said of the way women's leagues have embraced queer representation and allyship.
"I think the teams have gotten better at highlighting the personalities across the league and allowing players to express themselves fully. But the league should step it up — they should do a better job supporting players, highlighting their accomplishments, and leaning into the more chaotic and wonderful women's hockey community."
Still work to do — especially when it comes to the trans community
The one remaining professional women's league in North America aimed for more inclusion of trans and nonbinary athletes with a rebrand in 2021-22, changing its name from the National Women's Hockey League to the Premier Hockey Federation. The move itself was criticized not just for its late arrival (a whole five years after Harrison Browne came out as a trans man while playing on the Buffalo Beauts), but for its lack of grace and organization. However, the shift in focus from just cis women's participation was a welcome one, and one Katie was happy to learn of.
"I appreciate[d it] for two important reasons," they said. "1. Men's professional sports leagues don't specify their player's gender, so why should other leagues orient/differentiate themselves accordingly? 2. It's inherently more inclusive and acknowledges that not all players must identify as a woman to be a professional athlete within the league."
In the same breath, however, those in the PHF have struggled to adapt their language and attitudes in the same manner. Even within the press release announcing the rebrand, and in promotional materials produced since, "women's hockey" has been the chosen phrasing. In one aspect, it's understandable, as the majority of athletes in the league identify as women and the rulebook is in line with what we know as the "women's" version of the sport. Still, there's a lot of irony in still using "women's hockey" to refer to a league that has made a concerted effort to acknowledge those in their league who don't identify as women.
The neutral site postseason appearances in Tempe, AZ, this past season and in Tampa, FL, in 2022 are worth scrutinizing as well. Arizona and Florida are two states that have been the most hostile to the LGBTQ+ community, especially trans people, a history documented at length over the past couple of years.
Florida governor Ron DeSantis is infamous at this point for his attacks on the community, from endorsing the censorship of any books with queer content to attempting to ban the use of state money for trans-affirming healthcare for minors. These attacks will likely grow to an even wider platform as he attempts a presidential run. Meanwhile, the Arizona Legislature has a slate of anti-LGBTQ+ bills that have either already been vetoed or are likely to be vetoed by governor Katie Hobbs, who has pledged to veto any bill of that nature that advances to her desk.
The league each time has said nothing regarding the climate it's bringing women's hockey into, a lack of action that by itself doesn't shock anyone — hockey is by and large the least politically progressive of the major professional sports — but that, compared to the actions of athletes and even organizations within other women's sports leagues, reads as a huge disappointment. Nontraditional markets are seductive and a great way to reach new fans of the sport, but there's a lack of care that could turn established fans, especially those who are vulnerable to bigotry, away from attending events.
"I don't think it's a malicious decision on the part of the PHF, but I do want to see some more thoughtfulness, especially when it comes to places like Florida," said Jay Forster (he/him), a trans hockey writer and podcaster from the United Kingdom. "Great place to grow the game, but how many of the openly queer women in the PHF would feel safe living and working in that state if there was a team there tomorrow?"
During the same season as the rebrand (2021-22), the PHF announced updates to its trans and nonbinary inclusion policy in conjunction with nonprofit Athlete Ally, an organization that aims to combat anti-LGBTQ+ discrimination in sports, and trans athlete Chris Mosier. While the guidelines are much more inclusive of trans and nonbinary individuals than the policy of years past, there are still nebulous eligibility guidelines, mostly to do with the administration of testosterone in a purely "therapeutic" manner (to be determined by the league, which as of this writing hasn't involved anyone with any kind of biomedical or therapy-based background to my knowledge).
"It's fence sitting," Forster said. "They don't want people to think they're excluding trans [athletes], so they couch it in all this flowery language, so when they can turn trans [players] down, they can just point to their trans inclusion policy.
"I acknowledge that it's tough as a women's league to write a trans and nonbinary inclusion policy because, do you kick trans men out of your league when they come out? What happens if an AMAB [assigned male at birth] person wants to come and play for you? But also, there's a better way than [what the PHF has come up with]."
AMAB athletes have already made their presence known in women's hockey, as Jessica Platt became the first professional women's hockey player to disclose her trans identity back in January 2018 as a member of the now-defunct CWHL's Toronto Furies. Platt also played two subsequent seasons with the PWHPA, a movement that originated after the CWHL folded, which makes it all the more ironic considering current PWHPA board member and former player Jocelyne Lamoureux-Davidson has been incredibly vocal about her transphobia as recently as June 22.
Absolutely abhorrent transphobic behavior and public statement from Jocelyne Lamoureux. @PWHPA needs to remove her from their board immediately pic.twitter.com/hpkQBkQ2PR

— Nicole Haase (@NicoleHaase) June 22, 2023
Moreover, the PWHPA has not yet made any concrete trans and nonbinary inclusion policy public as of this writing. This move, combined with the continued presence of someone who feels so incredibly comfortable vocalizing her aversion to the trans community, makes for a situation reminiscent of the PHF's Toronto Six back in 2021, when then-president and head coach Digit Murphy was found to have connections with transphobic organization Women's Sports Working Policy Group.
Time to take a more vocal stand
The abovementioned issues may seem inconsequential when perceived by those outside of the community, and that's valid. As we know, those who haven't had to justify their existence wouldn't need to pick up on the dog whistles and coded attempts to exclude queer and especially trans folk from the equation — whether in language or in action (or lack thereof).
The perception of innocence, however, does not innocence make. In this day and age, the association of any person or league with queerphobic or transphobic entities, even in a passive way, is a red flag: an indication that, despite your best efforts (and maybe even theirs), a safe space you thought you had carved out for yourself is no longer safe. Or it could be another sign on top of so many other signs that you, a person who has never felt like they belonged somewhere, don't belong here either.
Every person spoken to for this piece has made clear how comfortable, up to this point, they have felt following and being a part of women's hockey. It's up to those at the highest levels of any league or association to continue that, especially as the LGBTQ+ community is under attack from all angles.
One way leagues can start is by evolving their trans and nonbinary inclusion policies as the science evolves (something the bylaws for the PHF acknowledge; Forster believes it should be a living document, with an annual review at least). Another way is by not just issuing statements in support, but by also issuing statements unequivocally opposed to bigoted legislation being introduced in places where these teams have a presence, or where the league is interested in venturing, not unlike what the WNBA has done in seasons past. Yet another suggestion would be to expand support for the LGBTQ+ community to specify groups like the trans and nonbinary communities.
"I think this is especially important now, with all the legislation that's trying to pass right now, for [the trans community] to be centered," Bevis said. "I know the PHF specifically [has been on social media] like, 'We stand in support with them.' Great; awesome first step. Are we donating money to trans organizations? Can we get trans pride jerseys?
"If you're having Pride nights, you're also supporting the trans community and the nonbinary and genderqueer and ace communities. It's all of it."