NCAA
NCAA Roundup: Oct. 5-8, 2023
Colgate and RMU are rolling, and Minnesota is just really, really good at hockey as a rule, it seems. Check out this past weekend's worth of action in the National Conference!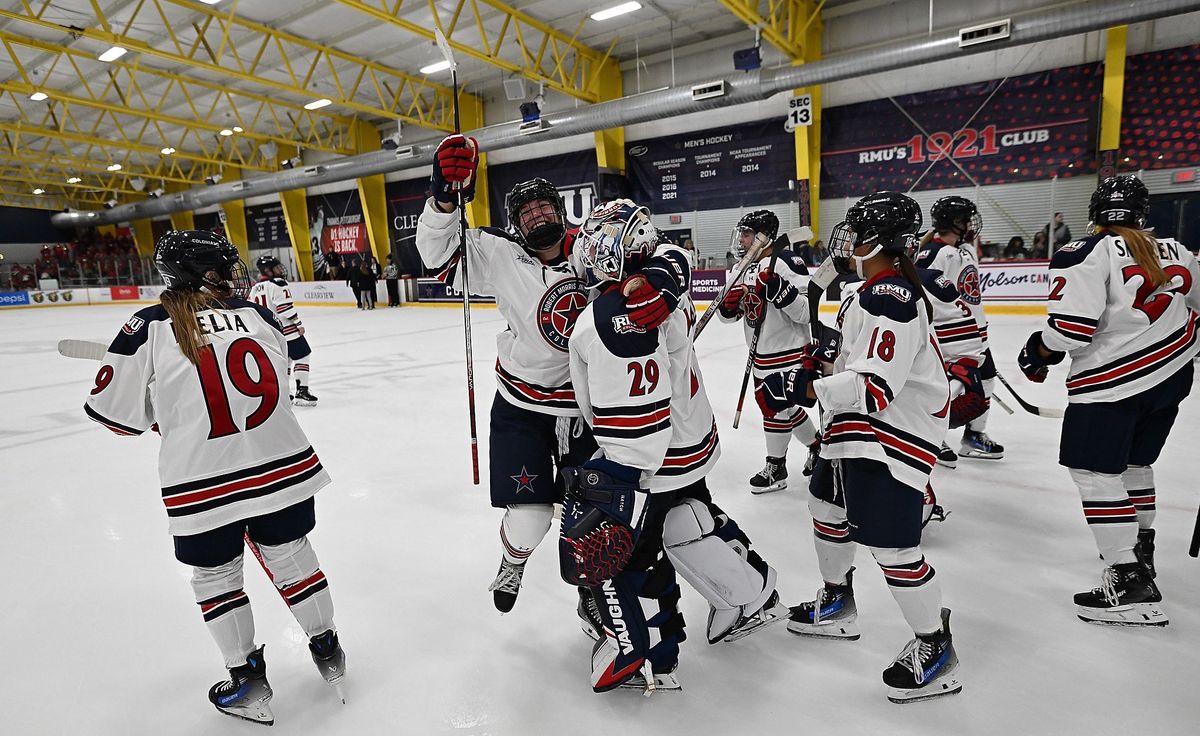 The Colgate Raiders are on a roll, with many of their heaviest hitters on multiple-game scoring streaks after facing off against Penn State this past weekend. That, plus a smattering of ties and a couple of high-scoring games out of RMU, all up next in this week's NCAA roundup.
Raiders' Kaltounková Scores Four in Two as Colgate Rolls Over Penn State
Friday, 10/6: Colgate 6, Penn State 2
Saturday, 10/7: Colgate 3, Penn State 2
Kristýna Kaltounková's senior campaign is starting off with a bang, indeed. The forward notched a hat trick in Colgate's Friday night routing of the Nittany Lions, being one of four Raiders to record multipoint performances (Danielle Serdachny, Neena Brick, and Elyssa Biederman were the other three).
Penn State wasn't going to go down so easily on Saturday, however, throwing 29 shots at Hannah Murphy and mounting perhaps their strongest attack late in the third period. The Raiders were able to hold firm despite an unassisted tally by Brianna Brooks midway through the final frame, improving their record to 3-1 on the season. The Nittany Lions, meanwhile, continue a lengthy road stand this weekend at Cornell.
A Great Weekend to Be a Minnesotan
If you're into the State of Hockey's women's college scene, you had more than your fill of goals and victories this past weekend. Minnesota completed its sweep of RIT by scores of 3-0 and 5-1, but that wasn't all – UMD routed LIU by scores of 6-0 and 4-0, Minnesota State rolled over Sacred Heart 9-0 and 7-1, and St. Thomas got both of their games in hand over Lindenwood, 4-3 and 7-2. Just in case you were doubting the state's dominance on the ice!
Special shoutout to Minnesota-Duluth's Mannon McMahon and Clara Van Wieren – McMahon tallied an Accursi trick Friday night (four goals), while Van Wieren followed that up with her first collegiate-level hat trick Saturday. They became the first pair of Bulldogs since 2011 to record back-to-back hat tricks in a single weekend, after Pernilla Winberg and Audrey Cournoyer achieved the feat against St. Cloud State.
(For its own part this weekend, St. Cloud State split its series with Mercyhurst, dropping Friday's game 2-0 but coming back to win 1-0 off of a goal by Emma Gentry and a strong performance in net by Sanni Ahola. Ahola already has her second shutout of the season after blanking Union during opening weekend.)
Colonials Make it a Party During Home Opening Weekend
Saturday: RMU 6, Saint Anselm 1
Sunday, 10/8: RMU 6, Saint Anselm 4
The Colonials clearly missed being on home ice as much as their fans missed seeing them – and to celebrate, they put up 12 goals on the visitors over the course of two games. Morgan Giannone was again a standout, tallying a goal and two assists in each match and extending her scoring record this season to 10 points (4 G, 6 A). The sophomore forward earned CHA Offensive Player of the Week honors last weekend and repeated the effort this week, as she's been the anchor of the Colonials' offense so far.
Not to be outdone, though, Janelle Evans (one of Giannone's wingers) is right behind her with seven points so far, including a goal in each of this weekend's games, in what's become a great start for the rookie. In fact, many on this young squad have pitched in, including Madison Primeau, Shailynn Snow, and Chloe Puddifant.
RMU faces off against Princeton this coming weekend, while Saint Anselm continues to look for their first win of the season at home against Assumption (a new addition to NEWHA, whom I'll spotlight in an upcoming piece soon).
NCAA Scores
Thursday, Oct. 5:
Wisconsin 5, Boston College 3
Friday, Oct. 6:
Wisconsin 12, Boston College 2
Northeastern 4, Boston University 1
Quinnipiac 3, New Hampshire 2 (OT)
Clarkson 4, Vermont 2
St. Lawrence 7, Providence 2
Maine 7, Stonehill 0
Merrimack 2, Syracuse 1 (OT)
Union 3, Holy Cross 2 (OT)
Rensselaer 1, Bemidji State 1 (2OT)
Saturday, Oct. 7:
Northeastern 2, Boston University 0
Quinnipiac 4, New Hampshire 1
Clarkson 2, Vermont 2 (2OT)
St. Lawrence 2, Providence 0
Maine 7, Stonehill 1
Merrimack 4, Syracuse 0
Union 4, Holy Cross 3 (OT)
Rensselaer 3, Bemidji State 1