NCAA
NCAA Roundup: OSU Solves the Badgers, UMaine Wins Two Big Ones, and More
Looks like the Badgers are human, after all!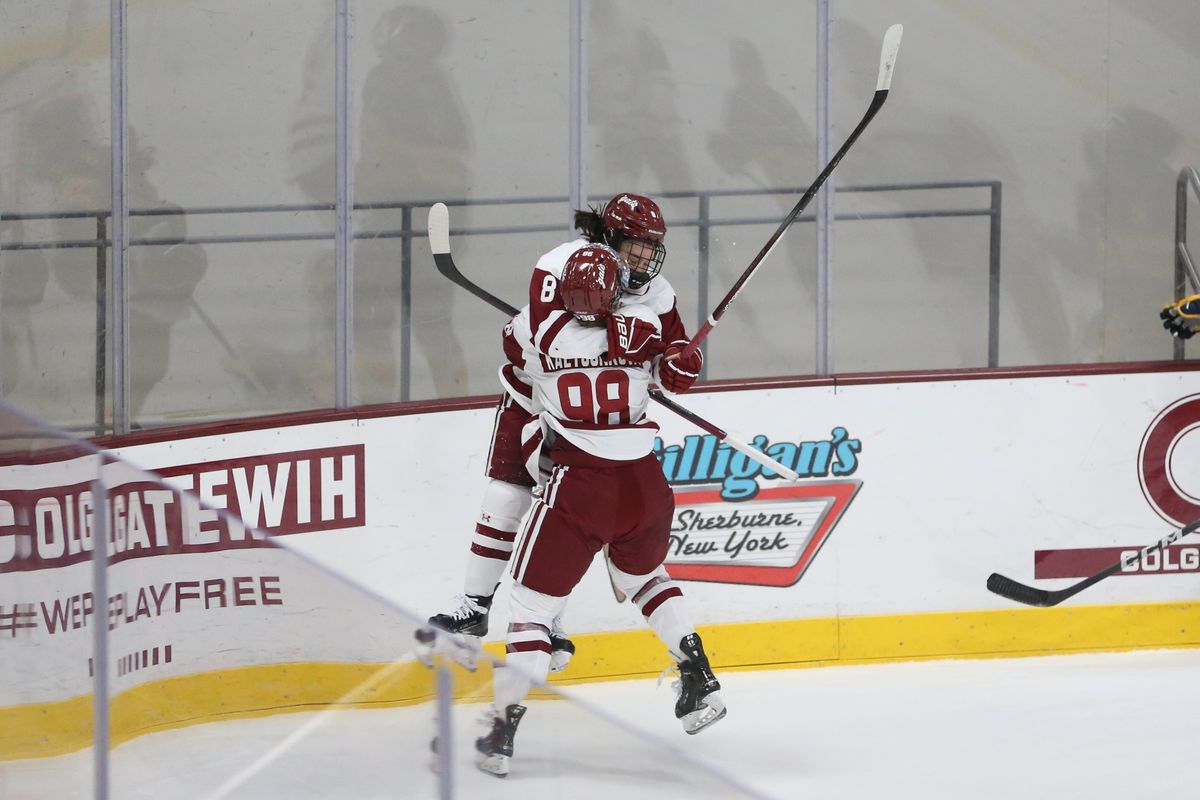 Extra! Extra! The Wisconsin Badgers are no longer undefeated.
I dropped a piece a week or so ago about the team most likely to snap the Badgers' then 10-game winning streak, just before they added another pair of Ws against St. Cloud State. Now, there's a big old "L2" on their record, thanks to the team that was neck and neck with them not just in the conference, but nationally: Ohio State.
The Badgers dropped both games this past weekend to the Buckeyes, 3-0 and 2-1 (OT) respectively, in what were the lowest-scoring games for them all season. Ohio State's top players, Jennifer Gardiner and Hannah Bilka, did everything they needed to do in order to ensure the wins for their squad, who improves to 11-1 (9-0 WCHA) on the year thus far. Gardiner was in fact a standout, scoring twice on Friday night and once on Saturday and earning the primary assist on Bilka's overtime winner Saturday as well. Hadley Hartmetz also tallied three assists on the weekend, and the Buckeyes outshot Wisconsin in both games, making life difficult for both Jane Gervais (30 SA, 27 saves) and Ava McNaughton (34 SA, 32 saves). It's an impressive display for a team that likely had last season's NCAA championship loss in the back of their mind heading into the matchup.
On the opposite end, Britta Curl and Lacey Eden were uncharacteristically quiet, as Cassie Hall scored the lone goal all weekend for the Badgers (12-2-0 (8-2-0 WCHA)). Doubtless this will be a small stumble for the squad, but one that created a distinct change in this week's polls – not just because of their own performance, but because of another school we're going to chat about in a moment. I mentioned that Wisco's goalies hadn't really been challenged all season to date, and that likely played a role in this weekend's games, but we can't overlook the lack of shots forced on the front end either (19 and 22, respectively).
Raiders stretch win streak to 12 games
I mentioned a shakeup in the national polls for the first time, and that's because while Wisconsin dropped both against OSU, the Buckeyes have for the first time this season taken over the No. 1 spot, while the Badgers drop to No. 3. Yes, 3. Why? Colgate, that's why.
Colgate (13-1-0) is the one team to have beaten Ohio State this season and is absolutely wreaking havoc in ECAC Hockey, drubbing team after team each weekend. This time around, it was poor Princeton and Quinnipiac's turns, as Colgate trounced the Tigers 7-1 on Friday and won 4-1 against the Bobcats Saturday to take over the No. 2 spot in the USCHO.com poll.
On Friday, the Raiders poured on four goals in the first period alone, including two power play goals, as Danielle Serdachny had a four-point night and Kristýna Kaltounková added to her impressive special teams tallies with a primary assist in the first and a goal of her own in the second period, while on the skater advantage.
Saturday saw more dominance from Kaltounková in a three-point performance (1 G, 2 A) and Sydney Morrow, Emma Pais, and Elissa Biederman also hit the board as Colgate steamrolled Quinnipiac. Morrow's points streak extended to nine games straight in her fourth multi-point effort this year to date, while the Bobcats unfortunately didn't have a single player in the plus category all afternoon and got just one goal (from Kate Reilly midway through the first to tie it briefly at 1) in an offensive sputter after putting three up against Cornell the day prior (3-1 Bobcats win).
The Raiders will take their impressive streak outside of the conference in a tilt against the WCHA's UMD Bulldogs next weekend, while Quinnipiac looks to regroup on the road at UConn Friday, and at either Sacred Heart or Yale for Saturday's tilt. Princeton, meanwhile, beat Cornell 4-3 on Saturday and will face Rensselaer Dec. 1.
Unranked Black Bears complete sweep against Vermont
It's been a bit of an inconsistent ride for the University of Maine (6-8-0, 4-6-0 HEA) so far. They've had a couple of blowout losses, a couple of close calls, and some hard-fought wins. Meanwhile, their Hockey East rivals Vermont (6-6-1, 5-4-0) have been making a case for the whole conference, with some key wins against fellow third-placers UNH and over Merrimack, and having split their first series against Boston College.
This weekend, however, the Black Bears were eager to show what they've got against one of the top teams in Hockey East, shutting out the Catamounts 3-0 on Friday and battling back from a 2-1 deficit to win 3-2 on Saturday. Ida Kuoppola scored three goals over the weekend, including both game-winners, to improve to seven goals and 15 points on the year. Hailey Eikos tallied a goal and an assist, and Ezra Oien also scored to give Vermont the brief lead on Saturday before Kuoppola sealed the deal at 7:55 of the third period.
Vermont faces off against Northeastern in a midweek tilt Tuesday before heading up to Maine yet again on Dec. 1 (Maine will be on a bye for the holiday until then).
Minnesota State's coach Harrington to step away
The Minnesota State Mavericks announced Monday afternoon that there would be a change in the coaching staff, as head coach John Harrington will be taking a leave of absence to undergo hip surgery. Shari Dickerman will take over as acting head coach during Harrington's hiatus. Best of luck to the coach and Olympic legend as he goes under the knife.
All Scores – Nov. 17-18, 2023
Friday, Nov. 17:
Minnesota 3, Minnesota-Duluth 1
Brown 3, Clarkson 3 (T-OT)
St. Lawrence 3, Yale 2
St. Cloud State 1, St. Thomas 0
UConn 3, Holy Cross 0
BC 5, BU 3
St. Anselm 2, Franklin Pierce 1 (OT)
LIU 1, Stonehill 0
Merrimack 1, Providence 0
RIT 7, RMU 3
Bemidji State 3, Minnesota State 2 (OT)
Saturday, Nov. 18:
Minnesota 3, Minnesota-Duluth 1
Clarkson 1, Yale 0
St. Lawrence 4, Brown 0
St. Cloud State 2, St. Thomas 0
UConn 3, Holy Cross 1
LIU 4, Stonehill 1
Assumption 3, Post 0
Penn State 3, Mercyhurst 1
Lindenwood 4, Syracuse 4 (T-OT)
RMU 3, RIT 2
Sacred Heart 5, Saint Michael's 1
St. Anselm 2, Franklin Pierce 0
Providence 2, BU 1
Minnesota State 3, Bemidji State 2 (OT)