NCAA
NCAA Roundup: Colgate's Win Streak, Laila Edwards's Team USA Debut, and More
Check out the big stories from this past week in the NCAA and beyond.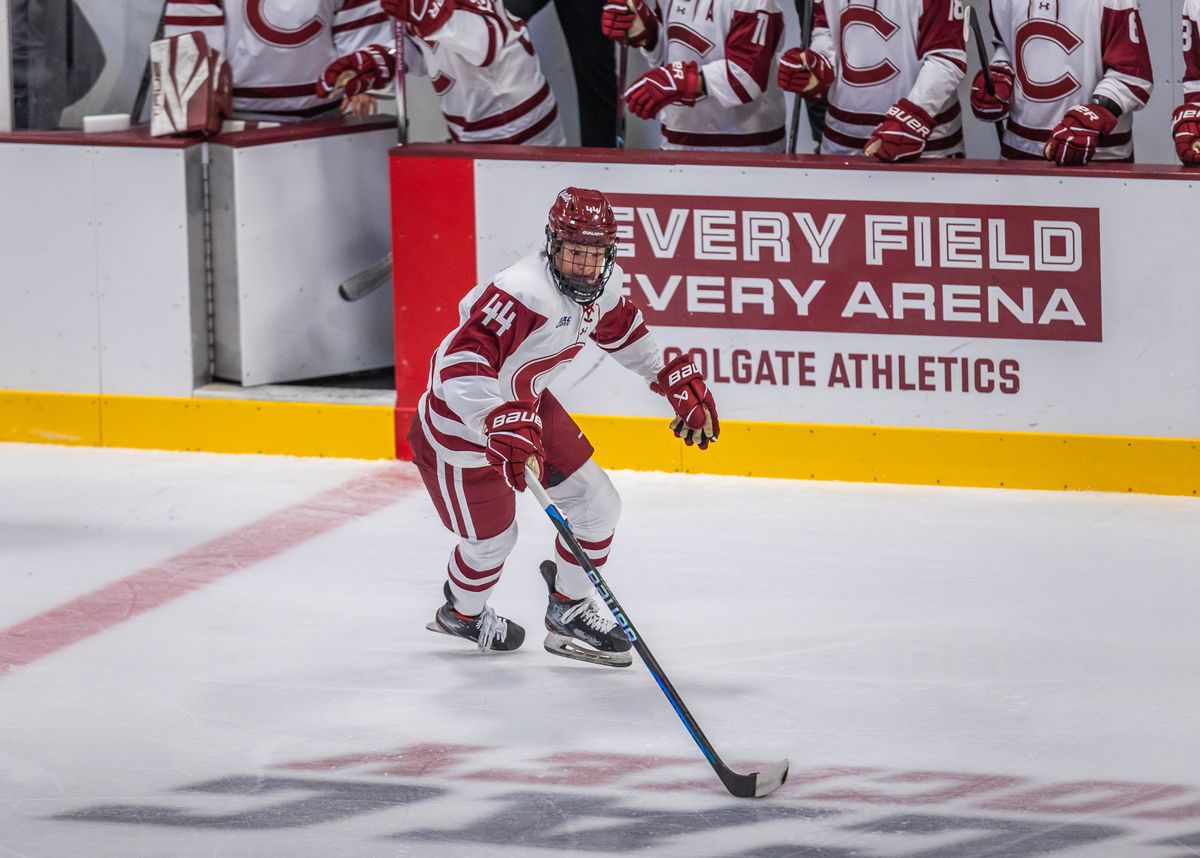 As we get into the thick of the NCAA season, things are starting to heat up more and more for some of these non-top-two teams, and no one seems to be hotter right now than Colgate University. Let's talk about that and more in this week's roundup!
Raiders Riding High on 10 Straight Wins
I guess Colgate isn't nicknamed the Raiders for nothing, eh? The third-ranked team in the nation is showing no signs of slowing down in the ECAC, having won 10 consecutive games and dominating a pair of Ivies this past weekend.
First was Dartmouth Friday night, whom Colgate dominated in an 8-1 victory. Sophomore Sydney Morrow had the game of her life with five points, including her first collegiate hat trick, and 14 different Raiders hit the scoresheet — with four of them (including Morrow) having multipoint games.
Then, they took on Harvard, eclipsing even their previous night's domination with a complete rout, 10-1. This time, seven different Raiders had multipoint games, and Friday's record-setting second period (four goals in less than 15 minutes) was beaten by Saturday's third frame, during which Colgate put five past Alex Pellicci and then Daisy Boynton. Danielle Serdachny made Raiders history by earning her 200th point with an assist Saturday, one of four she would have on the afternoon. The graduate forward now has six goals and 23 points so far in her final NCAA campaign.
Edwards Makes Senior Team USA Debut and History as Program's First Black Player
One would think that in 2023, we wouldn't have a headline as momentous as this one to talk about, but indeed, Laila Edwards of Wisconsin became the first Black player to step on the ice for the U.S. senior national women's hockey team. The sophomore forward was scratched for the first Rivalry Series game against Canada Wednesday night in Tempe, AZ, but she stepped onto the ice for the first time Saturday afternoon in Los Angeles and took part in a second straight win for the Americans, this one with a score of 5-2. On a line with two familiar faces in current and former Badger teammates Britta Curl and Abby Roque, Edwards did not register a point, but she played well alongside her linemates and was on the ice for Curl's goal midway through the second period.
To learn more about Edwards's road to Team USA, definitely take a peek at Hailey Salvian's piece on her for The Athletic detailing her time so far with the Badgers and the national program and what makes her one to watch as she matures with Team USA.
Jaques Struggling in Senior Debut for Team Canada
Another former NCAA standout is unfortunately not having as good a time on the ice as Edwards is during this Rivalry Series. Sophie Jaques, an Ohio State grad and last year's Patty Kaz winner, had two bad giveaways that led to Team USA goals in her debut Saturday — the result of telegraphing passes, failing to keep up speed-wise, and just not reading the play as well as she could have.
The PWHL Boston first-rounder and recent signee has time to get back on track before December's games in Canada and will no doubt look to work on her mistakes during Boston's training camp, but it's still hard to watch her struggle with transitioning to this level of play after dominating the NCAA. Here's to a quick turnaround for Jaques as she gears up for the pros.
WCHA Celebrating 25 Years of Excellence
It's no secret that the WCHA has dominated women's college hockey for a very long time at this point. From the golden age of the Minnesota Gophers, to the current dominance of the Wisconsin Badgers and the rise of teams like Ohio State and UMD, among others, it's clear this conference in the Midwest is doing things no other conference in the country is doing, and it's paying off. Those four teams alone have won 19 of the 22 national titles since the women's tournament started in 2001, with Wisconsin holding the record for the most championships at this time (seven). Clarkson has won the other three, and if Colgate has anything to say about this season, they could break the streak and make history — but right now, it's looking very likely that the trophy will either stay in Madison or make its way back to Columbus.
There's a lot to say about just what puts the WCHA in a league of its own when it comes to the talent and excellence of its programs, but don't take my word alone — hear from an alumna of the conference, Minnesota State's Mandy Krause-Rideout, on what she believes sets it apart.
NCAA Scores
Wednesday, Nov. 8:
· Clarkson 6, St. Lawrence 3
· Quinnipiac 12, Post 1
Thursday, Nov. 9:
· St. Thomas 4, Minnesota State 1
Friday, Nov. 10:
· Cornell 5, Harvard 1
· Yale 3, Union 2 (OT)
· UConn 1, Maine 0
· BC 6, Vermont 3
· Princeton 4, Mercyhurst 3
· Stonehill 1, Sacred Heart 0
· LIU 4, St. Anselm 2
· UNH 4, BU 2
· Brown 3, Rensselaer 2
· Holy Cross 2, Merrimack 2 (SO)
· Assumption 5, Saint Michael's 1
· Franklin Pierce 6, Post 0
· Northeastern 6, Providence 1
Saturday, Nov. 11:
· Clarkson 3, St. Lawrence 0
· Cornell 4, Dartmouth 2
· Yale 4, Rensselaer 1
· UConn 3, Maine 1
· Vermont 3, BC 2
· Princeton 5, Mercyhurst 1
· Sacred Heart 4, Stonehill 2
· LIU 2, St. Anselm 1 (OT)
· Brown 2, Union 0
· BU 5, UNH 3
· Providence 3, Northeastern 1
· Merrimack 4, Holy Cross 3
· Assumption 3, Saint Michael's 1
· Franklin Pierce 3, Post 1