NCAA
NCAA Roundup: Bilka Shines as a Buckeye, Hovi Joins Crimson Staff, and More
Let's get caught up on all the action from the past weekend.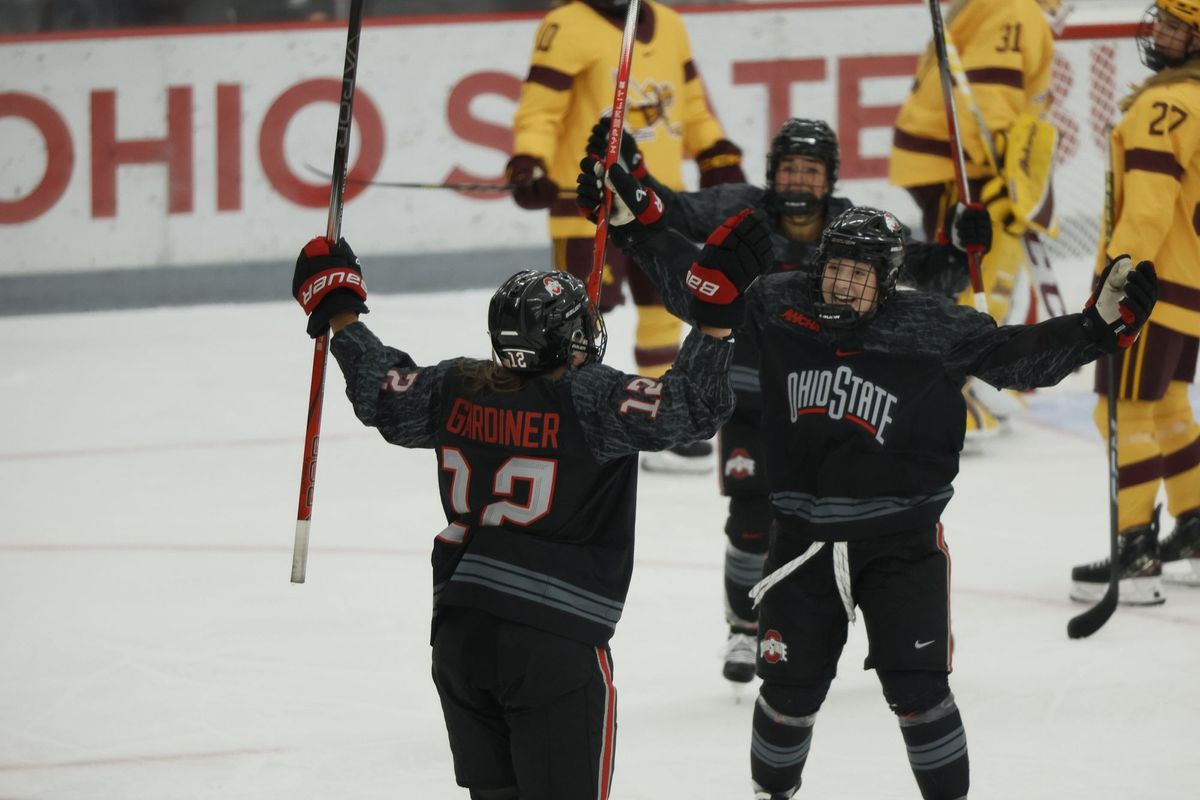 It's been a couple of weeks, and I apologize — real life has gotten in the way of my hockey coverage. Still, there's a lot to cover, including some new hirings and the usual dominance by a given WCHA team, so let's go.
Hovi Joins Harvard Coaching Staff
The Harvard Crimson announced Monday morning that they would be bringing on former Riveters head coach Venla Hovi to complete their coaching staff. Hovi, a two-time Olympic medalist with her native Finland, saw a fair amount of success in her first year as a professional women's coach, leading the Rivs to 11 wins (their most since their Isobel Cup-winning season of 2017-18) and just on the cusp of a playoff berth. This is a great pickup for Harvard, which has slowly been rebuilding its coaching staff and culture in the wake of Katey Stone's departure. I really liked what I saw from Hovi in terms of how she thinks about the game, and I can't wait to see what she does with Harvard.
Bilka Not Missing a Beat in Transfer to Ohio State
It's about a month into the season, and I think it's safe to say Hannah Bilka has adapted well to the Buckeyes after making the move from Boston College. She has 14 (fourteen!) points in eight games played with Ohio State so far, with a goal and three assists this past weekend against Minnesota to follow up an unreal five-point weekend Oct. 20-21 against St. Thomas. The second-ranked Buckeyes took the edge over the Gophers this weekend by scores of 4-3 (OT) on Friday and 6-5 on Saturday, maintaining their standing just behind the Badgers nationally with one loss on the season.
Speaking of the Badgers...
Yes, Virginia, there's only one team better than the Buckeyes, and they are also in the Midwest. The defending NCAA champion Wisconsin Badgers have yet to experience a loss this season, with their most recent weekend of action being a sweep of St. Thomas (again? Poor St. Thomas) by scores of 5-3 and 3-0. At this point, they've outscored their opponents by a score of 74-10, they're 8-0-0, and they really don't show that many signs of stopping. Three of the top five leaders in goals per game thus far are Badgers (Lacey Eden, Britta Curl, and Kirsten Simms), and fresher Cassie Hall isn't far behind. So who's going to be the team to give Goliath its first loss of the year? Stay tuned for a piece later this week where I break down who the most likely suspects are (and yeah, Ohio State is in that mix).
UVM's Mlynkova One to Watch in Hockey East
Not to be outdone by Bilka, Czech national and Vermont senior Natálie Mlýnková is a revelation. The forward has six goals and 11 points overall in eight games played so far, and she is a breakaway assassin for sure. Look at this absolute filth she displayed in the midst of scoring a hat trick on Friday night:
The VCats swept New Hampshire by scores of 6-3 and 2-1 in overtime, extending their win streak to four games. They're as yet undefeated in-conference, making a strong and early case for Hockey East champs and threatening Northeastern's healthy run, and Mlýnková is a huge part of the reason why.
Check out the current poll by USCHO.com here.
NCAA Scores
Friday, Oct. 27:
Colgate 4, Rensselaer 3
Yale 2, Harvard 1
Clarkson 3, Quinnipiac 1
Minnesota-Duluth 2, Bemidji State 1
Cornell 4, Union 2
Holy Cross 1, Northeastern 0 (OT)
St. Lawrence 7, Princeton 2
St. Cloud State 3, Minnesota State 1
Boston College 3, Merrimack 0
Post 3, Saint Michael's 1
Brown 7, Dartmouth 1
St. Anselm 5, Sacred Heart 3
Lindenwood 6, RIT 3
Mercyhurst 9, Robert Morris 2
UConn 6, Providence 1
Stonehill 5, Assumption 1
LIU 3, Franklin Pierce 1
(Note: Boston University's matchup against UMaine Friday night was postponed due to the horrific events in Lewiston spilling into the weekend. A later date will be decided for this game only. Our hearts are with the victims, their families, and everyone else dealing with the aftermath of this senseless violence.)
Saturday, Oct. 28:
Colgate 4, Union 0
Yale 8, Dartmouth 0
St. Lawrence 4, Quinnipiac 1
Minnesota-Duluth 6, Bemidji State 0
Cornell 2, Rensselaer 1
Northeastern 4, Holy Cross 2
Clarkson 1, Princeton 0
St. Cloud State 2, Minnesota State 0
Boston College 3, Merrimack 2 (OT)
Post 1, Saint Michael's 0
Brown 2, Harvard 1
St. Anselm 5, Sacred Heart 1
RIT 6, Lindenwood 2
Robert Morris 3, Mercyhurst 2
Stonehill 3, Assumption 1
LIU 4, Franklin Pierce 1
Penn State 2, Syracuse 0
Boston University 4, Maine 3
Sunday, Oct. 29:
Penn State 6, Syracuse 2