NCAA
NCAA Division 1 Preview: ECAC Hockey
Colgate and Yale lead the board heading into a season with plenty of changes on the horizon.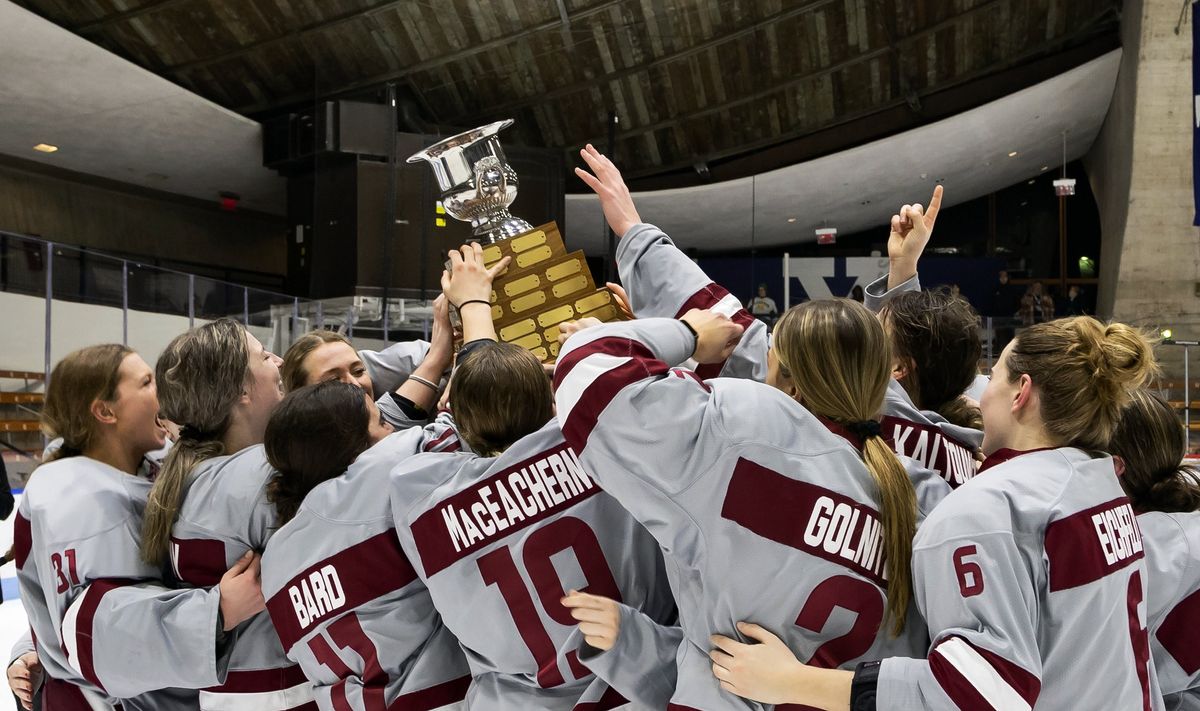 ECAC Hockey has had itself quite a run over the last few months. With two alumnae selected as general managers for the PWHL, another being named to USA Hockey Hall of Fame's class of 2023, and an unreal 18 players participating in the USA–Canada Collegiate Series in August, the pedigree is undeniable. And how could it not be? It's the main hub for Ivy League colleges, after all.
Not to be outdone, though, the New York contingent within the ECAC is nothing to sneeze at — and with some major changes coming to the postseason format, we could see some more upsets in 2024. So let's get into it.
(Major props to Anne Tokarski for giving me some insight on the teams to watch, by the way – she's the MVP to beat them all.)
The Postseason Changes
To start, all 12 (twelve!) teams in the conference will be in the postseason starting in 2024. Seeds 5-8 will hosts seeds 9-12 in a single play-in game to determine who will face off against the top four teams in the ECAC. From there, the quarterfinals will be a best-of-three series, followed by a single game apiece to determine the winners of both the semifinal and then the conference final, sending the eventual winner to the NCAA Championship. This format follows the changes made to the men's side effective this past season (2022-23).
Anyone else getting PHF postseason flashbacks? Yeah, me too.
This levels the playing field considerably when it comes to the bottom six, making it so that a team like Union could potentially knock out a perennial contender like Clarkson (more on them in a minute) and play spoiler for the quarters. If nothing else, we may get some truly chaotic results – and I'm all about the chaos, as we know, so this should be fun.
Preseason Poll (voted on by all ECAC Hockey coaches)
Colgate
Yale
Quinnipiac
Cornell
Clarkson
St. Lawrence
Princeton
Harvard
Brown
Rensselaer
Dartmouth
Union
Colgate the Ones to Beat According to League Coaches
We'll talk about last year's regular season champion in a moment, but first let's talk about the one team coaches unanimously voted No. 1 heading into 2023-24: Colgate University. The Raiders were just one win behind Yale and proved they could top them in the postseason, winning the ECAC Hockey Championship and earning a spot in the NCAA dance. Indeed, they just keep getting better with each year, topping their record for most wins in the regular season (19) after setting it with 16 in 2021-22. They also finished the season with the highest number of goals per game (4.1), the top power-play percentage (26.6 percent), and in the top three on the penalty kill (87.4 percent).
With a large contingent of upper-class and fifth-year players (including All-League Team members Danielle Serdachny and Sydney Bard), they're looking for the repeat in 2024 – and have brought on a big name to help out. Breanne Wilson-Bennett, herself a Colgate grad in 2018, hung up her skates on the high of an Isobel Cup win with the Toronto Six and joined the Raiders' coaching staff as both an assistant coach and director of women's hockey operations (an interesting pairing, but I digress). A tremendous center with tons of drive and awesome vision on the ice, Wilson-Bennett is a great addition to a program that's been slowly building to something really special.
Bulldogs Bulldozing the Competition Again in the Ivies
Yale was a force to be reckoned with in the conference and nationwide, achieving an overall record of 26-2-1 and capturing its first-ever Ivy League women's title. Claire Dalton was a huge part of that specific game with a two-goal night (including the game winner).
Despite the regular season dominance, it's still a bit of a climb for the Bulldogs. As a part of the Ivy League, their competition travel is pretty limited to other Ivies (and select conference and nonconference schools, often at neutral sites), so one had to think that factored into coaches' decisions in this preseason poll along with the obvious postseason triumph the Raiders experienced.
Thankfully, Yale has one of the best goalies in the league on their roster in Pia Dukaric. The incoming junior and All-League member led all goalies with a sparkling .935 save percentage and 1.42 GAA last year, landing her on the Top 10 list for the Patty Kazmaier Award as a sophomore. That impressive feat makes her one to keep your eyes on for the honor this season as well. Behind her is another solid choice in WNY native Mia Wendell, who had a considerably lighter workload last year but has similar size and plenty of skill. Leading scorers Elle Hartje and Anna Bargman are bringing the heat on the front lines — along with Jordan Ray, who had a solid freshman year with 42 points (17G, 25A).
Quinnipiac, Cornell a Pair of Interesting Contenders
While the late 2010s were not kind to Quinnipiac, the Bobcats have managed to find a groove over the past couple of seasons. Their biggest issue in the postseason has been on the front end of the ice; they scored plenty in the regular season, and they managed to win in three games against St. Lawrence in the quarters, but all by just one-goal margins – and that caught up to them against Colgate in-conference (5-1 loss) and Ohio State in the NCAA semis (5-2 loss). Still a 30-10-0 record is hard to bat an eye at, and I can see them challenging those ahead of them — especially if they can keep up their shots per game and their special teams (and cut down on penalties). A huge get for them in this regard is Julia Nearis, who comes over for her grad year from BU and has an impressive resume to boot.
Cornell, meanwhile, was slightly more offense-heavy and touted amazing special teams percentages last season, with 26 percent efficiency on the power play (second only to Colgate) and nearly 89 percent efficiency on the penalty kill (second only to Yale). There's a good amount of depth scoring on the Big Red roster and plenty of size and skill, including All-League defender Rory Guilday, on the back end. The big test for the Big Red, though, will be gaining a foothold in the postseason, which is something the new changes can definitely help with.
Clarkson on the Fringes, but Still in the Fight
It's been a while since we've seen the Golden Knights really dominate. Since their back-to-back championship dominance in 2017 and 2018, it's been a slow slide back down the ranks, including a pair of NCAA first-round bow outs over the past two seasons.
Still, I wouldn't overlook them, especially with a change in the postseason format. Clarkson is definitely one of those teams that can snag a spot and do a ton with it, especially as they've retained scorers like Anne Cherkowski and solid blue liners like Haley Winn, and have a huge gain in grad year transfer Alexie Guay from Boston College. I think if the single-game play-ins and semis will benefit anyone, it'll benefit a team like them who really is capable of holding their own with the more recent contenders.
Oh Yeah, We Have to Talk About Harvard I Guess
I wish I didn't have to bring up the investigation and the horrible culture within the Crimson program whenever I bring up this team itself, but those two are inextricably linked at this point – and why for this long, I could never explain to you, seeing as the "winning" part of the culture has been missing for a while now even with noted "winner" and horrible person Katey Stone at the helm. Harvard finished in the bottom third of the conference last season and struggled, both with goal scoring and with defending their net, forcing fewer than 2 goals per game but allowing 3.45.
Still, one can hope 2013 alumna and new head coach Laura Bellamy (promoted from assistant) can right the ship before it hits any more icebergs. Bellamy is building her staff one piece at a time, announcing the addition of Meredith Roth Friday. For her part, Roth seems uniquely committed to building up athletes rather than tearing them down, with much of her work over the past few seasons focused on USA Hockey's U18 squad, so this is a good step for the Crimson. There's also a decent influx of on-ice talent especially on the blue line, making this a younger squad, but one where change is definitely welcome.
How to Watch
All ECAC Hockey games are streaming online at ESPN+ for those in the U.S. Internationally, you can catch them via Stretch Internet for $6.99/month. Play starts the weekend of Sept. 22–24, and you can click here for a composite schedule.