NCAA
NCAA Division 1 Preview: College Hockey America
The return of RMU, the evolution of Penn State and Mercyhurst, and more as we look to CHA action in late September.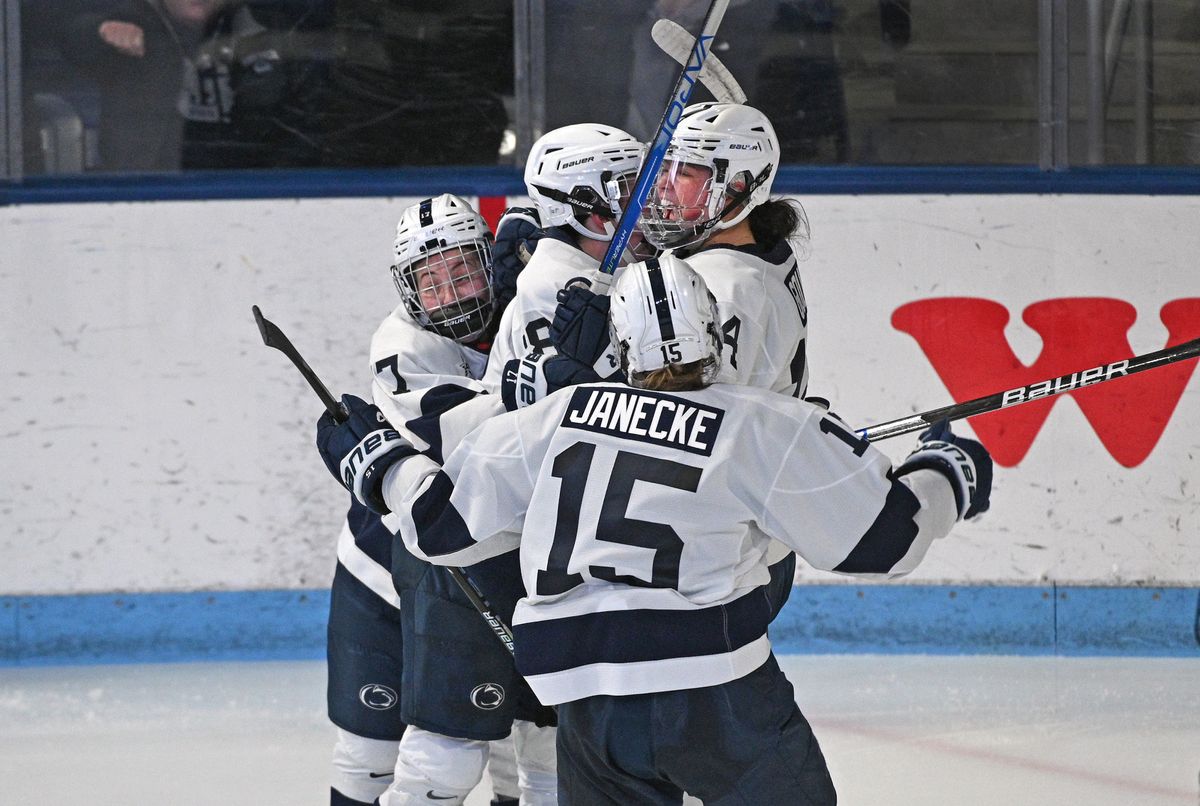 We are entering a special time of year, folks. That's right, college hockey season, that frenetic few months straddling fall and spring where you lose count of just how many schools there are and how many games you actually get to watch. Or maybe that's just my perspective; I am fully a newbie to the NCAA game, but after seeing the unreal competition in the Frozen Four, your girl is so excited to get started. Even if this might finally bring on those gray hairs I've been so good at avoiding until now.
We begin our overview of the upcoming season by looking at College Hockey America, a conference that underwent a big change two seasons ago and is set to undergo yet another this year. Let's get it.
About Those Champions...
Penn State 2022-23: No. 1 seed, clinched home ice, 27-9-2 overall, 14-1-1 CHA
We bore witness to the emergence of Penn State as the top dogs of this conference last season, as the Nittany Lions defeated Mercyhurst in overtime for the CHA title. This year, they have a new captain in Julie Gough, plus a returning firecracker in sophomore Tessa Janecke fresh off a gold medal at Women's Worlds with Team USA. Janecke was second in overall scoring during her freshman year, tallying 47 points in 38 games for the Nittany Lions, so it's very likely she'll take over the mantle on the front lines as Kiara Zanon moves on to Ohio State. Freshman Stella Retrum, meanwhile, is a Minnesota native with a ton of success under her belt, having led her team to three state championship appearances and scored plenty in the process.
Joining the blue line is grad student Alva Johnsson, a former Sweden U18er who comes over from recent up-and-comer LIU and brings some great size and playmaking ability to the lineup; and freshman Karolina Hengelmuller, an Austrian national with plenty of experience at the international level. Overall, this looks like a promising lineup for a team poised to defend its title.
New-ish Kids on the Block
2023-24 also bears witness to the return of Robert Morris University to the conference, though. The Colonials' reappearance has been long anticipated, as the program saw a lot of success throughout the 2010s, culminating with two conference championships in the five seasons before the program's suspension in May 2021. Now, with Logan Bittle back and running the bench, RMU is looking to get back into the mix quickly against Penn State and fellow contenders Syracuse and Mercyhurst (more on them in a moment).
The makeup of this team is obviously going to be different from past seasons, as it's been a couple of years, and there are a lot of fresh faces (10 freshmen in all, including redshirt Alaina Giampetro). There are also some familiar ones, as Mercyhurst grad (and Western New York native) Jersey Phillips opts for a fifth year with the Colonials, and steady scorer Madison Primeau makes her way over from Syracuse. Bittle is, of course, a veteran coach, and no doubt the program has a lot of faith in him to run the show; it's just bound to be a bit of a growth year for the club as the younger players aim to get their legs under them. However, if the Colonials can pull off a successful return year, they're in for some real sustained success.
Syracuse, Mercyhurst Continuously on the Cusp
Syracuse 2022-23: No. 3 seed, 10-24-2 overall, 6-9-1 CHA
After losing a prime scorer when Primeau went to RMU, Syracuse is on the hunt for some more offense. Thankfully, there's still some scoring to go around, with Sarah Thompson, Maya D'Arcy, and Tatum White likely getting larger roles. Meanwhile, in net, Amelia Van Vliet will likely nab the starting role with the departure of Arielle DeSmet and, with a full season in net, will likely come a bit more consistency. The biggest concern, however, will be on the blue line and with team defense as a whole; of last year's roster, only one (Sydnee Wilson) emerged with a positive plus-minus.
Mercyhurst 2022-23: No. 2 seed, 21-14-2 overall, 11-3-2 CHA
Mercyhurst, meanwhile, played runner-up for the second year in a row, losing the CHA title to Penn State 2-1 in OT. The season before that, they lost to Syracuse, 3-2... in OT. Perhaps overtime is the problem, but at any rate, they're hoping the third time is the charm – and honestly, I think they've got a decent shot. I'm especially intrigued at the addition of freshman Sofia Nuutinen to the ranks, and if that last name sounds familiar, you remember the PHF existed – and you know her big sister Emma, who not only played for the Buffalo Beauts, but also herself was a former Laker. The legacy seems to be strong with Sofia, who comes with an excellent scoring record out of Kiekko-Espoo of Finland's Naisten-liiga. It's exciting to see how she'll fare on this side of the ice. That, plus retaining three of their top five scorers from last season, is going to make 'Hurst a strong contender for 2024. (For a cool tidbit, check out this article on the Lakers' trip to Sweden this past summer to play some exhibition games.)
Where Do RIT and Lindenwood Fit in?
It's tough when you're up against some truly formidable competition like the Lakers and Nittany Lions, and unfortunately Lindenwood and RIT did not fare so well last season. The Tigers especially were trounced in-conference, touting a dismal 1-13-2 CHA record and being outscored by more than a 2:1 ratio. Head coach Celeste Brown (of former Riveters and Whale notoriety) has her work cut out for her in her fourth season, and I hope she can make it a better one.
As for Lindenwood, well, they faced much of the same, winning just one game in-conference, forcing 1.7 goals per game and squeaking into playoffs as the fourth seed while achieving less than 10% conversion on the power play. Morgan Neitzke enters her junior year as the go-to scorer, while freshman Gretta Pioske follows big sister Brooke and joins the forward corps. This is another young team, with plenty of players entering just their sophomore season, so there's definite room for growth.
Game play starts the weekend of Sept. 23 with nonconference play. Keep up with the schedule and standings at CHA's website.