Life of an Import
Life of an Import #4 📍
How can an import spend a free weekend in central Europe? @SallyHoerr has some ideas.

How can an import spend a free weekend? Well, by hopping on a train and hitting Milan 🇮🇹, Lake Como 🇮🇹, and Lugano 🇨🇭, of course! Although many places in Europe require several days or weeks to see everything, my goal is to experience as many different places as possible. Additionally, since traveling can be expensive, I can narrow down the types of locations I enjoy the most to maximize the budget and time of future trips. For example, while all three places felt quite shopping-oriented, I favored Lugano and Lake Como due to the picturesque scenery and accessibility to the water. I could have spent an entire day at both places just biking or walking around the lakes.
Milan
We decided to have rough outline (where to sleep and when the trains were leaving) and left the rest up to day-of planning. As an obsessive planner who exists on scheduled time, I threw some anxiety in my bag just in case I needed it. Good thing I did too, because before train ticket was even in my hands, we were told that construction on the track might delay one of our trains–which is great news when one of your connections is only five minutes long. We did get delayed, and although it cost us an extra $12, the Eurail pass made it extremely convenient to book a new ticket.
Amusingly, this early hiccup helped me relax a little. Since our trip was mostly flexible, as long as we found the accommodation and didn't miss the night trains, there was not a whole lot that would be truly disruptive. Especially in Milan, we just walked around the city, went in stores we thought looked interesting, stopped for food and coffee if their displays looked tasty, and returned to the Air B&B at night. It's not how I would normally travel at all, but I did feel I was soaking up more of the atmosphere than when I rush myself from attraction to attraction.
---
When we first arrived in Milan, we hiked to our AirB&B which was owned by a sweet yet heartily Italian elderly woman. She was your classic grandma in that she invited us up to her apartment and insisted so intensely on us having a glass of Coke or orange juice that I thought she would kick us out if we refused. Even when we tried to return the glasses to the kitchen, she aggressively waved us back to our seats, and then followed up with offering us a large bowl of chocolates. But perhaps the most fascinating thing about our host was her GORGEOUS, vintage-aesthetic apartment that was framed with history and brimming with knowledge.
It was a one-bedroom sized apartment, but there was not one bare square inch. Floor-to-ceiling CD racks, cassette racks, and bookshelves lined the walls while hand-painted portraits and prints covered the rest. One wall had beautiful brick arches that outlined a shelf area stuffed with books that served as the backdrop for her baby grand piano. She said she used to organize music for a nearby theater and had stacks of copied and handwritten music strewn atop the piano.
Milan was an interesting city to explore for the next two days, but I bet there was just as much history and culture in that apartment alone. It was a beautiful reminder to me that our seniors have so much wisdom and experience to share, and yet are often the most forgotten.
Lugano
I knew Lugano would be a favorite from the iconic view that greeted me right off the platform: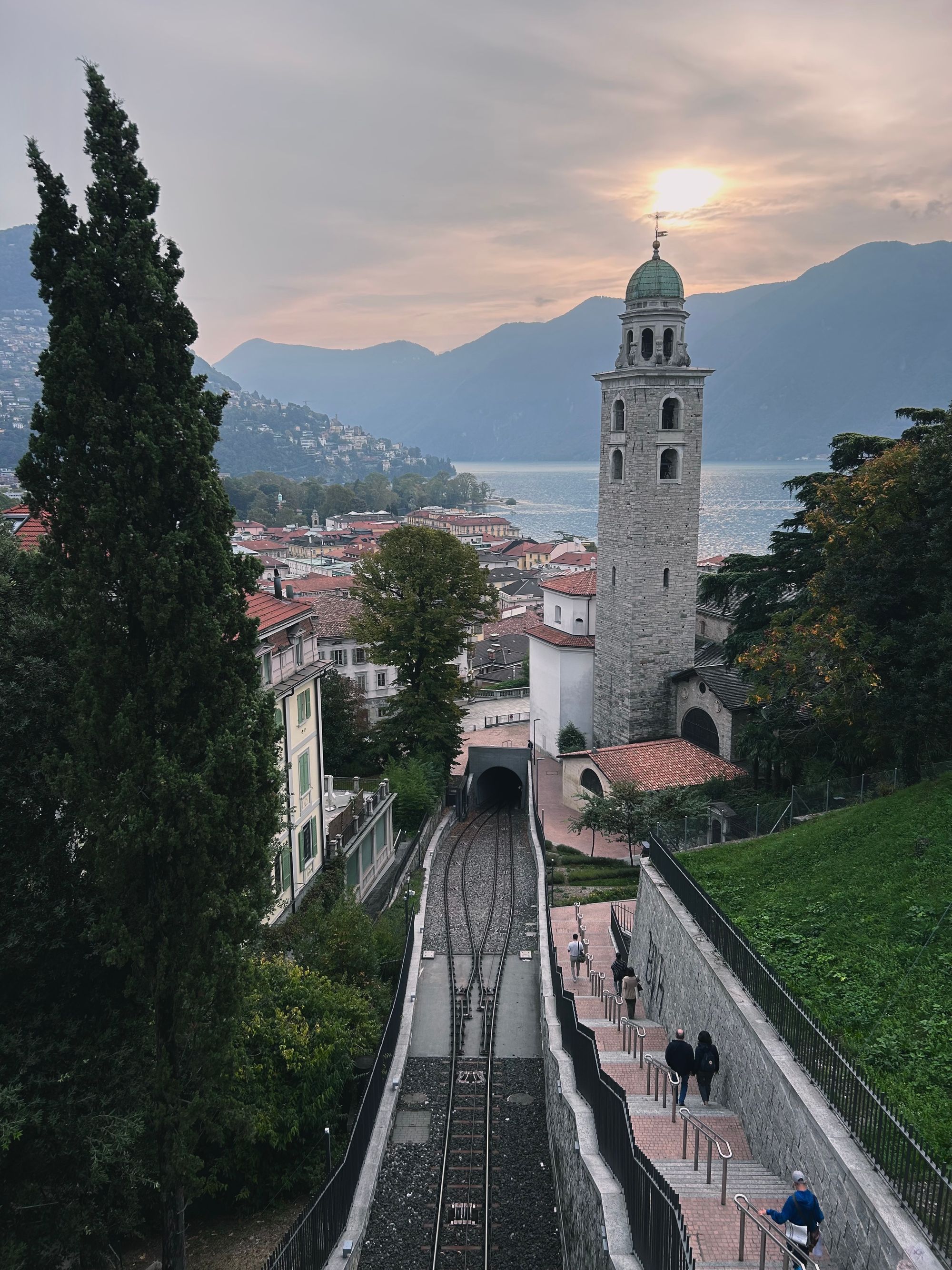 I have to put Lugano at the top of the list for this trip because we got a little mix of everything. There were shops, a little festival/farmers market we ran into, lunch on top of a mountain with the best salmon I've ever had, a designer store for dogs, a hockey game, a bike rental and of course, chocolate. Some things we didn't get to do were taking that little red train for a tour (I was obsessed with this train, it was adorable) or going out on the water in a boat rental. I'd go back to Lugano just to do those. The most memorable, though, was taking the funicular up Monte San Salvatore to have lunch at Restaurant Vetta.

It was such a stunning location for a meal and the weather was perfect. The mountain is hikable if you don't take the funicular up, but if you do, you can reach the summit quickly from the restaurant. It was hands down one of the best panoramic views I've ever seen. In this unedited picture, you can still see the staple blue-green color of Alpine water, even with poorer air quality and cloudy skies.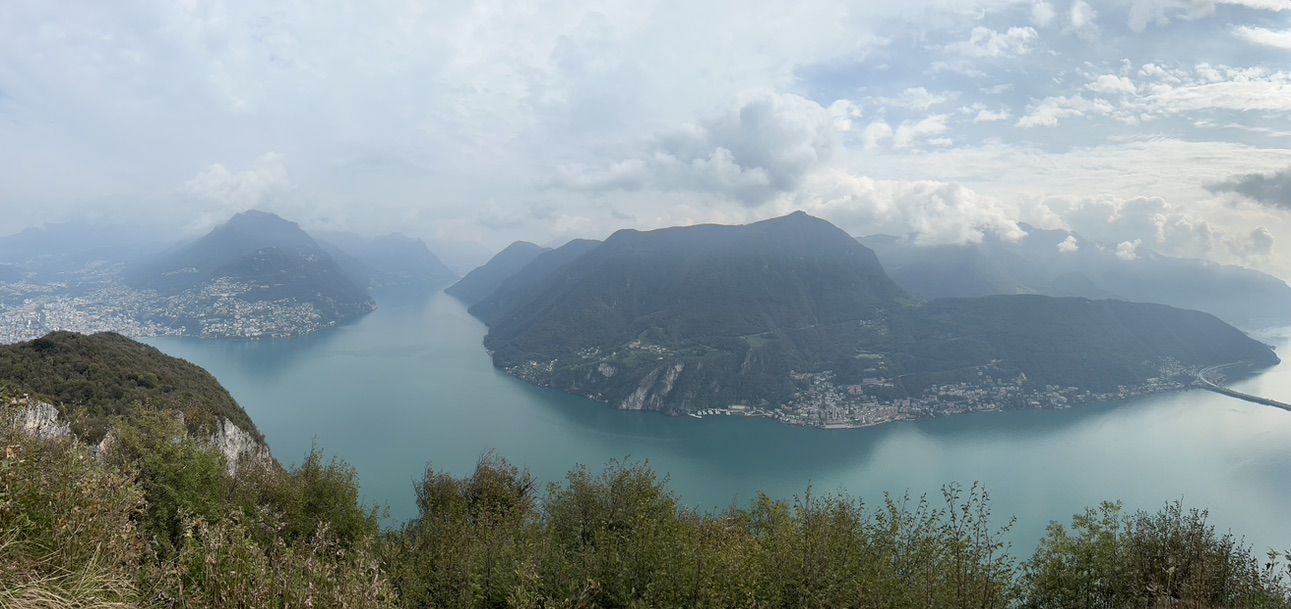 (P.S. there's a team in Lugano that plays in the Swiss league if you could imagine yourself living here for a season.)
Lake Como
It's no secret that Lake Como is one of the most popular destinations in the world for romantic getaways. With crystal blue skies and water like this, it's a difficult claim to refute! As with Lugano, I could have rented an e-bike and biked, slept and eaten my way around the entire lake to soak up all these views and little towns. Both Lugano and Como had a little town with winding, cobblestone roads packed with shops. The streets weren't too crowded until later in the evening, but even then, it was nice to observe the bustling life of both areas.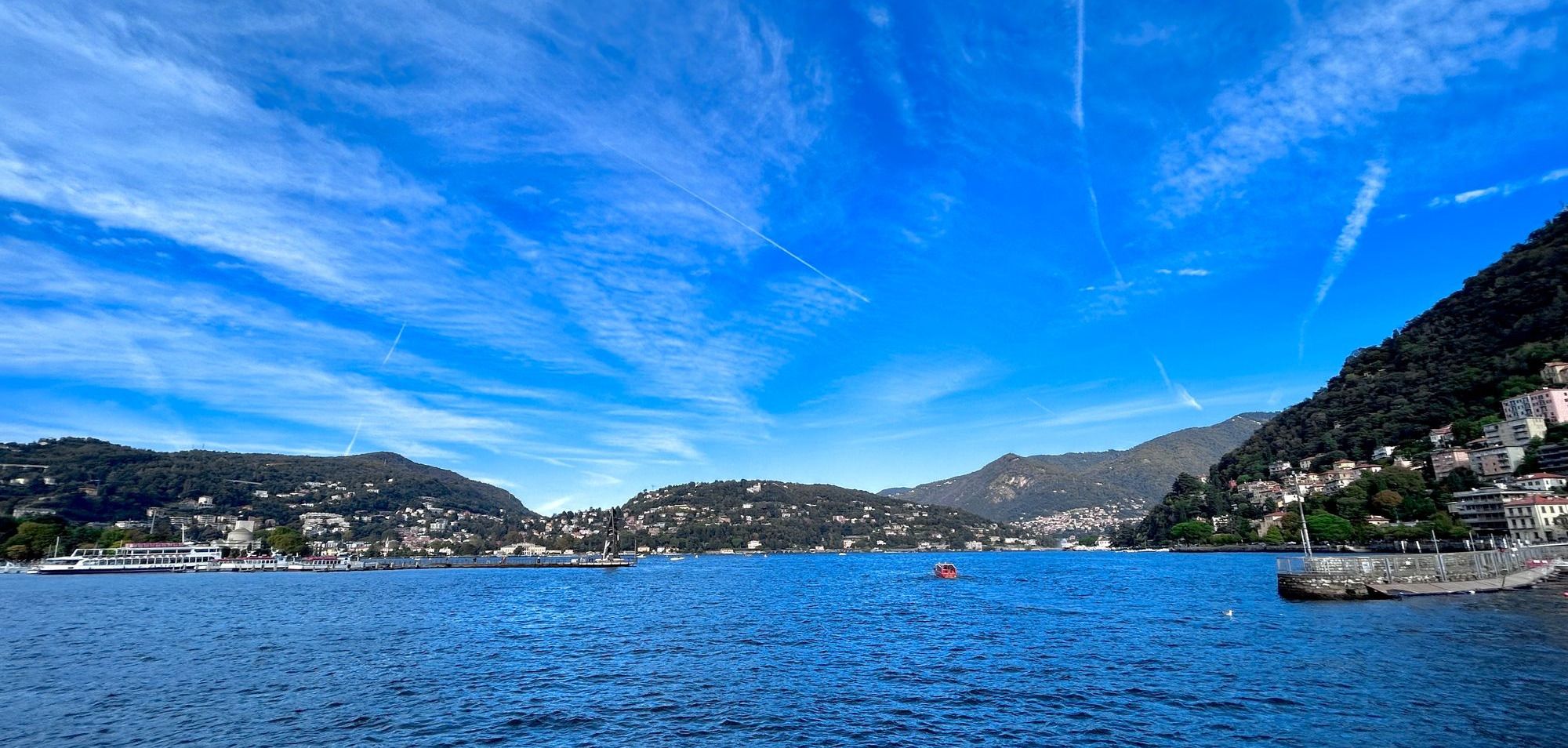 We were planning to take a ferry for a ride across the lake, but it was shut down for a few hours because there was a speedboat race. So we parked ourselves on a bench and watched expensive speedboats blast around the lake for two hours . The helicopter tours saw the race and started bringing the choppers so low to the boats I thought they could reach out and high-five each other (if I went to Lake Como again, I'd put some money aside for one of those helicopter tours). Since both places were mostly views and shopping, the days here were mostly spent wandering and looking with some amazing food and gelato thrown in-between.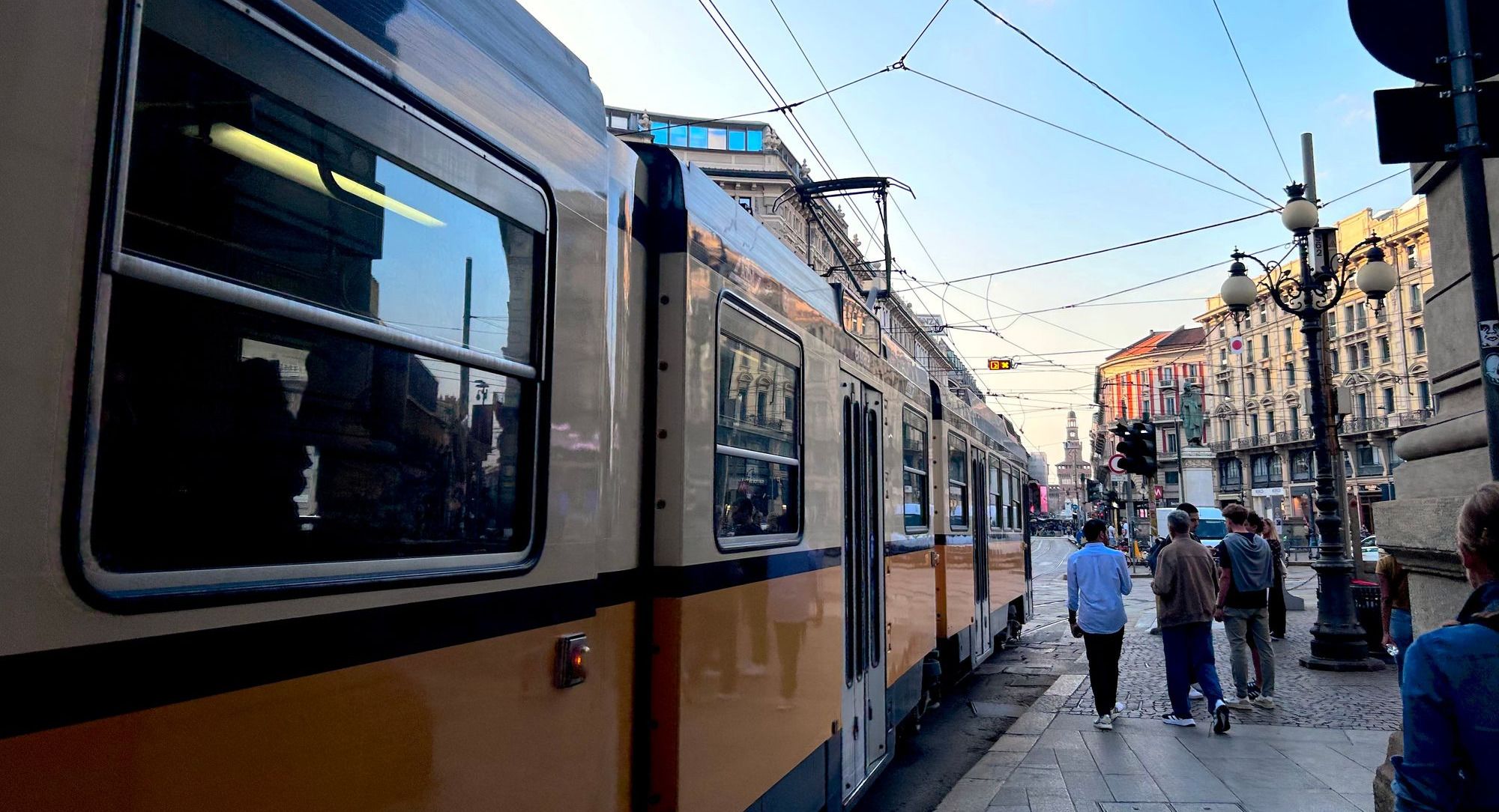 ---
Overall, it's impossible to dislike having this many days off in a row when you can take an impromptu weekend vacation in Europe. If you're finishing college and want to play a few more years, or maybe considering taking a gap year earlier in school, how cool would it be to play hockey while living somewhere the rest of Europe is only a train ride away?!
If I was reading that last sentence when I was back in college, though, I would be scoffing at the computer saying, "yeah, probably easy for you since you're already so extroverted and love being in new places," because that's what I still say now when I see travel Instagram pages or blogs. Even though I'm almost 27, have been living away from home since I was 15, and lived in Montréal last year, I was still beyond terrified to live overseas for the season. But I have a feeling that with all these situations I've been put into or placed myself in, I'll return home with more confidence and development as a player and person.
So, I hope this blog can be a resource for any players with even the tiniest interest in hockey overseas, especially for those who might be on the shy/cautious/like-my-routine side like me. And, of course, anyone is welcome to ask me questions directly. I'm most active on Instagram: @sally_h360

Special thanks
Quick lil' story: in my Junior/Senior year of college, when I secretly dreamed about playing pro, my agent Eleni was the first person I followed on Twitter to keep up with the NWHL. I respected her opinionated tweets and thought, "ha, it would be cool if I end up in her tweets one day." Around the same time, I also applied for a freelance writing position at The Ice Garden since I didn't really think I would make pro and needed to think about jobs and life. I didn't know anything about the in's and out's of women's hockey and had never written for journalism, but loved writing and thought why not just apply and see what happens. I didn't have enough experience to earn either of those things at the time, but here I am almost five or so years later, collaborating with both of them. They say the hockey world is a small one, which I firmly believe now!
I wanted to end this post with a quick thank you to Mike (and everyone else at The Ice Garden) for offering to host and support this blog, and to Eleni for connecting us and making it official.