PHF
Isobel Cup semis: Toronto Six escape elimination with OT win
Emma Woods scores in OT to keep the Six alive.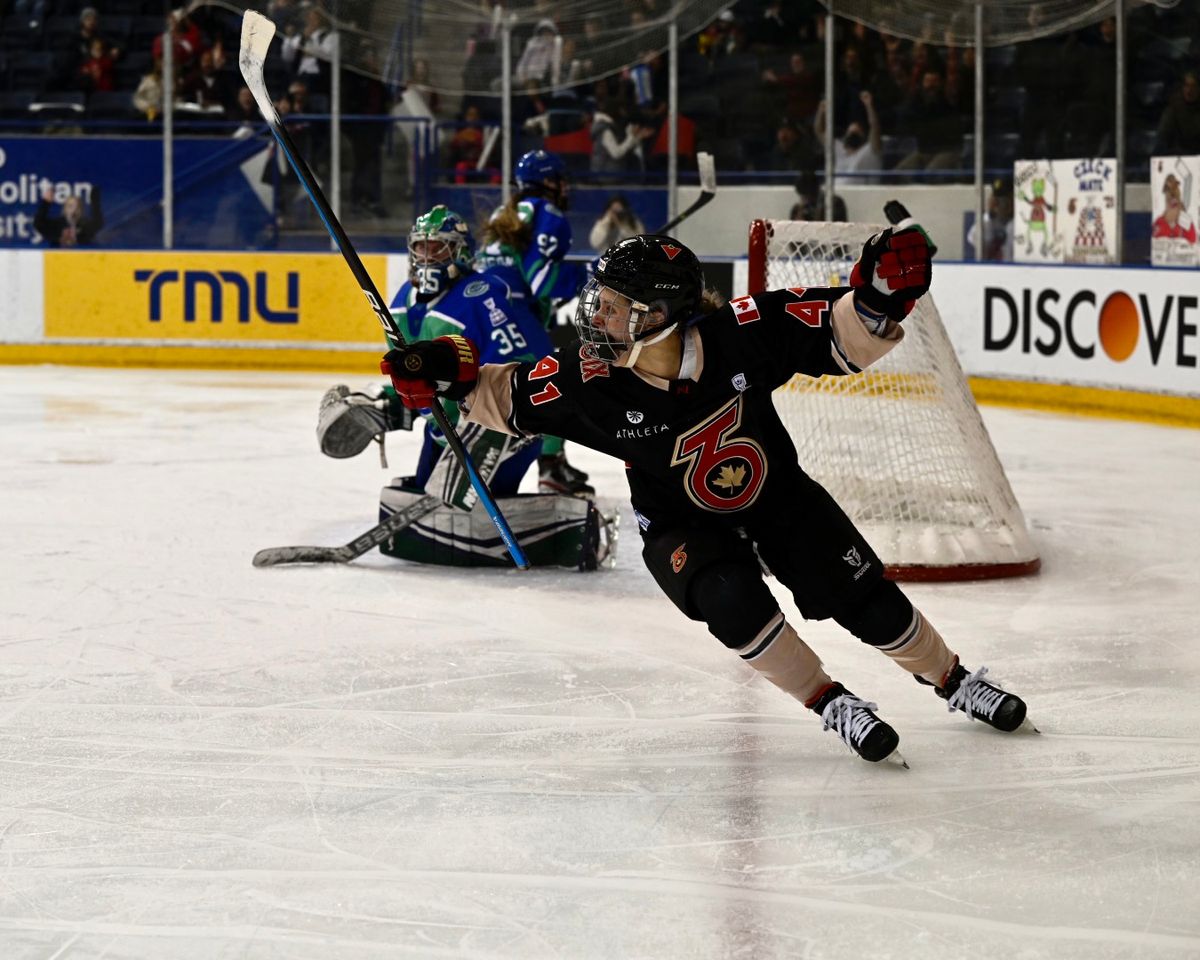 Isobel Cup Semis, Game 2: #3 Connecticut Whale vs. #2 Toronto Six – series tied 2-2
TOR 3, CTW 2 (OT)
TOR goals: Brittany Howard (2), Emma Woods (GWG in OT); Elaine Chuli, 23 svs
CTW goals: Kennedy Marchment, Taylor Girard (PP); Abbie Ives, 26 svs
It's safe to say the Six were not ready to go home Saturday.
Emma Woods capped off a brilliant shift with a top-corner shot that beat Abbie Ives in overtime at Mattamy Athletic Centre, forcing a Game Three to be played Monday evening.
The goal came after a dominant performance by Elaine Chuli, who faced a late onslaught and denied multiple chances by the Whale's top guns Kennedy Marchment and Taylor Girard.
Brittany Howard had high praise for her goalie's performance following the game, saying, "She's a stud... We knew our goalies are the backbone of our team, both her and Jackie [Carly Jackson], and she showed that tonight."
For her part, Howard proved her chops in the postseason as well with the bulk of the scoring for the Six, showing she can score for both the highlight reel and the gritty finish. Her first was a beautiful shorthanded breakaway that went up high on Ives, tying the game at 1 briefly before Girard's PPG just seconds later. Her second followed a great rush by her entire line, with Dominika Lásková making the initial shot and Daryl Watts tapping the rebound over to a trailing Howard for the goal that sent it to OT.
It was Woods, though, who ultimately sealed the deal for a third game off of an odd-skater rush with Kati Tabin and Shiann Darkangelo.
"Honestly, I blacked out a bit," she joked afterward. "But really, we just took advantage – three on three is all about possession and kind of just finding that moment to get an odd-man rush... I knew I had to make a good shot on Abbie [Ives]; she's a great goaltender. So it just worked out in my favor."
Despite the result, Marchment was optimistic about the way her team played.
"I think we still haven't played our best hockey yet in this series," she said. "So I think that's something that we're really gonna try to focus on for Game Three... I know myself personally, I had two really, really good chances that need to go in the back of the net, so I think just focusing and dialing in on those opportunities are gonna be key for [that] game."
Of course, her line with Girard and Justine Reyes was prominent for Connecticut, combining for 13 shots and three points, and for at least the first half of the game it seemed like the Whale were getting more looks in on Chuli. However, the Six overcame their slow start and began putting the pressure on, eventually cracking the tight Whale defense and finding ways past Ives.
"We had some extended zone time I think hurt us a little bit, just trying to keep our lines fresh," Connecticut head coach Colton Orr said of his team's defensive performance. "Throughout the game, it's tough to recover on some of those shifts...
"We had opportunities – you bury one of those [chances in the third], it's a totally different game. But it's a series. This is what hockey's all about. This is what we wanted, and we got it."
So it all comes down to one more game to see who gets to play some hockey in the desert. The Whale and Six have an off-day tomorrow before matching up one more time Monday evening at Mattamy. Puck drop is at 6:00 p.m. ET.