International
Getting to Know Team Ukraine Captain Daria Tsymyrenko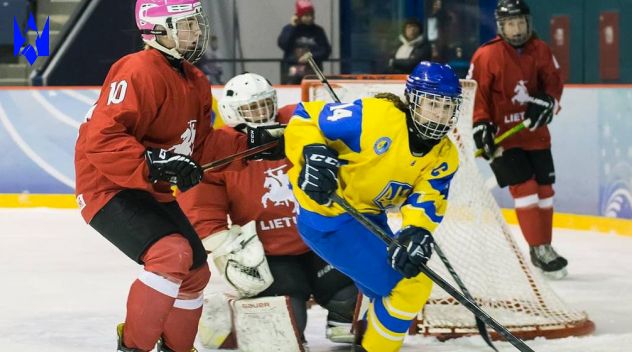 "Life finds a way."
It is one of the most unassailable yet difficult to reconcile truths of existence: life - in the midst of horror, anxiety, and sadness - continues on. For proof of that among elite women's hockey players, look no further than Team Ukraine captain Daria Tsymyrenko.
Tsymyrenko is going into her second season with HC Ambrì-Piotta Girls in Switzerland's SWHL. Even over email she radiates warmth and tenacity; she's friendly, forthcoming, and thoughtful throughout the interview process. One would never guess she's only 20 years old, easily one of the youngest national team captains on the planet, bearing not only the responsibility of leadership but also that of representing a country in the brutal throes of a war for its own survival.
Tsymyrenko grew up in Dnipro in eastern Ukraine with her parents and two older brothers. Being on the ice is a family affair for the Tsymyrenkos; her father Dmitry taught her to skate, but she credits her brother Kirill for sparking her interest in hockey: "First my brother Kirill started to play hockey," she told The Ice Garden.
"I attended all of his practices and games; I was a big fan of him and his team. I don't know exactly why, but I just fell in love with hockey from the first meeting. So after around one year of being a fan, his coach noticed me and asked if I [wanted to] go on the ice with them, so I said: 'of course!'"
That chance meeting left the coach so impressed that he not only gave Tsymyrenko some hockey equipment, but he offered her a spot in the hockey school. She was the only girl on the team, which in itself isn't unusual for female players, but according to Tsymyrenko, she was the only female player in her age group in all of Ukraine.
On the surface, that might sound implausible for a country with 43 million people, but hockey is not a common sporting pursuit among Ukrainian girls and women. According to the IIHF there are 179 female hockey players in the country compared to 1641 men and 3251 juniors. It's not always seen as a "feminine" sport in the way one might view gymnastics or figure skating, both sports in which Ukrainian women have won Olympic gold medals.
"My mom was against me in hockey," said Tsymyrenko. She continues, "We went to one tournament in Bila Tserkva (Kyiv region); she was with me and after one of the games the organizer of that tournament gave me a large bouquet of flowers and sweets, so after that incident, my mom allowed me to be in hockey and stopped telling me that girls don't play hockey."
---
Ukraine's national team players seeking to grow their game must look outside their home country's borders. As a result, Tsymyrenko left home at 17 years old.
"I just finished high school and at that moment I realized if I want to play hockey [professionally] I need to move abroad," said Tsymyrenko. "I started tracking teams and championships in Europe."
Reader, take a moment to remember yourself at 17. Imagine your 17-year-old self reaching out to professional sports teams to try and secure yourself a roster spot. Now imagine doing that in a different language, during a global pandemic. The odds of success seem pretty grim, right?
Daria Tsymyrenko made it work.
She made contact with Södertälje in Sweden's second-tier Division I, and after some discussions, the team offered her a roster spot. She left Ukraine and moved to Sweden.
Despite culture shock, initial language barriers, and being hundreds of miles away from her family back in Dnipro, Tsymyrenko says her development flourished in Division I: "I started to play [more smart] hockey, also to use my body more, because players in Sweden are much taller."
She continues, "I changed my hockey mentality in general, the way how hockey players should [practice], have off-ice [training], even how athletes should watch their nutrition, because we had meetings about that. I think I made one big step forward when I moved to Sweden. I became more professional as a hockey player."
At 5'6 and 128 pounds, she's a light and speedy forward. She cites her hockey sense and vision as important parts of her skill set; Tsymyrenko describes herself as "a more tactical player" and someone who's fond of fake-outs. Her focus on tactics over brute force lends itself to a very clean game: Tsymyrenko put up 14 points (five goals, nine assists) for 2021-2022 in Sweden with only two penalty minutes. Last season, she opted for a new challenge and signed with HC Ambrì-Piotta Girls in Switzerland's SWHL.
"This option was inspired by the fact that my new team will play in the top league of Switzerland and this event will be a big step in my career." -Daria Tsymyrenko to the Ukrainian Hockey Federation about joining HC Ambrì-Piotta Girls
She found going from second-tier in Sweden to first-tier in Switzerland a marked change: "In Switzerland we have two really strong teams and others [are around] average or higher, so to play in Switzerland was harder. But also players in Sweden are pretty tall, so I was like medium height there and in Switzerland I'm more like tall player but still middle. And for my opinion, in Switzerland the highest league is faster and more professional than it was in Sweden."
She adapted quickly to her new team and country. During her first season with HC Ambrì-Piotta, Tsymyrenko matched her previous point total with 14, albeit with more of a scoring emphasis: she netted double her previous season with 10 goals and made four assists during the regular season. As for penalties? Still only two minutes all season.
In addition to finding a new challenge, Tsymyrenko also found some familiar faces in Switzerland. HC Ambrì-Piotta Girls' 2022-2023 roster featured five other Ukrainian players. Of the six Ukrainian players, all were in their late teens to mid-20s and seeking to grow their game away from home just like her.
---
The cultural relationship between sport, history, and national identity is always fascinating. A nation's sporting history tells as rich a story as its great works of art or its literature. Athletes from all corners of the globe can become icons, larger-than-life figures in their homelands who carry the joy and the pain of their heritage wherever they go. Think of every social media post from a player called up to represent their country. Think of the common vocabulary in those posts, words like 'honor' and 'pride.' Sport is political and often divisive, yet the players' emotions remain the same.
Tsymyrenko understands these emotions well. She joined Team Ukraine at age 15 in 2018 just as the team was preparing for World Championship qualifications. That squad, featuring veterans like Olena Vansovych and Tetyana Tkachenko, saw something special. As Tsymyrenko recalls, "Even then our team voted for me to be an [assistant captain], but I was too young so I was just a player."
Tsymyrenko contributed four points in three games as the team made history. In January 2019 Ukraine took top honors at the Division II Group B Qualification in South Africa, winning all four of their games and earning their place for 2020.
The 2020 Division II Group B tournament were held in Iceland in February of that year, sneaking in just before COVID-19 ground the world to a halt. Although Team Ukraine went winless in five games and were relegated to Division III, they still remained in international contention with another chance at advancement.
That chance was delayed when the 2021 Division III tournament was canceled due to the ongoing pandemic. The Ukrainians waited patiently. Another year meant another goal and more opportunities to prepare.
That is, until dawn broke on February 24th, 2022, and brought with it a ruthless awakening when Russian forces invaded Ukraine. Life as Ukrainians knew it was put on indefinite hold; the women's team withdrew from the upcoming World Championships.
But, as mentioned before, life goes on. So too does sports, and so, over a year after the Russian invasion Team Ukraine returned to the World Championships this past April in Brasov, Romania.
Five years after first joining the team and less than a month after her 20th birthday, Tsymyrenko took the ice as Ukraine's captain. "It's a big responsibility," she said when asked what being captain means to her. "If the team [chooses] me, then I have to show a good result and be an example for players."
Whether intentional or not, Tsymyrenko's answer reveals quite a bit about her leadership style while emphasizing twin pillars of trust and collaboration. As she told The Ice Garden, being captain also means she needs to "be a leader in the team, help them, find an approach to each player, mentally prepare the team for games and to show trust in them, because they trust in me and chose me."
That approach helped steer a very young team to a solid result. Ukraine finished second only to Lithuania in scoring with 22 goals while goaltender Viktoria Tkachenko backstopped the team with a very respectable .944 save percentage. Ukraine lost only one of their five games and earned a silver medal, finishing only one point behind eventual champions Hong Kong.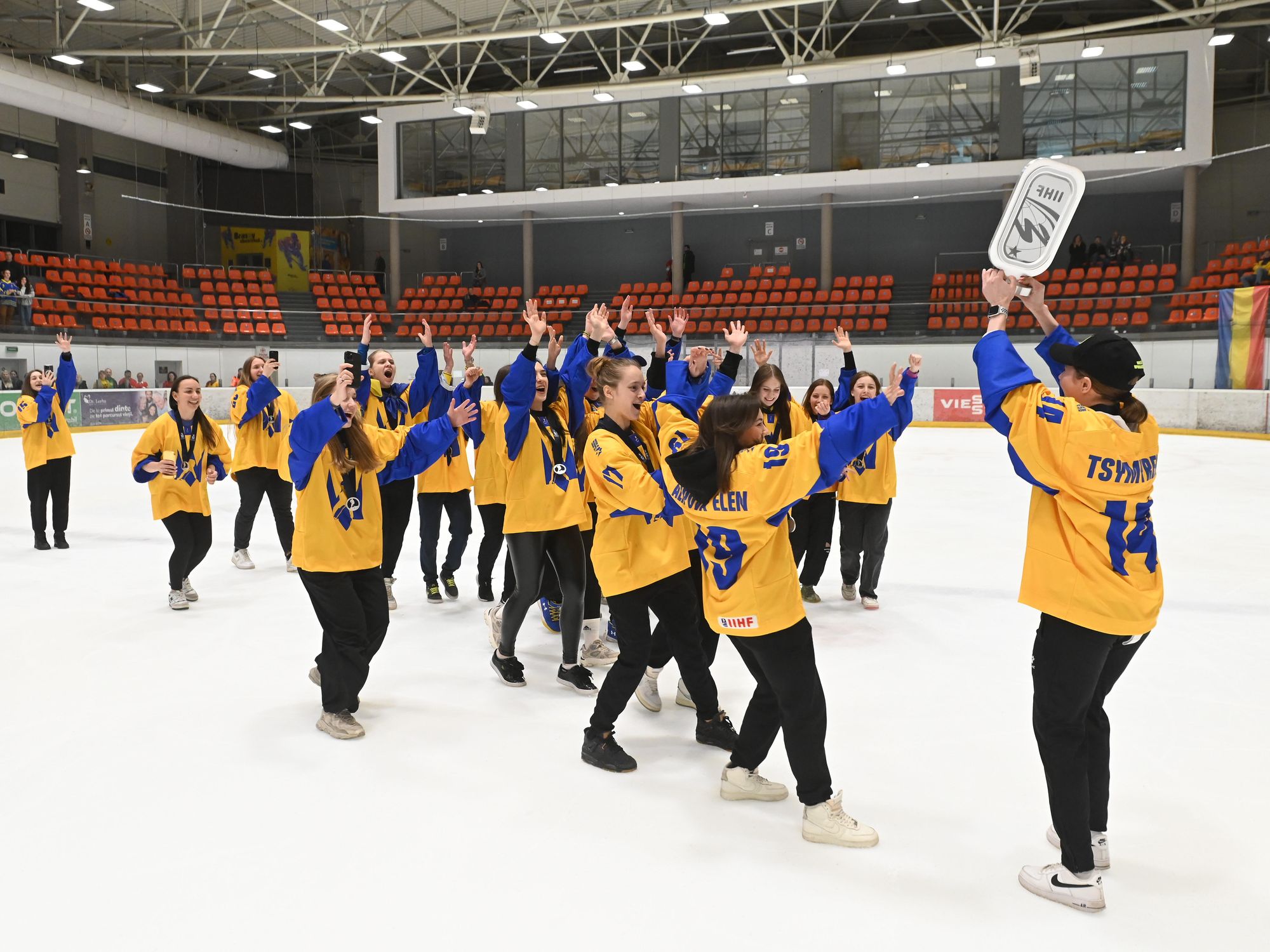 In the IIHF's lower divisions only the top team gets promoted, but as Team Ukraine Head Coach Yevgeniy Alipov told the IIHF's website,
"We haven't played for around four years, so just for us to be playing here is very important."
---
One of my personal stipulations in conceptualizing this piece was to not ask Tsymyrenko about the war. The last thing she or any other public-facing Ukrainian athlete needs is another reminder of what's happening in her homeland, and there are others who can tell Ukraine's current stories with far more nuance, tact, and knowledge than I can.
And so, with that in mind, I asked instead what Tsymyrenko wants the world to know about Ukrainian women's hockey.
She answered, "I want people to know that the team spirit of our girls is one of the strongest I've ever seen and because of that we need support from the fans around the world. The path that every girl in the team overcomes to get to the national team training camp is worthy of respect, because even being in different parts of the world, they still leave their jobs, families, schools, just to get to the training camp and have ice practices."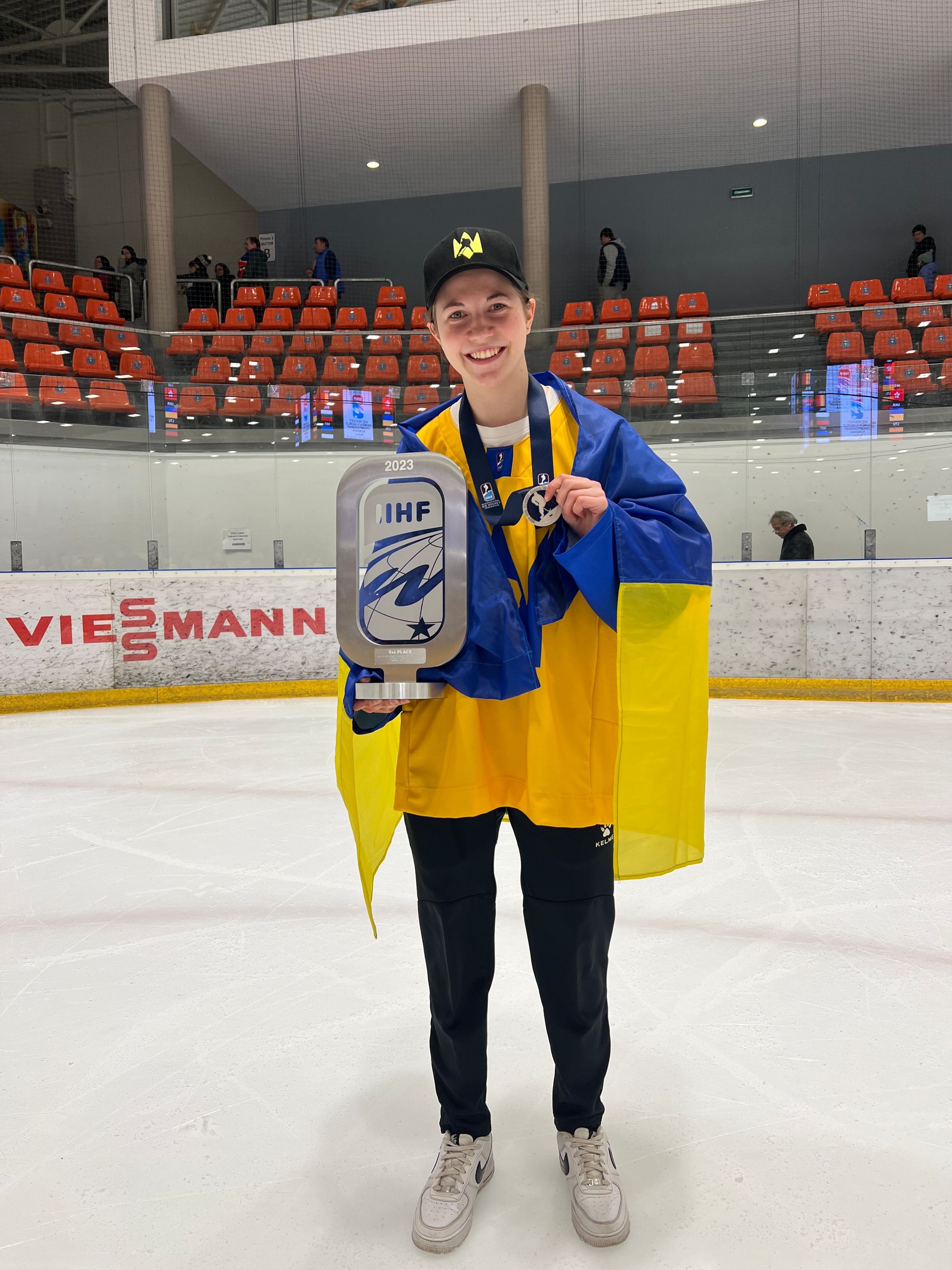 "That's our price to play hockey and represent our country at the World Championship, so I just want then to know that I'm so proud to be part of that team and I'm proud of them!"
It is tempting to lionize her and her teammates. It would be apt, perhaps, but also unfair. Daria Tsymyrenko has her own story to tell and her own history to forge, as a person and as a hockey player. I have no doubt she'll continue to do just that.