NCAA
Who's Giving Wisconsin Its First Loss? A Brief Breakdown
Wisconsin is still undefeated ... for now. But it's a long season, and some teams are chomping at the bit to give the Badgers a taste of defeat. Who you got?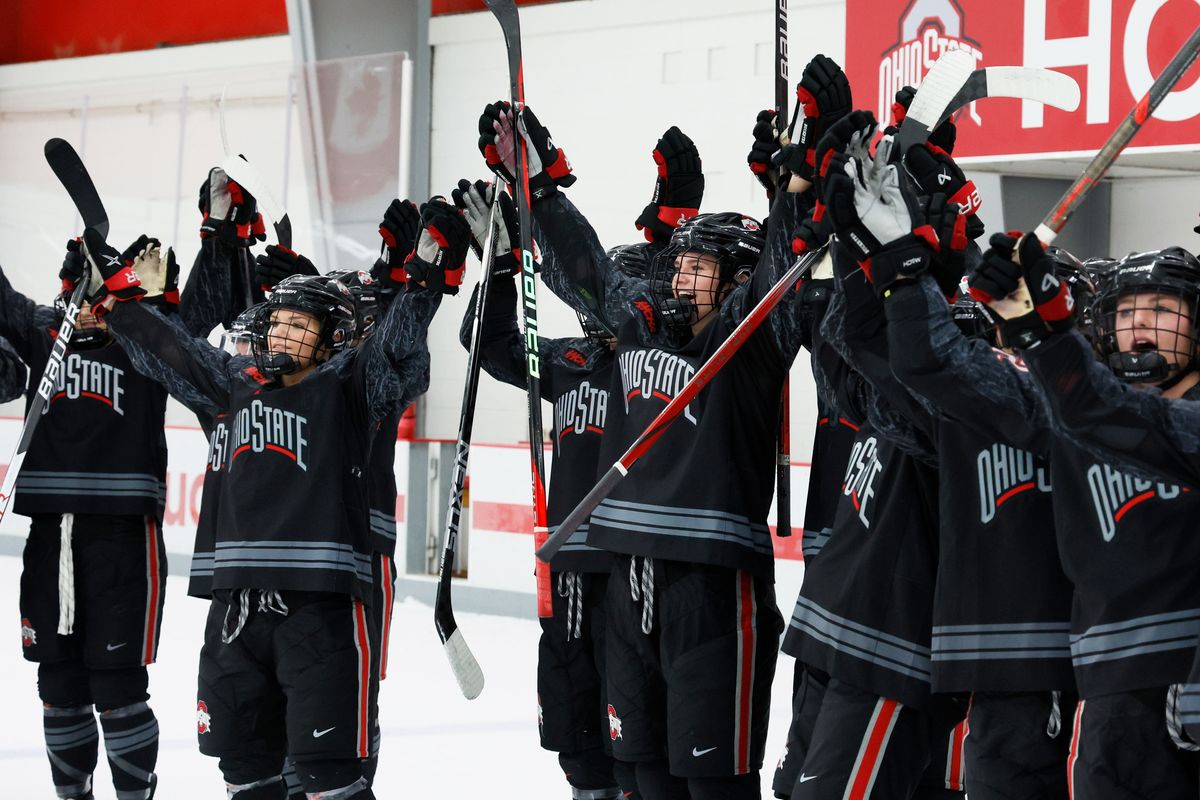 If you can believe it — and it's hard not to, let's be real — the defending NCAA champion Wisconsin Badgers are undefeated one month into the season, and it's looking like that will continue for a bit. Heading into November, they're outscoring their opponents by an unimaginable ratio (74-10) and have been dominating the WCHA and the entire National Conference alike.
That said ... it's a long season, and as the Badgers play on, they're bound to experience a loss or two eventually. So what team will be the one to crack the code first?

The Story So Far
As mentioned, the Badgers are 10-0, and they have multiple skaters in the double digits already in scoring. Britta Curl leads the team with 26 points (10 goals, 16 assists) and is on a nine-game points streak, while Kirsten Simms and Lacey Eden have also topped the 20-plus mark already. Cassie Hall is the standout of the freshman class, tallying seven goals and an assist thus far.
Ava McNaughton has taken over the reins in goal from Cami Kronish and done well, posting two shutouts and a .951 save percentage. She has yet to allow more than two goals in a given game (though she also hasn't seen more than 25 shots per game, either).
The Next Opponents ... and How Likely Are They to Win?
This coming weekend marks the first nationally ranked matchup for the top team in the nation, as they continue a lengthy road trip (and WCHA-only stint) against No. 11 St. Cloud State.
For their part, the Huskies are enjoying some unprecedented success, sitting at 9-2-0 and 4-1 in the conference (their best start since the program's inception in 1998). They're actually riding high on a four-game win streak, having most recently dispatched Minnesota State by scores of 3-1 and 2-0, and it looks like head coach Brian Idalski has done really well implementing his systems with his players.
The Huskies aren't as high-scoring as their counterparts across the state line, with top scorer Klára Hymlárová at just 11 total points, less than half of where Curl is at on the year. A couple of their best scorers have been out with illness and injury as well. Still, they are a well-rounded team with some strong defense and an excellent goaltending duo.
Sanni Ahola, who just received WCHA Goaltender of the Month honors for October, has an unbelievable .989 save percentage, having just allowed her first goal of the season this past weekend after five games. Goalie partner JoJo Chobak isn't a slouch, either, with a .957 and one shutout so far.
With Wisconsin's high-scoring style seeming to cool down (this past weekend yielded perhaps the fewest goals for them, which is saying a lot as they still won 5-3 and 3-0), this is a great chance for St. Cloud State to make a huge statement with either a win or a tie, or even holding Wisconsin to fewer than three goals per game. Historically, Wisconsin has the clear edge, but history is always subject to change — especially where hockey is concerned.
Buckeyes Breathing Down Wisco's Neck
Of course, there's another WCHA team to consider, and they face the Badgers in just a few short weeks. No. 2 Ohio State came up just short in last season's championship game, and they'll want revenge early and often against their conference rivals. The best thing about it? They're fully primed for it. They're undefeated in conference play, have just one loss on the season overall, outshoot their opponents by more than a 2:1 ratio, and have been hot on the heels of Wisconsin ever since puck drop.
Of all the ranked teams I've considered for this piece, the Buckeyes have the best chance to unseat the Badgers, in my opinion. They've already demonstrated that they can play on a level with Wisconsin in nearly every way — they've got a strong offense; excellent team defense; and while Raygan Kirk and Amanda Thiele don't have quite the stats of McNaughton or Ahola, they can hold their own.
They also have a great offensive weapon this year in Hannah Bilka, who transferred from Boston College and is unsurprisingly leading the team in scoring with 14 points in eight games so far. Seeing her match up multiple times against Team USA mates Curl and Caroline Harvey is going to be so much fun, y'all. So much. Not to be outdone, Jennifer Gardiner is making a great case to repeat as a top-10 pick for the Patty Kazmaier with 12 points already on the season.
The Buckeyes host the Badgers Nov. 17 and 18, and it'll be interesting to see how they fare. Wisconsin will be coming off a bye weekend, while Ohio State plays the entire way through November. That could certainly help them, or it could just give Wisco some much-needed rest between ass-whoopings. The beauty of this matchup is that it's bound to be exciting regardless.
Gophers, St. Thomas Not Far Behind; Can Bulldogs Actually Do It Again?
I mentioned earlier that the Badgers scored their fewest goals in a weekend just a few days ago, and that actually was against St. Thomas. It hasn't been an easy road for the Tommies, who started out 4-0 on the year before having to face off against some of the toughest teams in the nation in Minnesota, Ohio State, and then Wisconsin. Still, the fact that they were able to put three up against Wisconsin is impressive – it gives one some hope that they can maybe pull off an upset or at least a tie somewhere down the line. A great goal for a team that has to contend with some of the most formidable talent in the NCAA.
Meanwhile, fourth-ranked Minnesota also has an ax to grind with Wisconsin, not just because of the interstate rivalry, but also because the Badgers knocked them out during the NCAA semis last season in a game similar to the final against Ohio State — low-scoring, high-pressure, and the kind of edge-of-your-seat fare that makes you remember just how damn good the WCHA is. Minnesota is in a bit of a skid right now after losing a pair of close ones to the Buckeyes, but you can never really count them out, especially with skaters like Abbey Murphy and the stellar duo of Skylar Vetter and Lucy Morgan in net. The Gophers face off for the first time against the Badgers Dec. 8 and 9.
The last team I want to talk about is Minnesota–Duluth, a team that actually had Wisconsin's number last season, beating them three out of the four times they faced off (2-1 in OT, 3-1, and 1-0). This year, the No. 7/8 Bulldogs are 6-2-0 overall and have in fact only lost to Ohio State so far. Captain Mannon McMahon has been unreal, scoring five goals and 11 points and firing an absolutely absurd .278 in shot efficiency (the next closest on her team is Gabby Krause at .182). A sniper like her is hard to contain and can definitely put goalies like McNaughton to the test.
The one drawback to UMD is they can be prone to some slow starts, which a team like Wisconsin can and will exploit to their hearts' content, so the key for Minnesota–Duluth would be to possess the puck early and often and really get the Badgers back on their heels. They'll have a crack at it for the first time this season at the beginning of December, on Wisconsin's home ice.
Wisconsin plays St. Cloud State at Herb Brooks National Hockey Center this Friday, Nov. 3, at 4 p.m. (ET) and Saturday, Nov. 4, at 2 p.m. (ET).