CHA
NCAA Roundup: Clarkson Starts Strong, Colgate Stuns OSU in Opening Weekend
It was a wild weekend with a lot of scoring. Check out the biggest stories from this season's opening weekend in the NCAA.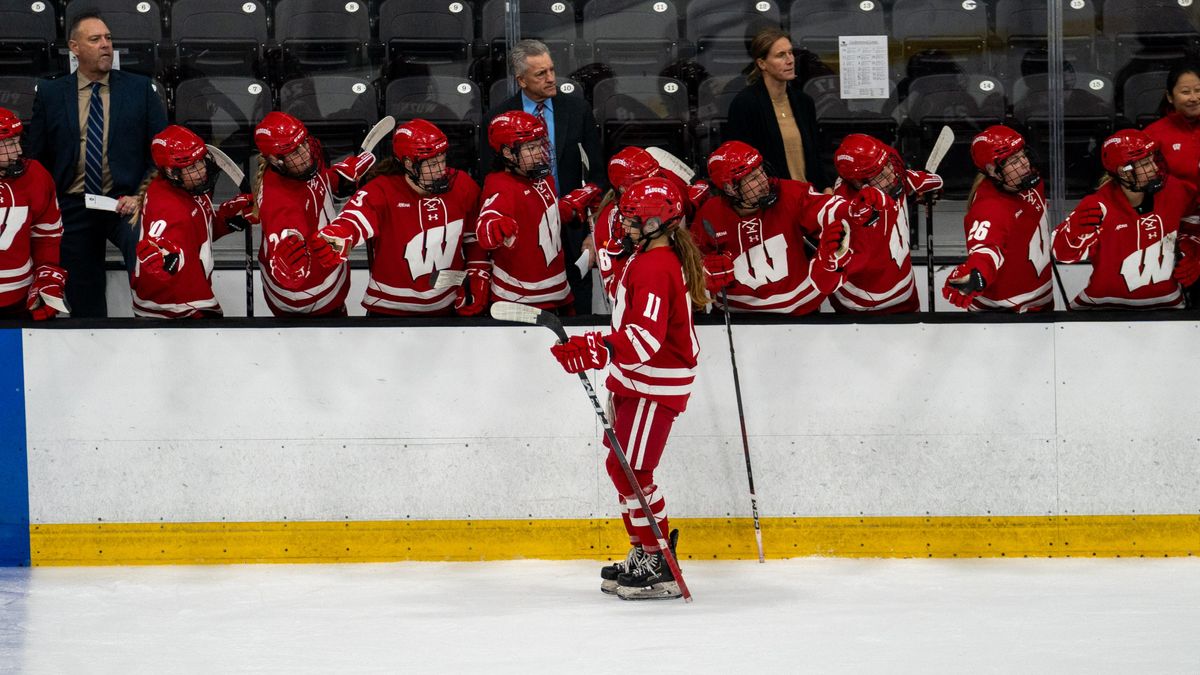 We are finally here, folks – NCAA opening weekend, and it was a wild one. We have a couple of upsets, a couple of blowouts, and a lot of fun to go over, so let's do it. This is far from an exhaustive list of what went on through the first few days of play, so please bear with me, and check out NCAA.com and Nicole Haase's work at The Victory Press and USCHO.com as well for anything I didn't get in depth on.
Colgate Splits Weekend With OSU
Friday: Colgate 3, Ohio State 2
Saturday: Ohio State 3, Colgate 2 (OT)
Talk about a couple of thrillers. Both games came down to the wire, with the No. 2 Buckeyes displaying their signature offensive prowess and zone domination, while the No. 4 Raiders were able to get movement on the power play and withstand a heavy shot count by the Buckeyes.
Keep your eyes on Emma Pais going through this season. The frosher scored her first college goal with 39 seconds left in regulation on Friday evening, winning it outright for the Raiders in an impressive victory after Ohio State managed to cut a 2-0 lead to 2-2.
Saturday was OSU's revenge, as they carried a 2-0 lead of their own into the third period, but Colgate was able to mount a late comeback that pushed the game into an extra frame. Still, the Buckeyes held firm, and Jenna Buglioni ended things just two minutes into overtime to cement the series split.
Golden Knights Undefeated so far
Friday: Clarkson 3, Boston College 0
Saturday: Clarkson 4, Boston College 2
Ninth-ranked Clarkson came to play only one game: the one on the ice. The Golden Knights started strong with a back-to-back blanking of Merrimack the weekend prior, and they kept up the domination by holding the Eagles to just two goals over this past weekend, winning both games handily.
Friday's game saw the Knights hold control basically throughout, executing discipline, limiting opportunities, and getting some big saves in goal from Michelle Pasiechnyk. Saturday was a bit less disciplined, not just on the ice (where the Eagles actually struck first on a breakaway by Julia Pellerin) but in the penalty box, where Brooke McQuigge received a major penalty and game misconduct for a slewfoot in the first period. Clarkson were able to withstand the PK time and get back on track with goals by Alexie Guay, Jenna Goodwin, Keira Hurry, and Anne Cherkowski. Abby Newhook was the other goal scorer for BC, who fall to 0-2-0 to start the season and look to a formidable foe in Wisconsin next weekend.
There's a Reason they're No. 1 in the Nation
Thursday (Sept. 28): Wisconsin 6, Lindenwood 0
Friday: Wisconsin 16, Lindenwood 1
Speaking of Wisconsin... well. Poor Lindenwood got a good look at what the Badgers are working with, as the defending national champions put up 22 – yes, 22 – goals on the Lions over two games. To their credit, Lindenwood did well to keep the beginning of each period scoreless on Thursday, especially on the back of a ridiculous 59 saves by Natalie Ferenc (who hit the 1,300 career save mark during that game).
But this is the top-ranked team in the nation, after all, and aside from Sarah Davies's tally midway through the second period, Friday was all Wisconsin. With two hat tricks (Lacey Eden and Sophie Helgeson) and a four-goal "Accursi trick" from Cassie Hall, the Badgers poured it on and didn't stop even with a goalie change by the Lions. Britta Curl also scored four points (1G, 3A) and every single Badger on the ice aside from goalie Ava McNaughton recorded at least one point on the day. The program itself set a record for goals scored in one game with 16 on the Lions. Lindenwood will look to regroup on the road at St. Thomas next weekend.
RMU With a Series Split in First Weekend Back in Action
Friday: Union (NY) 5, RMU 2
Saturday: RMU 3, Union 2 (OT)
Robert Morris played a grind-it-out style across both games, but while it wasn't enough to keep Union from finding their groove in the third period Friday, it was just enough to get revenge on them Saturday in extra time in Schenectady.
Morgan Giannone was a huge factor in both games, executing some great playmaking to get two assists in the first game and then scoring a pair of goals of her own, including the game-tying goal and then the OT winner, on Saturday. Blue liner Chloé Puddifant also had a strong weekend on both sides, blocking shots and also jumping into the play. For Union, scoring by committee was the name of the game all weekend, with Riley Walsh (1G, 3A) leading the charge with a huge effort Friday.
Head coach Logan Bittle gets his first win as bench boss with the overtime victory. The Colonials will be back at home against St. Anselm next weekend, while the Dutchwomen take on Holy Cross.
NCAA Scores
Friday, Sept. 29:
Northeastern 6, LIU 0
Quinnipiac 3, Maine 0
UConn 2, Penn State 0
St. Thomas (MN) 7, Franklin Pierce 2
Syracuse 2, Post 0
Sacred Heart 5, Saint Michael's 2
Merrimack 3, St. Anselm 2
Rensselaer 1, Stonehill 0
St. Lawrence 5, Mercyhurst 1
RIT 3, Assumption 2
Saturday, Sept. 30:
Northeastern 2, LIU 0
Quinnipiac 5, Maine 1
UConn 1, Penn State 1
St. Thomas (MN) 5, Franklin Pierce 2
Syracuse 3, Post 2
New Hampshire 6, St. Anselm 1
Rensselaer 7, Stonehill 0
RIT 5, Assumption 1