pwhl
Carla MacLeod to Coach Ottawa PWHL team
"It's going to be a dialogue between our staff, management and players to figure out the direction we want to go."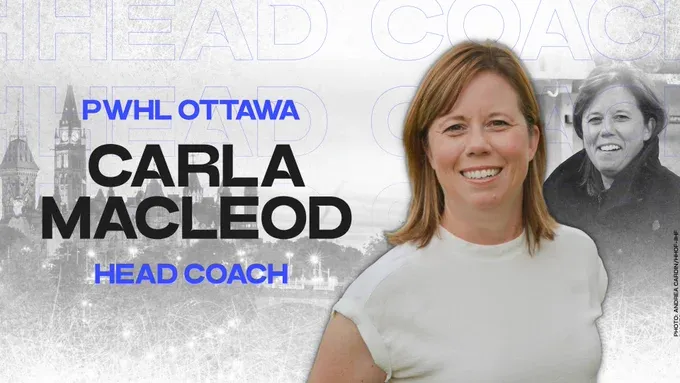 Carla MacLeod will coach Ottawa's new professional women's hockey team, the PWHL announced Friday afternoon.
Most recently, MacLeod coached the University of Calgary women's hockey team while simultaneously coaching the national women's team in Czechia.
The Czech team progressed to their best result at a world championship with two international bronze medals shortly after MacLeod joined. MacLeod has left the University of Calgary but will continue working with the Czech team.
MacLeod said her time in Calgary coaching the youthful team prepared her for this new role: "At [the U Sports] level, you learn to build a program and you learn to manage energy," she said. "My time at U o f C has equipped me with the tools that I need to step into this next adventure."
In Friday's media availability, Ottawa general manager Michael Hirshfeld expressed his faith in MacLeod and the importance of collaboration: "It is very important to me that she has input and feedback on the direction we take," he said.
One of the organizational priorities for Hirshfeld has been establishing and building the team culture. He has emphasized the importance of selecting players with strong character traits. MacLeod said she will help make Ottawa an environment players want to play in:
"It's going to be a dialogue between our staff, management and players to figure out the direction we want to go," MacLeod said. "Our players are going to be key drivers in this.
"The three that Mike was able to sign are pivotal for [the culture], and it's our job on Monday to keep bolstering those kinds of people in our room," MacLeod said, referring to the draft.
MacLeod said she is excited to familiarize herself with Ottawa and its women's hockey community. She knows the coaches of both Ottawa University hockey teams and hopes to foster those connections.
The PWHL draft is scheduled for Monday, September 18th.