PHF
Bujold the OT Hero as Rivs Squeak Past Force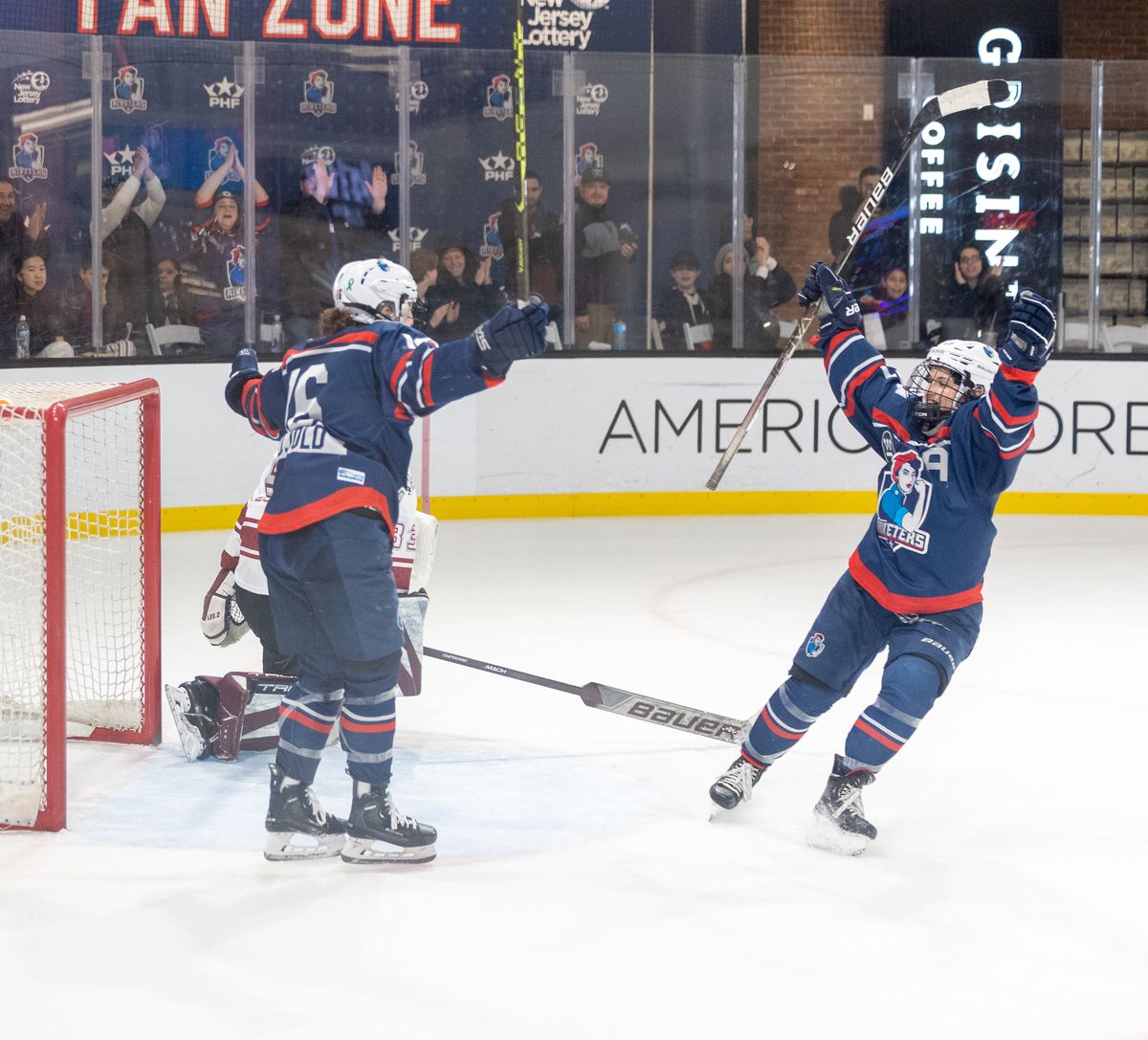 After they both were eliminated from qualifying for the PHF postseason last weekend, there was some question about what type of game we would see between the Metropolitan Riveters (8-13-0) and Montréal Force (8-13-2) at the Rink at the American Dream Mall on Saturday night. To their credit, both teams played an entertaining rough-and-tumble kind of game that saw the Riveters skate away with a 2-1 overtime win over the Force in their first visit to New Jersey.
Sarah Bujold, whose scoring abilities carried the Riveters earlier in the season, scored her first goal in five games just 47 seconds into overtime by slipping the puck into the net under Montréal goaltender Tricia Deguire's attempted poke check. Riveters goaltender Katie Burt finished with 27 saves and the team's penalty kill was a perfect 3-for-3, while their offense fired 39 shots on Deguire.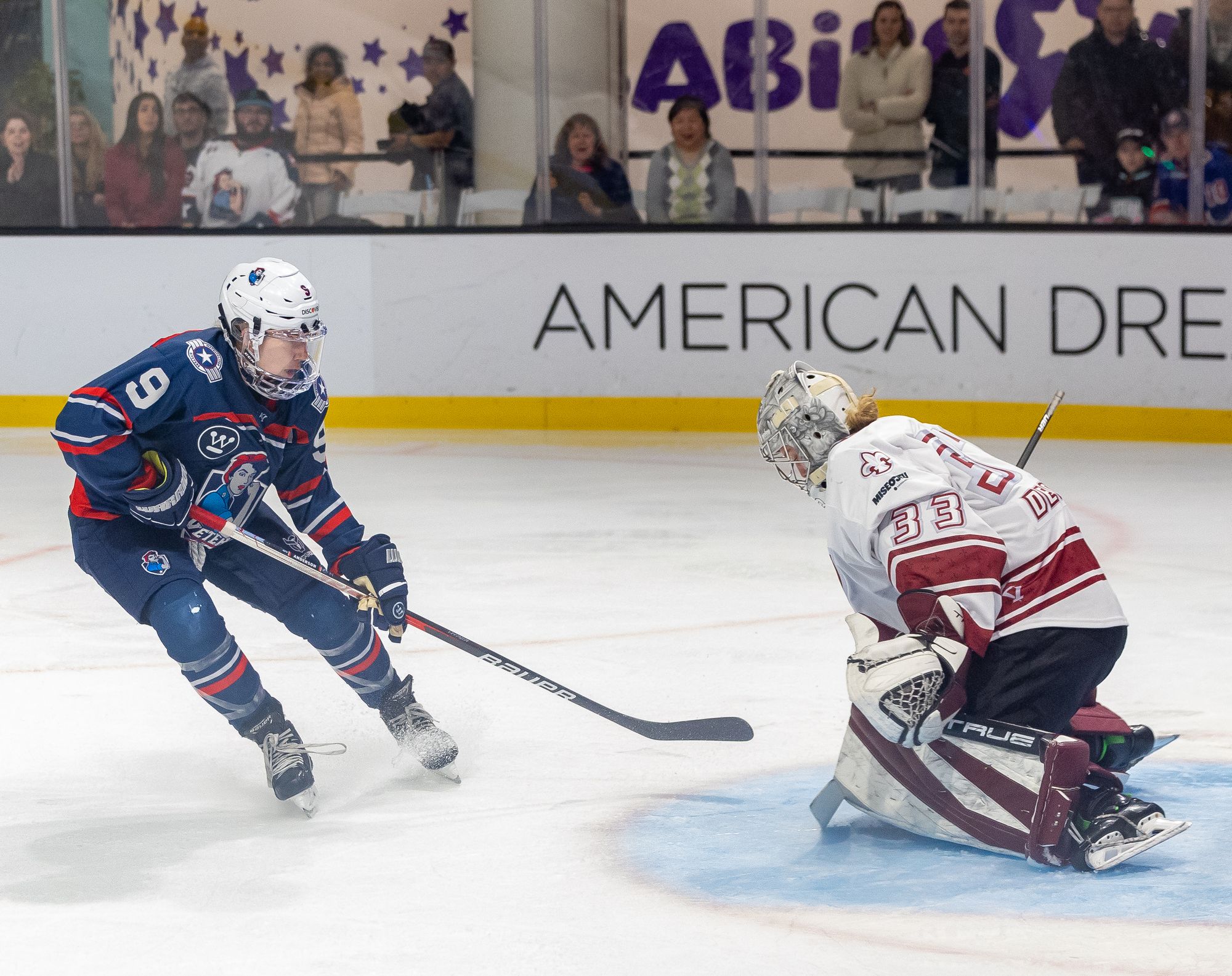 "It was a little bit more chaotic than we hoped it would be, at least at the beginning of the game," Riveters defender Emilie Harley said after the win. "We're trying to finish in the standings as high as we can. It might be that we're out of the playoffs, but we're still playing to show everyone what we can do."
"We're playing with a lot of heart, and character, and also - a lot of people are on one-year contracts. So you're trying to show what you can do individually so that you can come back and play in this league next year."
With the overtime win the Rivs moved within two points of the Force for fifth place in the PHF standings. A regulation win on Sunday would move them ahead of the league's newest team; Montréal has one game remaining, while the Riveters will host Buffalo two times during the final weekend of the regular season.
The game seemed destined for a goalless first period until defender Ebba Berglund unleashed a bomb from the blue line that ricocheted off of Force defender Brigitte Laganière's chest before falling into the net behind Deguire. The one-goal lead lasted until the midway point of the second period for the Riveters, who played one of their better 60-minute games of the season.
Rookie Kristina Shanahan netted the tying goal for Montréal and now has three of her six points this season over the past two games. "It feels good," she said of her recent stretch of games. "Playing alongside Jade (Downie-Landry) and Ann-Sophie (Bettez) is a lot of fun and they provide a lot of offense. It was a bit of a slow start for me 9this season), but it's (always) nice to get on the board."
The Riveters had multiple chances to get a second goal in regulation but couldn't cash in on a short 5-on-3, nor the 5-minute major power play they received from Christine Deaudelin's boarding call with 13 seconds left in the second period.
"You can build off a good PK and we've worked a lot on that in practice. They did a great job tonight and it really helped gain us momentum for when it got back to 5-on-5 play," said Montréal's Autumn MacDougall. "They're a good team, and we both have good speed. A lot of back and forth tonight."
The Riveters picked up their third straight win at home and improved to 4-5-0 in their first season at the American Dream, and they're 2-1-0 against the Force this season. Montréal has now lost four straight on the road and will be the first PHF team to finish Season 8 this weekend.
Game Notes: Rivs forward Fanni Garát-Gasparics led all players with five shots on goal while Downie-Landry and Samantha Isbell led Montreal with four shots on goal each. Alexandra Labelle and Downie-Landry each won 11 face-offs. Burt improved to 4-5-0 since joining the Riveters in December. Deguire started her ninth straight game for the Force and her record falls to 5-9-1 this season.