Buffalo Beauts
Beauts' end of season awards to be presented Sunday -- here are my picks
It's been a rocky year for Buffalo, but that doesn't mean there haven't been some highlights.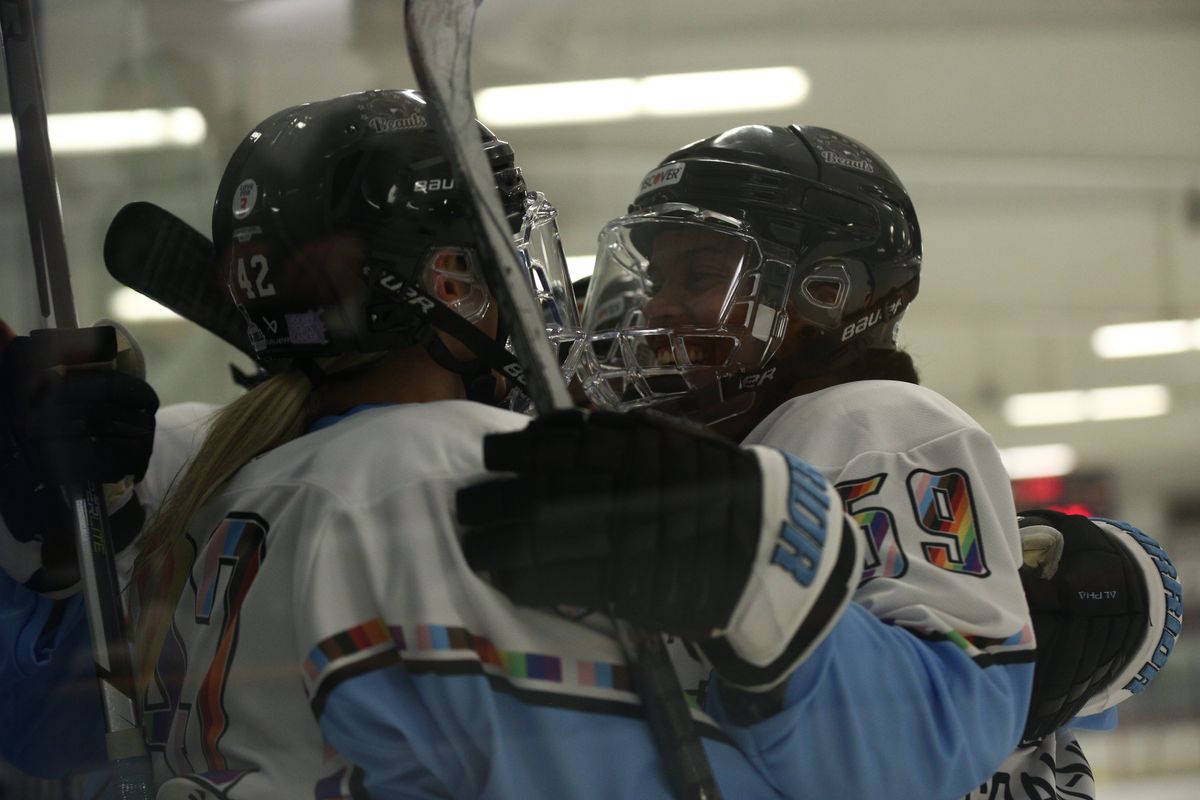 Sunday, March 5 marks the final home game of the season for the Buffalo Beauts, and with that comes some mixed emotions. This year has been a rough one in Buffalo's seemingly lengthy rebuild (if you can call it that – it's more so been like a start-restart process given the past two seasons' roster movement). Still, there have been some bright spots, and the players themselves are voting to highlight the very brightest of the bunch.
Let's take a look at the awards themselves and who's eligible for them (if applicable), as well as whom I'd vote for if I had one:
Deb Cresanti Memorial Award
This award, name in memory of a longtime Beauts fan, is presented to the player who has been most actively involved in the Buffalo and WNY community. Last season, Amy Budde took the inaugural award for her constant commitment to fan interaction; this season, while so many players have been seen out and about, I've been super impressed by how defender Jess Healey has been ready and willing to jump into the role. She's been such a fun part of this season and never hesitates to put herself out there, so I think she'd be a great pick. Cassidy MacPherson, last year's Unsung Hero (more on that later), has also been a great presence for the team.
"Row the Boat" Award
Named for the team's motto last season, this award is presented to the player who exemplifies the qualities of a good teammate. Goalie Caty Flagg took this award last year, and I think we have to keep this in the net and give Kassidy Sauvé a nod for being nothing short of a trouper throughout 2022-23.
This has been far from an ideal first season for Sauvé, who had season-ending surgery in February to address an injury she sustained during preseason; still, she's been a constant presence at practices, games, and on social media cheering on her teammates (and even serving as team photographer on the road at points). Any time I've interacted with her, she's been so upbeat and positive despite the circumstances and it's obvious she loves being a part of the Beauts.
Rookie of the Year
This is pretty self-explanatory, going to the player in her first professional-level year who has put up the best performance. Last year's award went to Kennedy Ganser (now a forward for the Riveters). This season, Summer-Rae Dobson, Courtney Maud, Maddie Truax, Madi Nichols, and Antonia Matzka are eligible for this award.
Looking at this group, two names definitely stick out above the rest. Matzka earned All-Star honors for her play in the first half of the season and has been one of the best-performing blueliners on the Beauts, while Maud has been lighting up the latter half of the year with her speed prowess on special teams. I'd bank on either of them taking it this season.
Unsung Hero Award
As mentioned earlier, MacPherson took last year's honors for her contributions to the team, which transcend any kind of tangible or stat-related accomplishments. While she could easily take it again this year, I really want to highlight how unbelievably crucial Whitney Dove has been on both sides of the puck this year for Buffalo. She does have a handful of points, but she also generates a ton of offense in general whether with her shot totals or her puck movement, and she's been so solid with her positioning and overall presence on the ice. I love seeing how she's grown over the course of the year.
Most Valuable Player
What makes an MVP? This is one I've struggled with a lot. When it comes to league voting, typically this kind of award goes to someone who's put up the most points over the regular season. That in itself has obvious value, but to me MVP is more than just what's on the scoresheets – it's based on the contributions a player has made to the team compared to where the team would be without them in the lineup. This is why Carly Jackson was honored with last year's MVP nod, and that's also why I think Lovisa Berndtsson should get it this year. Lollo took a tough situation (Sauvé going down with injury) and turned it into a year of some really expectation-shattering performances, including her first wins of PHF play in January and February and even stealing points against some of the top teams in the league. If you think about where this team would be without her, the results are even more bleak than they have been.
However, I don't want to overshadow the performance of Mikyla Grant-Mentis either. Buckey had a slow start points-wise, true, and people have irritated me to the point of profanity with their commentary on how her contract doesn't reflect her stats – because once again, it's not always the numbers (even though she is currently leading the Beauts in points). She has been so impactful in so many ways for Buffalo, playing a ton of minutes each game and in just about every situation you can think of.
Not only has Grant-Mentis excelled in her true role as a playmaker (providing many of the assists to fellow points leader Claudia Kepler's goals early this year), but she has also excelled defensively. She's been one of the first to shift back when a defender pinches up, her forecheck has been constantly excellent, and at one point this season she was even leading in blocked shots (she's currently one block behind current leader Dominique Kremer). She's truly been one of the most well-rounded players on this roster, and again, without her this forward corps looks incredibly different.
So there you have it – my thoughts on some of the players I would pick if I had a voting interest in the Beauts' end-of-year honors. Let me know your thoughts, and I'll let you know if I was on the money or not with some of these picks.