Buffalo Beauts
Buffalo Beauts: All-Time PHF Starting Roster
Some of the players who helped give Buffalo its first-ever professional hockey championship, and some who made an impact for the team even during its less-successful seasons.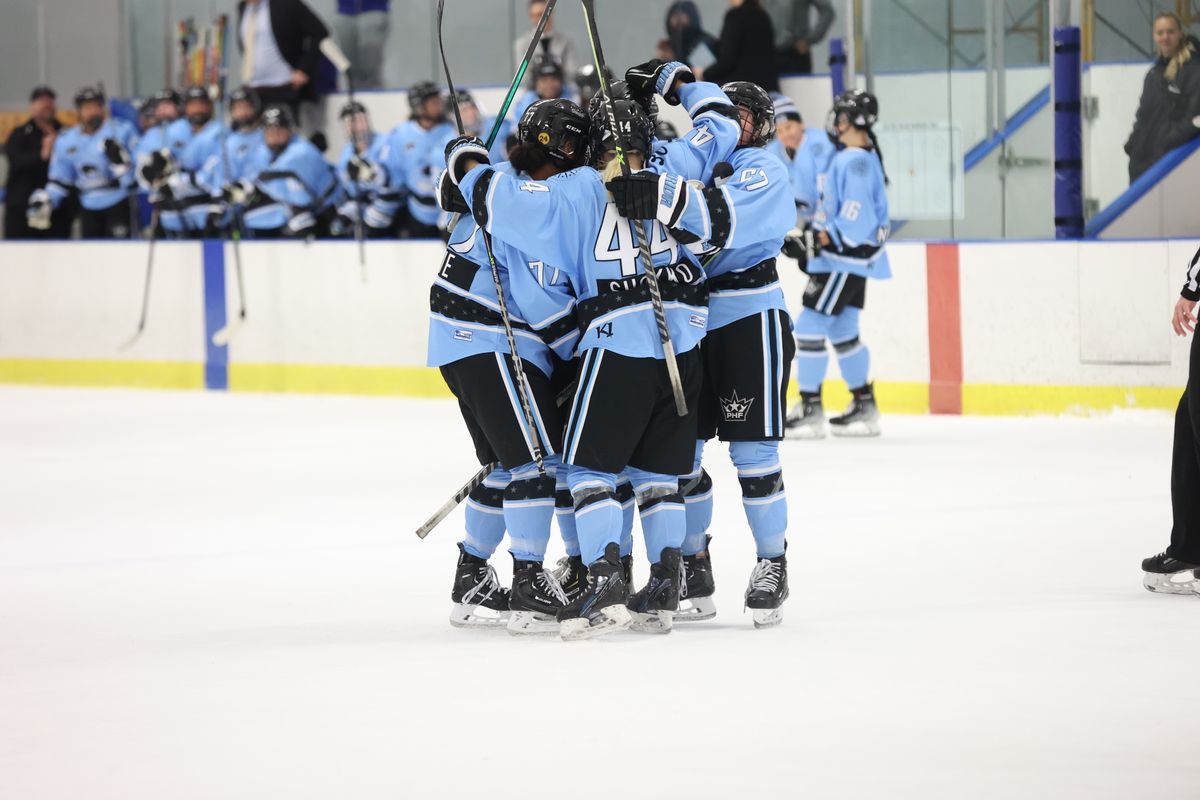 The eight-year tenure of the Buffalo Beauts is hard to put into words, which is great when you're a writer staring at the other end of it. Some seasons have started off rocky and gotten much better; some seasons also never really left the ground, particularly toward the end of their run.
Still, they're one of five PHF teams that have managed to win that elusive Isobel Cup, snatching it from under the defending Boston Pride in 2017 and giving Buffalo its first-ever professional hockey championship. Even during years where it didn't seem likely the Beauts would pose much of a challenge, they've managed to stun some of the top teams in the league, and they made it to the Cup final four seasons in a row.
One thing's for certain: some seriously talented athletes have spent one or more seasons in Beauts blue, and this paltry attempt to acknowledge even a handful of them might fall well short of the mark. But let's try anyway to put together an all-time list of players who have made an indelible mark not just for the Founding Four franchise, but also on the NWHL/PHF as a whole.
Franchise Records
Most Games Played: Cassidy MacPherson (74 GP)
All-Time Points Leader: Taylor Accursi (53 pts)
All-Time Goals Leader: Taylor Accursi (29 G)
All-Time Assists Leader: Kourtney Kunichika (26 A)
All-Time Wins Leader: Amanda Leveille (16 wins)
Single-Season Wins Leader: Amanda Leveille, 2017-18 (12 wins)
Top Save %: Nicole Hensley, 2018-19 (.935)
All-Time Shutouts: Tie – Nicole Hensley; Shannon Szabados, 2018-19 (2 SO each)
First Team
Kelley Steadman, F: Of course we had to include the Beauts' first-ever goal scorer on this list. Steadman went from practice player to full-on Beauts legend, with 18 goals and 30 points in just 18 (yes, eighteen) total games played. The power forward's impact over the first two seasons of Buffalo's existence was absolutely incalculable, though. To witness it in real time was a joy.
Corinne Buie, F: Buie was one of those players who was never the flashiest on the ice, but she excelled in the role she played and she rarely strayed from it. That, coupled with her work ethic and quiet confidence, made her a quintessential Beaut and a captain for two seasons. Over 72 games played, she amassed 22 goals and 20 assists, making a difference with her excellent puck control and two-way play. When I think of Beauts captains, she's the one I think of first.
Taylor Accursi, F: Accursi is right behind Buie for me. One of the longest-tenured Beauts on this list, having played for four seasons (technically rostered for five although she didn't touch the ice during the Lake Placid year in 2021), she brought an unbelievable hustle and skill to this team, excelling in every role she was given. Her four-goal performance during the first-ever Buffalo Believes outdoor game at Riverworks remains the stuff of legend amongst fans, and she is the most prolific scorer to play on this team with 53 points (29 G, 24 A) in 66 games played.
Emily Pfalzer, D: Now Emily Matheson, this diminutive defender played huge and earned the first captaincy in franchise history. A special teams force and incredible puck mover, the longtime U.S. national player set the Beauts record for most points in a single game with five assists in Year One and finished her career with 25 total points in 48 games played, making her one of the highest scoring defenders in franchise history — just a few points behind another defender on the second team.
Megan Bozek, D: I mean, come on. The 88 mph "Bozek Blast" is the stuff of legend among both Beauts fans and general women's hockey fans alike, as one of the hardest-ever shots displayed on the world stage and within the NWHL/PHF. On top of that, while well known for her prowess on the back end, Bozek was also a talented puck mover, responsible for the immaculate stretch pass that turned into Buie's game-winning goal against Boston in the 2017 Cup Final.
Shannon Szabados, G: I really went back and forth between putting Szabados or Nicole Hensley here, since their runs during the 2018-19 season were almost identical. Szabados just gets the edge for me, though, as one of the best (and best-known) goalies to don the jersey, one half of the best goalie tandem the franchise has ever seen, and a huge factor in their success during the Pegula era. Six wins and a .934 save percentage isn't wrong in the least.
Second Team
Hayley Scamurra, F: Scamurra's work ethic and defensive presence are world-class, as well as her nose for the net. She finished in the top 10 of all-time scorers, with 35 points in 31 games played, and earned the then-NWHL's inaugural Rookie of the Year honors in 2017-18, sealing the deal as one of the most impactful players for Buffalo in her three-season run, especially in the postseason. I mean, who doesn't remember her unreal three-point debut against the Riveters in the 2017 playoffs? Chef's kiss.
Kourtney Kunichika, F: Before Cass MacPherson took over the "unsung hero" moniker, Kunichika was the best example of that in the Beauts' early years. She excelled in the faceoff circle, was a beast on the power play, and holds the third-highest points total in Beauts history with 41 points in 50 games played. Though she never got quite the shine her counterparts did, she was such a great player to watch, with a unique vision and playmaking ability.
Meghan Duggan, F: Kelley Steadman scored the first goal in Beauts history, and Duggan was right there with the first-ever assist. Duggan brought a new level of talent to the first-ever Beauts roster, blending size, skill, and smarts in a remarkable way. In just 13 games played, she amassed 16 points — not surprising for an Olympian and world champion, but still a further testament to her efficiency and impact.
Marie-Jo Pelletier, D: Pelletier is much like Pfalzer in that she was able to play so much bigger than she was, with some of the best positioning and stick work I've ever seen. Pelletier tallied 6 goals and 29 points over 50 games played, and even more impressively, she only ever took one minor penalty in her entire career (seriously, her career PIM sits at 2). It kills me that she retired without a shot at getting Izzy, but regardless, she is one of my favorite players to ever wear Beauts blue.
Lisa Chesson, D: During Chesson's tenure with Buffalo, she often found herself providing much-needed gravitas to a young defensive corps. "Cheese" quickly became one of the most reliable defenders in Beauts history, seamlessly transitioning from defense to offense when able and scoring 18 points (3 G, 15 A) for her efforts in 40 games. She's often overlooked when it comes to Beauts defenders, but I think she's one of the most important parts of the team's earlier success.
Brianne McLaughlin, G: Her overall stats aren't the best this team has ever seen, but McLaughlin is responsible for one of the strongest individual efforts in franchise history, making 60 (!) saves to lift the Beauts over the Boston Pride for their first and only Isobel Cup in 2017. For that unbelievable performance — one players who were there to witness it still talk about today — she earns a spot here.
Honorable Mentions
Nicole Hensley, G: Hensley is the other half of the 2018-19 goalie tandem that saw a huge amount of success, and she's no slouch either — she posted five wins and a .935 save percentage, the highest ever among Beauts tendies.
Blake Bolden, D: A prolific scorer on the blue line, Bolden's slapper is the only one that can rival Bozek's, and she's one of my favorite defenders ever to play on either the Beauts or Team USA. She capped her 16-game run in Buffalo with a goal and 12 assists and a Defender of the Year award in 2018-19 after two successful campaigns with the Pride (the first of which earned her an Isobel Cup) and a huge season in Lugano in the SWHL.
Amanda Leveille, G: More known for her franchise-defining run with the Minnesota Whitecaps, Leveille still made a huge statement in her first couple of seasons with the Beauts, as evidenced by her holding some of the Beauts' franchise records for wins. I've always loved her calm demeanor in net and the way she can just command a game from start to finish. She is truly one of the best netminders this league has seen, never mind this team.
Maddie Elia, F: One of a handful of WNY natives (out of Lewiston, NY), Elia brought both size and talent to the Beauts over the course of two seasons. She was a point-per-game player in her rookie year and amassed 33 points (17 G, 16 A) in 30 games played.
Cassidy MacPherson, F: "CassMac" (or "CassMAX," as last year's players dubbed her) has long flown under the PHF radar, but this is another player who has spent her entire career with the Beauts and cemented herself as one of the hardest working players on the ice. There's a reason she's always mentioned as one of the "unsung heroes" of the league; a PK, faceoff, and defensive specialist, she's the definition of "work ethic."
Mikyla Grant-Mentis, F: But Ang, MGM played more games on the Toronto Six. That may be, but the natural winger still managed to pack a huge punch in her short tenure with the Beauts, scoring 24 total points in 26 games played. Despite logging heavy-duty minutes on a team that had a very distinct lack of direction in 2022-23, Grant-Mentis still performed at a high level comparatively and displayed a tremendous amount of defensive skill in addition to her offensive capabilities.
Claudia Kepler, F: The Ohio State and Wisconsin alumna immediately had an impact on the lineup after being signed midway through the 2021-22 season. Both of her seasons with Buffalo saw her accomplish an unreal shot percentage (.231 and .196) at a time when the Beauts were far from the highest-scoring team in the league. Even if she didn't set the whole PHF on fire, she is one of the more underrated snipers I've seen, and I really hope she finds a place to land either within the new league or elsewhere.