PHF
Albers Tricks Pride, Whitecaps Steal Game 1 in Boston
Curtis' hat trick puts the Whitecaps up 1-0 in their series over Boston.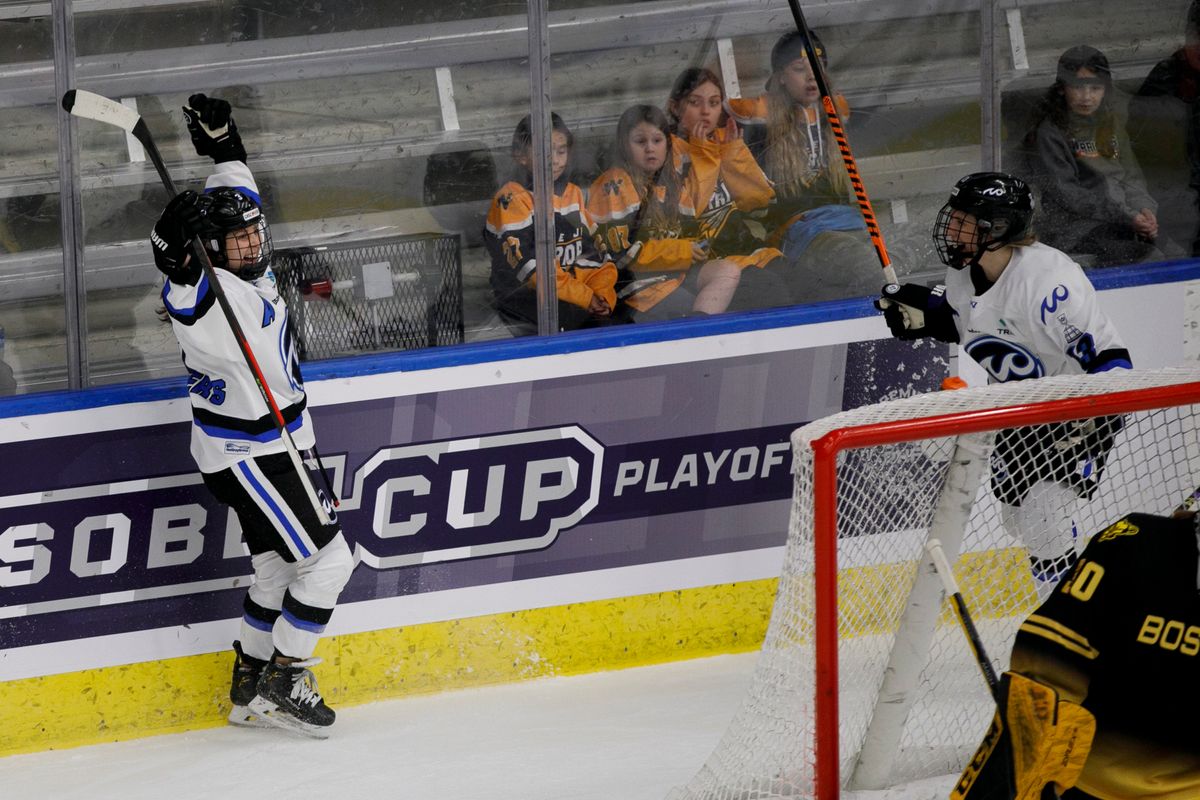 Entering the playoffs on an eight-game losing streak is far from ideal, but the flip side of that argument is that the Minnesota Whitecaps were due for a win, right? Entering Game 1 of their best-of-three series with the Boston Pride, who are also the two-time defending champions is also not the best scenario.
But the Whitecaps jumped out to a 2-0 lead - (Boston promptly tied it 2-2, all in the first period) - and Minnesota won 5-2 in a game they never trailed in with three, third-period goals.
Jonna Albers, who recently became the fastest PHF player (83 games) to reach 100 career points in the regular season, entered this postseason with no goals and nine assists in seven previous playoff games and she finished Game 1 with three goals - including the game-winning power-play goal midway through the third period.
"I didn't know, I don't think about that. Interesting stat I guess," Albers replied when asked about scoring her first playoff goal.
The Whitecaps star scored shorthanded in the first period, to make it 2-0, and clinched the win with an empty net goal from the far blue line to complete her first hat trick since Oct. 12. 2019 against the Metropolitan Riveters. "I was able to grab that puck, stay patient and take it down the ice with I think it was (Ashleigh) Brykaliuk on the other side," explained Albers after the game. "I took the shot and it just went in," she added with a laugh.
Minnesota talked about wiping the slate clean, and starting fresh in the playoffs, but when you've lost eight straight and head to the home of the defending champions that is way easier said than done. But that belief became realer than Real Deal Holyfield when Ronja Mogren scored her first goal of the season just 2:56 after Game 1 started.
"That was huge; the bench exploded. We had energy all day, but getting that first goal - from someone who hadn't scored all season - it was big," Albers said. "I think it made everyone believe that we really can take it to Boston and win this thing."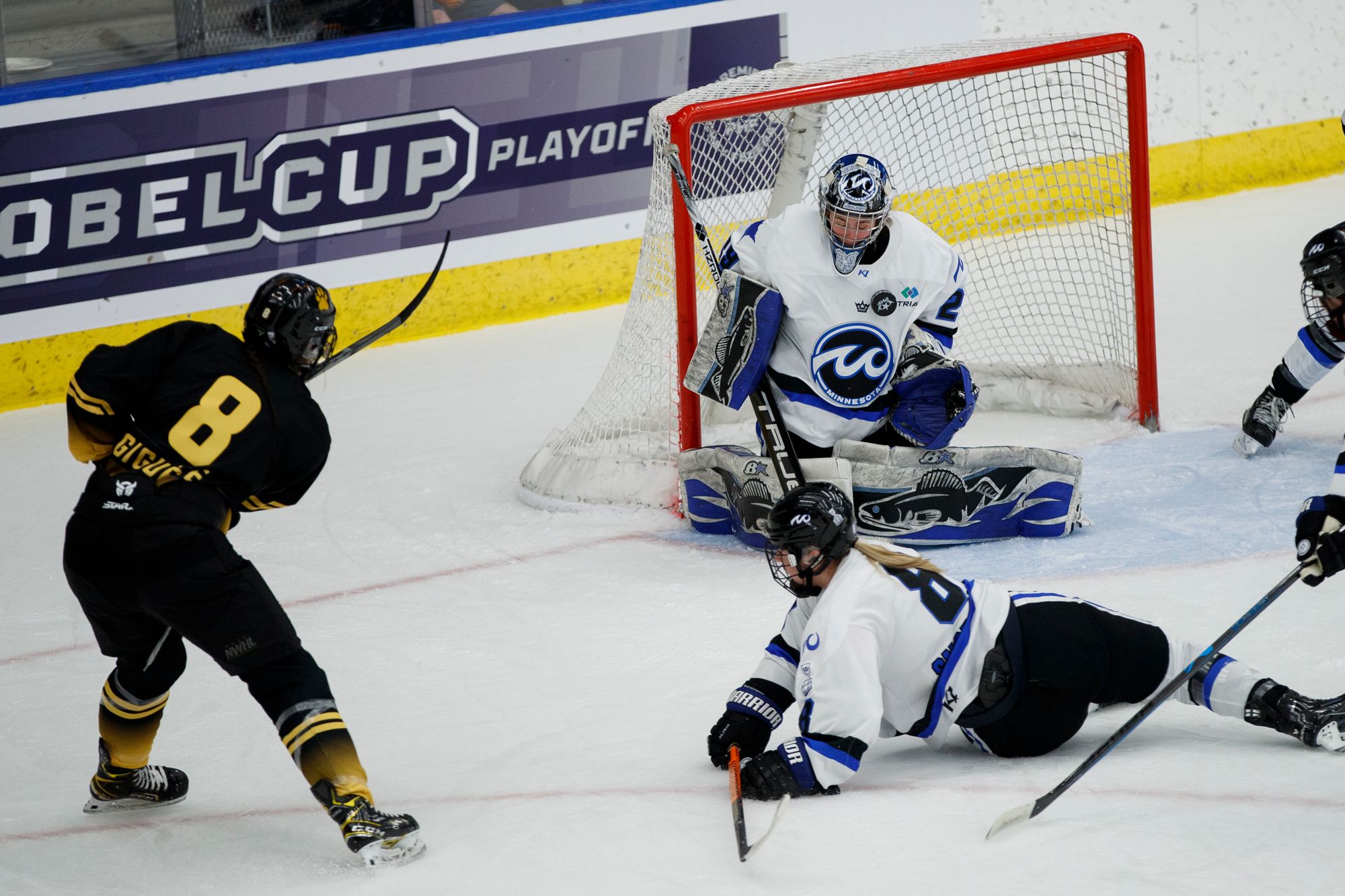 Albers doubled the lead at 14:04 with her shorthanded tally, but the Pride scored on the same power play just 22 seconds later when Becca Gilmore redirected Kaleigh Fratkin's point shot past Whitecaps netminder Amanda Leveille. Two and a half minutes later Loren Gabel tied the game 2-2 when she used her teammates as a decoy on a 3-on-1 and snapped a shot past Leveille.
"I didn't see any letdown (in our team) when those two goals (by Boston) went in, that was awesome to see," Whitecaps Head Coach Ronda Engelhardt said.
After a goalless second period, and a goalless first half of the third period the Whitecaps put their hard hats on and went to work to secure the victory. Earlier in the week Minnesota talked about how they wanted to fire as many shots on goal as possible in this series and Albers was able to pounce on a rebound of a point shot from teammate Sidney Morin for the tie-breaking goal.
"Just before that we talked about capitalizing on that power-play because it was huge for us, and how we wanted to get pucks to the net," Albers told The Ice Garden. "I knew that Sid and Nat (Snodgrass) were going to be shooting so I just tried to make myself as big of a threat as I could."
Each team finished the game 1-for-3 on the power play, but it was a missed call that will be remembered in this game. Boston defender Olivia Zafuto appeared to injure her leg when a Whitecaps player tackled her soccer-style just inside the offensive blue line.
"We'll re-evaluate her tonight, kinda strange it wasn't a penalty," said Boston Head Coach Paul Mara. "But not shocking."
Despite the loss, Mara felt like his team played well and has plenty of positives to take into Game 2. "Everything," Mara replied when asked what his team takes out of the Game 1 loss. "They were on an eight-game losing streak, we beat them four times in a row (this season). What do you expect? You roll the dice, you're going to get a seven every once in a while, right? We'll be better, we'll be fine."
Captain Jillian Dempsey concurred. "The playoffs, there are swings of highs and lows, being down 0-2 we could have rolled over and called it a day; I liked the resilience we had to make it 2-2 pretty quickly and stay in the game."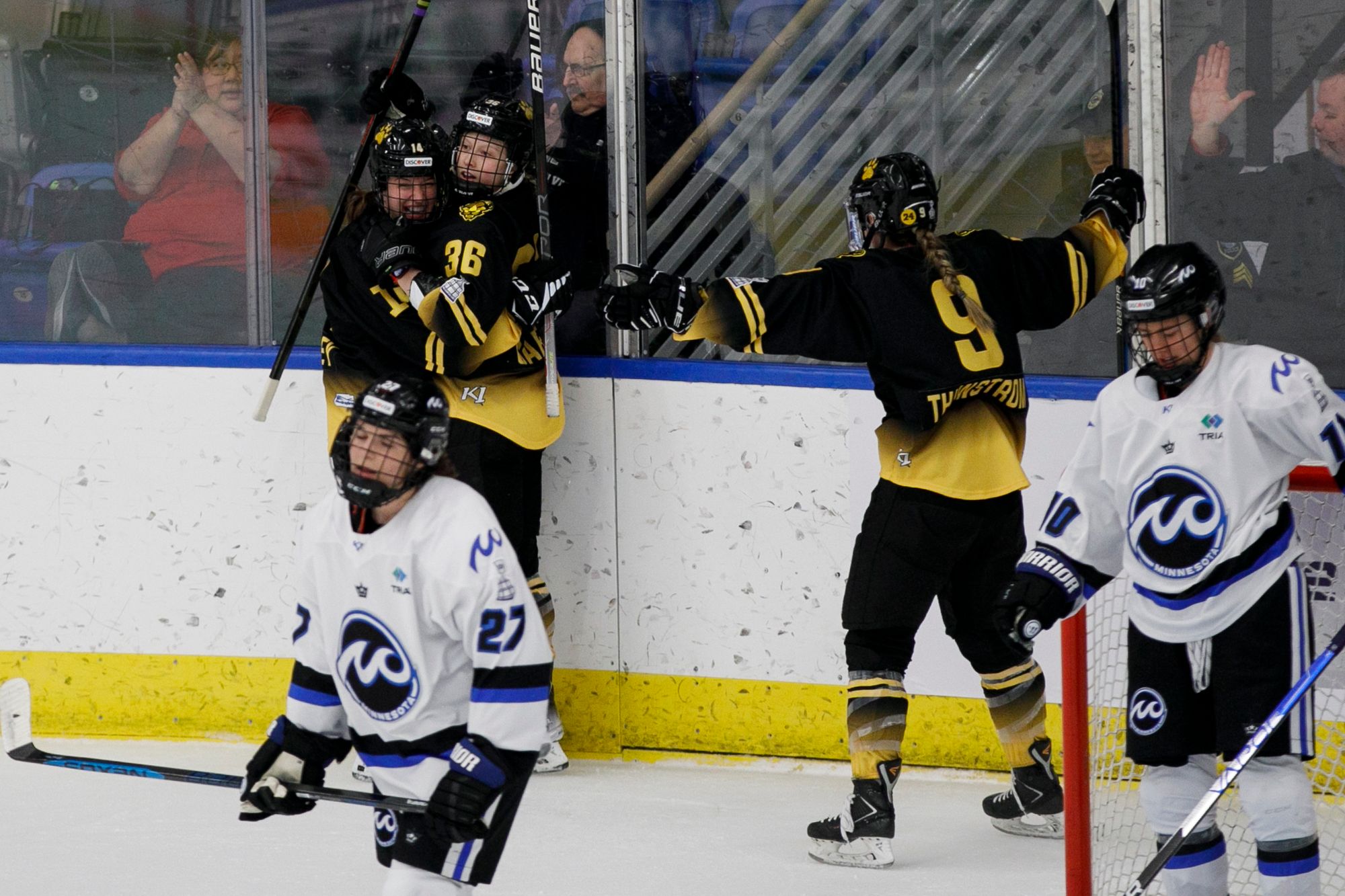 For Pride netminder Corinne Schroeder, it was only her second regulation loss this season, and her third in 23 starts.
"Right now, it's win or we go home," declared Dempsey. "That mentality should bring out the fire in everybody and we'll see what we're really made out of."
Game 2 will be Saturday night (March 18) in Boston at 6 pm ET/5 pm CT.
Game Notes: Leveille finished with 30 saves and is now 8-3 in her career in playoff games; she has at least one win in every NWHL/PHF postseason she has played in. Schroeder had 33 saves in her first PHF playoff start. Albers led all players with nine shots on goal, while Gabel led Boston with six. Dempsey won 16-of-24 face-offs for Boston. Nine different players had at least one point for the Whitecaps, but only Albers had more than one point. Mogren had only one assist in 24 regular season games and matched that point output in less than three minutes of playoff game time.